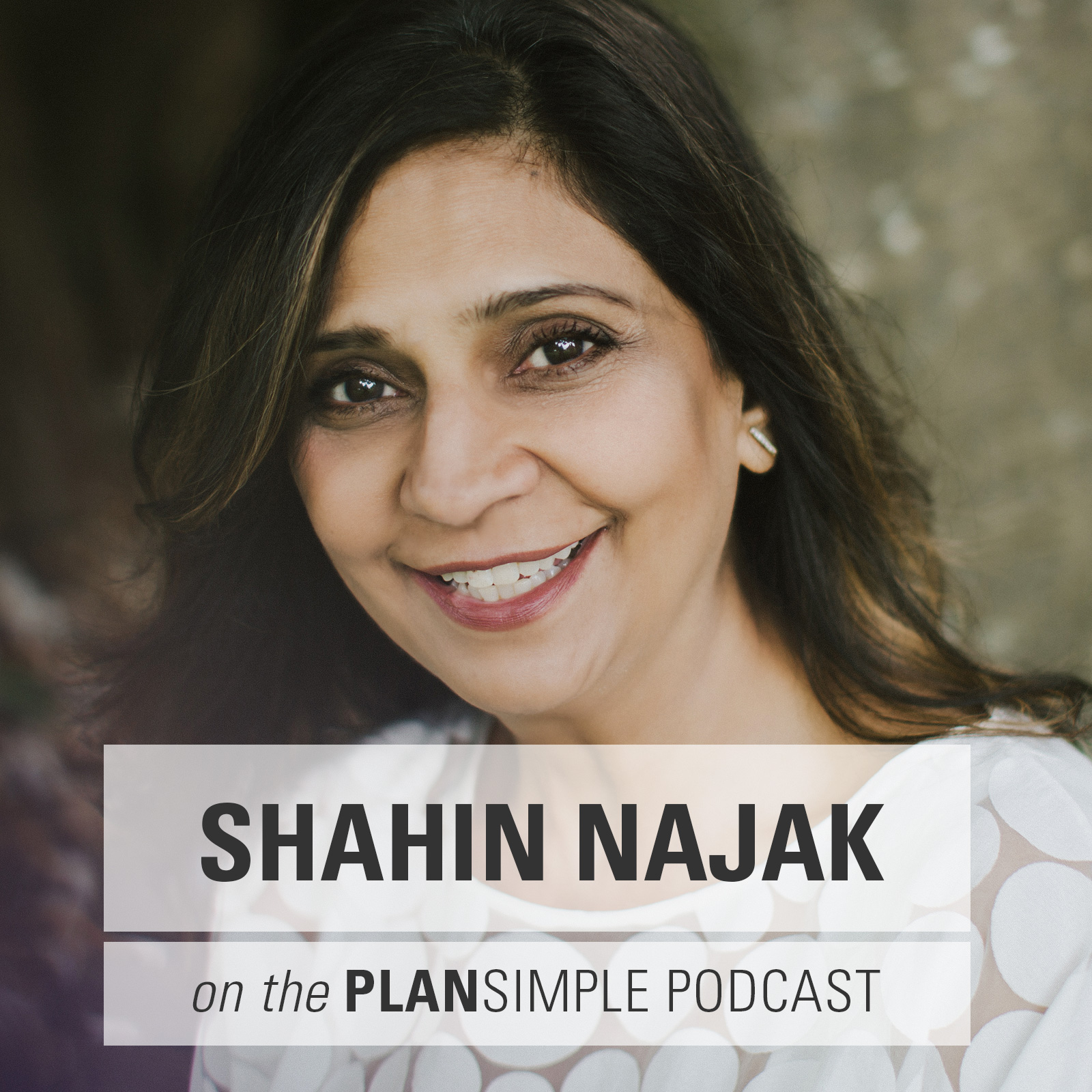 "There's a specific intentional quality to mindfulness, and that's without judgment and with kindness."
- Shahin Najak
You Don't Need to Sit on a Cushion to be Mindful with Shahin Najak
You don't need to sit on a cushion to be mindful. I'm excited to talk with Shahin Najak, mindfulness and meditation coach, about getting past mindfulness as a buzzword. What does it really mean to be mindful— and more importantly, what does it look like in real life?
Mindfulness means paying attention to the moment. Shahin broke that down into two parts: having awareness and, this is important, not judging. Can you be aware of how often you judge — without judging yourself for it? That awareness is one starter practice Shahin shares. Mindfulness is about the practice.
We think of mindfulness as of the mind or brain or head, but it's deeply connected to the body. You need to notice what's happening in your body. It takes paying attention, awareness, curiosity, and openness — and again, without judgment. 
We talk about: 
The simple practice of checking in with yourself and the importance of noticing your body and physical sensations  

What it means to build a cushion 

Pausing before buying for mindful gift buying

Grounding yourself (this is a practice you can teach your kids too). Be where your feet are.

Sending kindness to others

Noticing what trips you up
BIO
Shahin Najak is a  Mindfulness and Meditation Coach, Speaker, and Educator, based in West Vancouver, BC.  She supports parents and children with private coaching sessions; teaches and conducts workshops at Community Centres, Schools across Lower Mainland communities, and Canada. She also speaks at business organizations across Canada.
In her previous career, Shahin was an Occupational Hygienist, training and educating employees in Occupational Health and Safety – How chemical and physical stresses in the workplace can affect our well-being. Now, her work revolves around supporting parents & children, teachers, and other employees working in corporations big and small in accessing and incorporating Mindfulness strategies in our daily lives as a pathway to create and craft a life of inner peace, love, compassion, and self-acceptance.
Shahin believes that the daily practice of Mindfulness can bring about a clarity that allows us to savor the moment and live a meaningful and passionate life.
LINKS
Doable Changes from this episode:
CHECK IN WITH YOURSELF.

Throughout the day, ask: How am I feeling right now? How does that feel? What does that feel like in my body? You can ask this anytime—when you first get up, while waiting in line, as you cook dinner, driving to an appointment … Each time you check in, you build in awareness and build your mindfulness practice.



BUILD A CUSHION.

Don't have 15 minutes for self-care? Build yourself a cushion. Scatter them through the day. Take a moment between tasks to feel your body. Maybe you are sitting in your car after grocery shopping and you feel the steering wheel in your hands. You stand with the sun on your face for a minute when you step out to get the mail.



SEND SILENT KINDNESS.

Pick five random people you come across during the week and send them silent kindness. For example, if somebody cuts you off, send the thought, "May you get home safely." If you see somebody laughing, send the thought, "May you always have joy." You can say it in your head, or say it aloud to model for your kids.