I envision a world where kids crave vegetables, moms feel healthy and energetic, and the whole family feels fabulous after every meal — and I hope you will join me on this journey.
I am a bestselling author, speaker, podcaster, entrepreneur, and mom on a mission to change the way our families eat — one family, one meal, and one day at a time.
I did not grow up understanding the power of food. My family was quite taken by the rise of fast, easy, frozen foods and take out. If I got sick, I took medicine.
Eight years ago, I was a working mom and wife with three kids under the age of five. I ran an award-winning graphic design company on a crazy schedule, cursed the extra pounds on my frame, and always had a coffee in hand to get me through the day. I was exhausted. I operated in survival mode most days, always felt short on energy and time, and was at my wits end by the time I was supposed to get dinner on the table.
One day noticing a large stack of coffee cups piled on my desk. I drew a line in the sand.
What changed? I made the decision to feel great. I believed it was possible. I found support. I took action one doable change at a time. I now have the tools to be the best I can in every one of my roles, every day. I created this platform so you can too.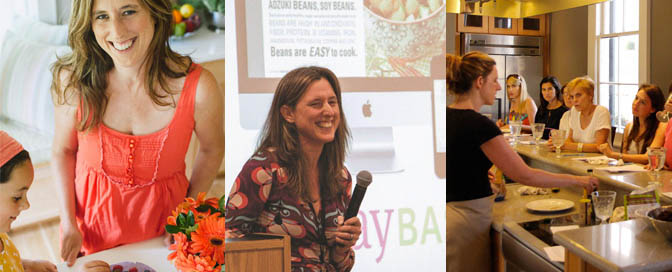 Today, I'm still a working mom and wife with three kids – my job description is a bit different, and my kids a few years older, but I feel healthy and happy, and I know what having tons of energy feels like! I juggle the roles of mom, wife, writer, teacher, and CEO with a smile.
If I simplify my journey it looked something like this:
I started dieting at age 10. This started a weird relationship with food that took me on many ups and downs throughout high school and college.
I made a choice to be healthy at age 33, after having 3 kids.
I found a mentor who could help me figure out food. I ditched gluten, dairy, meat, sugar, and all processed foods for the first 6 months. I made this possible by creating my ideal food day and repeating it everyday for 6 months, and not worrying about changing the rest of the family – yet.
I started to see food as a health tool instead of a measure of my self worth. I lost the 65 pounds, but I also got off three medications, got a period (without meds), rid myself of seasonal allergies, and said goodbye to chronic colds and ear infections.
I got sick of the same six foods. I found a health coach and attended a few cooking classes. Around the same time, I realized that if "the right" food made me feel this good, it must be important to figure out food for my family in a more thoughtful way.
I started interviewing experts on food. I learned so much about food, but was struck by the fact "food gurus" were not successfully passing healthy habits onto their kids. This led me into the world of parenting experts and psychology.
I realized the power of always getting my oxygen mask on first. As I stayed my course, my kids started following suit. My two year old loved green juice. My 4 year old wanted salad.
Plan Simple Meals became a business that partners with leaders in health, and teaches other parents to integrate healthy eating into their lives.
I wrote a book – Plan Simple – Meals that became an International Best Seller in 7 categories.
I pulled my kids out of school for a year, and our family took a "fambattical" to go on my book tour.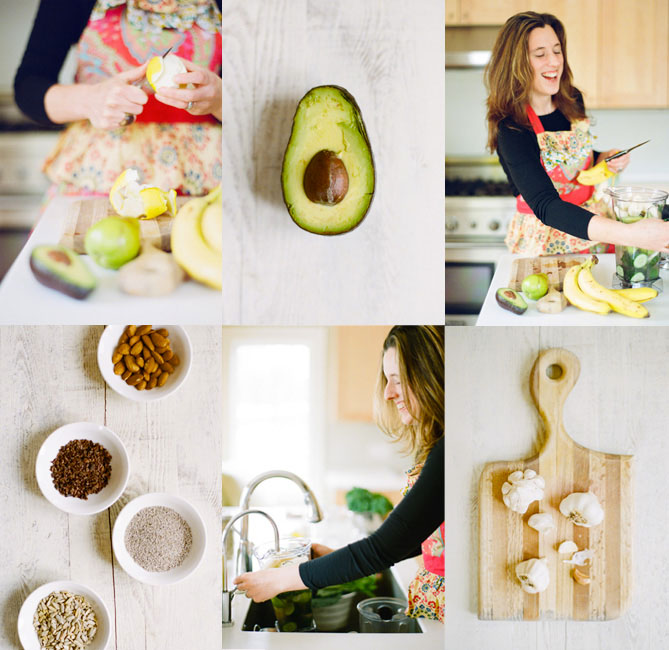 I continue to grow and evolve at an eater and a mom. No developmental age (hello teenager!), no season, no moon cycle, no day is quite the same. Right? I continue to get the moms in the Plan Simple Meals community the best information that I know how. I don't know everything, so I partner with doctors, health coaches, nutritionists, organizers, relationship experts, family psychologists, and mindfulness gurus to help families design a healthy lifestyle that works for them.
The best way to get all the goods is to be on our email list.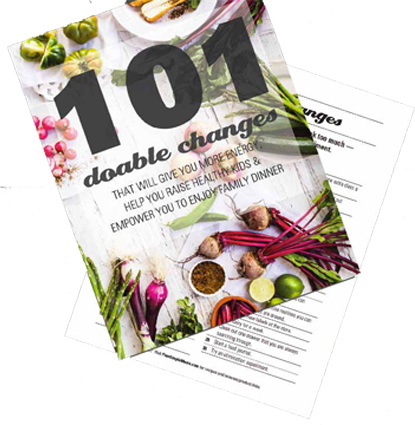 Choose from the changes above or download a list of 101 Doable Changes we made for you.
Making simple, healthy choices can completely change your life – it will ground you, strip away the ups and downs, help you get unstuck, and clear your mind so you can live the life of your dreams.
Everything shifted when I made the decision to change my life – and sometimes I had to make that decision every day, over and over – but I knew the payoff would be great. Bit by bit, improving just one small thing at a time, my new habits started adding up to a better me – I felt less tired and more level-headed.
I know food brings us the best things in life – laughing, loving, connecting, calming down. As a graphic designer, I make complex information feel simple and inviting; I do the same to help parents and people improve their health and live their best days. I'm expert at what I do, but I'm still learning and growing every day. This is a lifelong practice where I learn a lot, and present only what I know works in a real, bustling home with two working parents and three energetic kids. I invite you to join me in feeling GREAT and living your perfect life – you can do it!
Subscribe now to discover why thousands of busy moms are tuning into the Plan Simple Meals Podcast..