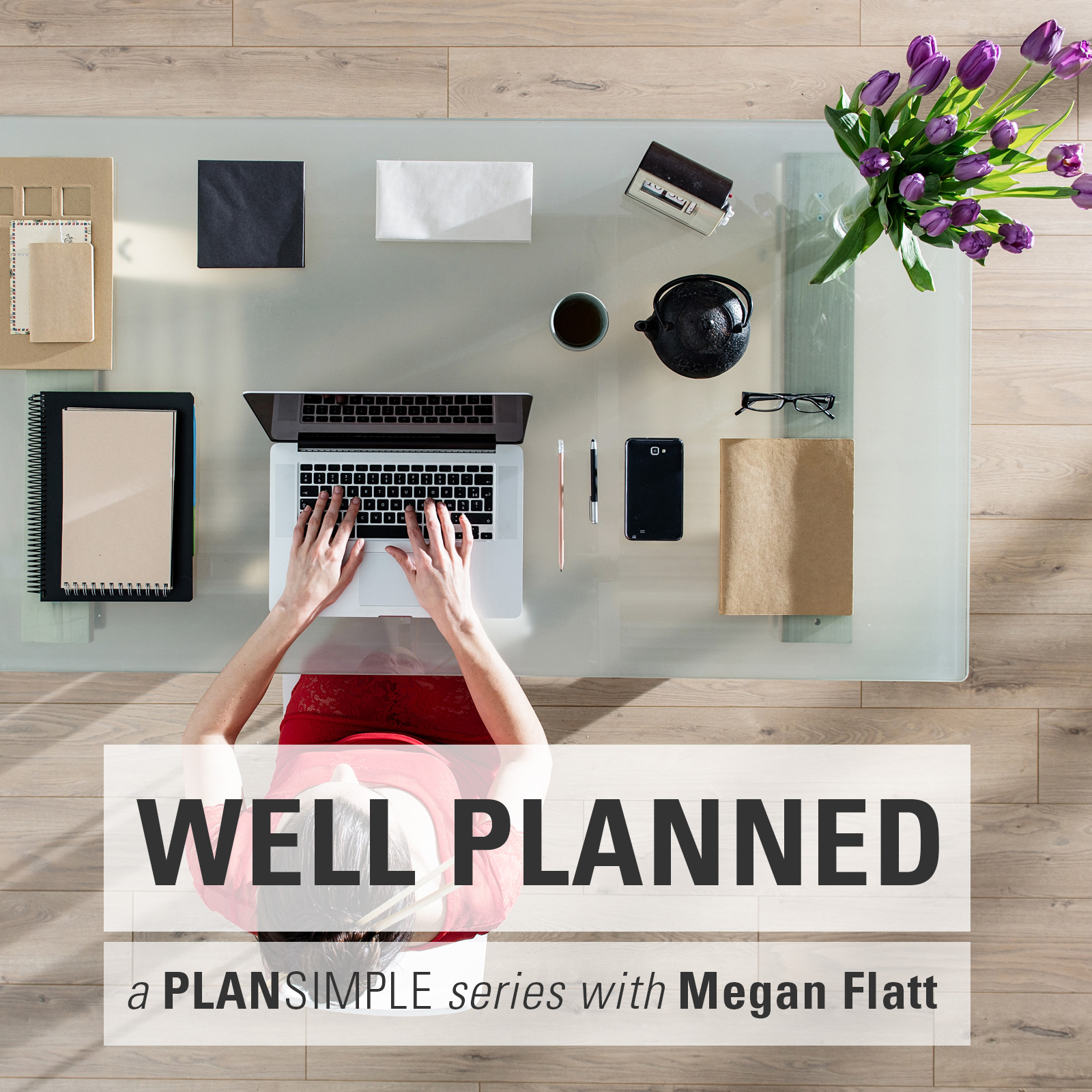 I need to create system to save time and make me more efficient for every patient I'm seeing and helping. Also, when should I think about getting some help to make my documents looking better?
-
Systems & Support on Well Planned Series with Megan Flatt
On this episode of the Plan Simple Meals Podcast, I'm back with my friend Megan Flatt for Well Planned, the series where we answer your questions about planning. Megan is a business growth strategist who focuses on helping business owners scale and grow their businesses while also being present for all the other important things in their lives like their kids and families.
Today we have a two-part question from Ellen about creating systems and outsourcing. Ellen asks this in reference to her business seeing and healing patients, but we're going to talk about how to use both of these tools for business and home.
Megan's number 1 tool is the weekly workflow. I love that word and it fits so much better than weekly schedule. For a weekly workflow, you might have certain days you see clients and certain days that you work on creating content or record your podcast and certain days that you do other things. One key piece is having some fluidity or "buffer time." This allows you to spend a little more time on a project you are super inspired on or to deal with something at comes up. Check out the link below for Megan's weekly workflow worksheet and video.
We dive into:

Setting boundaries and work hours to improve your business and your quality of life

Documenting things you do again and again, from writing up answers to the questions you get all the time to documenting a process you go through again and again—and then using some of this documentation (create a video or handout) to add value to your clients

Setting up systems for home (example meal planning, grocery shopping, or carpooling), which gives us a sense of having more time

Setting up systems to make it easier to outsource

Working in focused two-week sprints to build momentum and cut down on "runway" time needed for multiple projects

Progress over perfection, or not letting a lack of perfection stop you from launching or sending things out

When and what to outsource and that just because you can do something, doesn't mean you need to be doing it either at all or you need to be the one doing it in your business or at home
Have a question for Mia and Megan?
Go to plansimplemeals.com/ask.
You will get prompted to record your question and we'll try to answer it.
Or just email your question to mia@plansimplemeals.com
Megan Flatt is a Mama CEO, a business growth strategist, and a planning pro. She's been working with clients for years to create strategic growth plans in their business that allow them to scale while still being present for the important moments in their families' lives. She shows Mama CEOs with big vision and great ideas how to get those big CEO ideas into a day-by-day plan where they actually happen.
LINKS
Doable Changes from this episode:
SET BOUNDARIES AROUND YOUR TIME.

When do you start working and when do you stop? What days do you work and what days do you not work? What are your non-negotiables? Maybe you decide you don't work on the weekends or after you kids are in bed, or perhaps you don't respond to client emails or texts after 5 PM. Simply starting to set boundaries around these things will improve your quality of life. You can take this one step further and create your

weekly workflow

.

SYSTEMATIZE ONE THING.

Pick one thing to systematize this week. It could be creating a meal rhythm and setting aside time to make a plan each week or deciding that you always fill up your gas tank on Thursdays after school pick up. You could create a prepared response to a question you get asked all the time; think of it as a template that you can customize for each person, but the key information is ready to roll. Pick one thing for your home or business and systematize that.

USE BIGGER WORK BLOCKS.

Instead of setting up to work on 12 projects during the next 90 days, choose two and focus on them for the next two weeks and try to complete them. By focusing on fewer things, you waste less time switching between tasks or have less "runway" time for each project and you build momentum by finishing things which can lead to greater productivity.