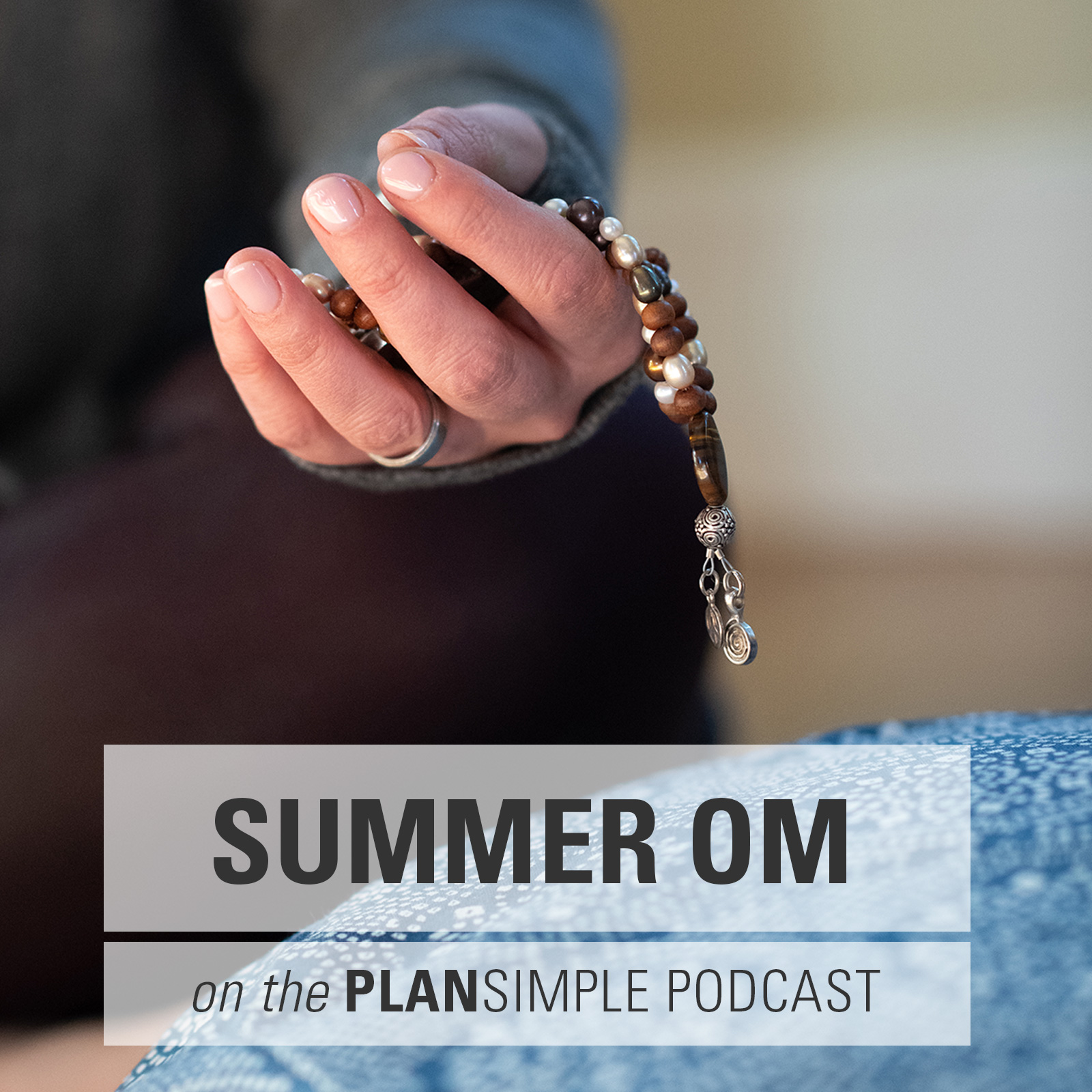 The secret to feeling good every day is simple: Make your spiritual practice a habit.
- Gabby Bernstein
Summer is definitely a time that we can forget to take care of ourselves and our spirit. I give some super practical tips and planning sheets in the Summer Lifestyle Episode and some food strategies that can definitely support a spiritual practice in the Summer Food episode, but we get to go deeper here.
First off, let me redefine what I mean by Om here.
The website doyouyoga.com explains Om really well:
"There are many different translations, uses and regards of the word Om, but in "simple" terms (HA!) it is the basic sound of the world, used to contain all other sounds. The sound of God, of the universe, etc. It's a Sanskrit vibration or mantra made up of three different sounds (aa, au, and ma) that is used often at the beginning and/or end of yoga classes to not only join students with teachers, but also to connect us deeper with the entire universe.
While it's believed to be the sound of creation, many like to think of it as the sound of silence. I know, crazy right? But I'm not talking about the kind of silence you might experience in an empty house or down a quiet street. I'm referring to that silent sort of vibration you may experience when you're completely still. So, when we chant OM by ourselves or with others, we're in a way tuning into that silence, that vibration inside of us to resonate with the silence and vibration of the universe.
It really is quite a beautiful thing, if you think about it, opening your mouth to make one simple sound, just to be reminded that you're an integral part of existence right here, right now."
I very much experienced this sense of quiet every time I go to my yoga class where we start and finish each class with OM, and over the years I have been able to bring that quality to other parts of my day.
Another observation is that I hear the "perfectness" of the sound much better at the end of class than the beginning once my body and mind have calmed down.
And this is why this category is such an integral part of the FLOW process… because I really need the calm to make good choices about food, parenting, my home, my marriage, and my work.
So let's consider OM and summer.
I don't know about you, but summer can feel "full" before it even starts.
My friend Amy gave me her spreadsheet template that goes through summer week by week, weekend by weekend, and person by person. When I filled it in and looked at it, I felt so good that I know who is doing what when, but it is easy to get too focused on what we are "doing."
The first thing I do to support the idea of OM in the summer is going through the calendar and put in all of the downtimes. For us, this means weeks of no camp, a weekend in nature camping, and the days where we unplug. It is not the road trip to New Orleans, the week with my parents, or even my biz retreat week (more on that in the next episode). Those weeks all promise to be fun and summery, but they are not all about restoration. Be bored. Creativity, connection with ourselves, deep calm are all fostered by true boredom for ourselves and our kids.
The second thing I do is brainstorm all the ways that OM can enter my daily life, even when we are on an adventure. What creates that deep sense of OM – and how can you work it into your day? For me, it usually means building my morning routine around OM-centered activities. This summer I am working on a 30-minute daily meditation practice, working with oracle cards (a very new practice), a daily walk, my morning pages, and reviewing my food for the day. If I do these 5 things, the day can have many twists and turns, and I can still keep my cool. My morning routine actually gets easier for me in the summer. My kids sleep a little later. My husband has a little more flexibility to help out in the mornings. I hop out of bed with less grogginess. That said, it is so easy to forget or fall out of my usual patterns when traveling, so I try to set myself up for success. This can look like setting an alarm or getting a cute travel pouch to hold my morning routine stuff, or asking for my family to support me.
I use to travel and the open-ended days of summer to learn and grow in my OM practices. Summer is a great time to experiment with new yoga classes or exercise teachers. It is a great time to read about new (to me) methodologies, practices, or enjoy memoirs of others' spiritual journeys. It is a great time to experiment with our own practices, so I keep a journal of the things I learn and play an implementation game — what new practice I weave into my life this week?
I use the fact that I see a lot more of my kids in the summer season to share practices with them. We know that kids learn by example. What if you are the example of calm and ease? What if that calm and ease become contagious? I will never forget the summer that my now 15 year old found meditation. I think he was 13. It changed so much for him so fast. I give him 100% of the credit for finding it, but I can't help but acknowledge that seeing his mama sitting criss-cross applesauce on the living room floor with her eyes closed some mornings, and him noticing those days had less nagging or yelling, had something to do with it.
We unplug and connect with nature. The amazing computer that we carry around in our pockets has so many good qualities — it is filled with relaxing meditations, it has the answer to any question, it never lets me be lost in a new city — but it is a really easy way to buffer and indulge and miss the natural rhythm of the world around me. I mentioned a very purposeful tech-free camping trip we do. I try to work outside in the yard when I can. And I visit a beach and leave my phone in that car or go on walks and listen to the birds. I find technology can get me going at a rhythm that is not mine. Connecting to nature connects me to my higher self, my inner knowing, my OM. Summer is a great time to experiment with taking time off from tech.
Go add some OM time to your calendar, whether it's days when you don't have anything planned, an hour every morning to move at a slower pace or practice your morning ritual, downtime after lunch every day … whatever you need. And make a list of OM practices that you want to be part of your summer.
Get the previous episodes: