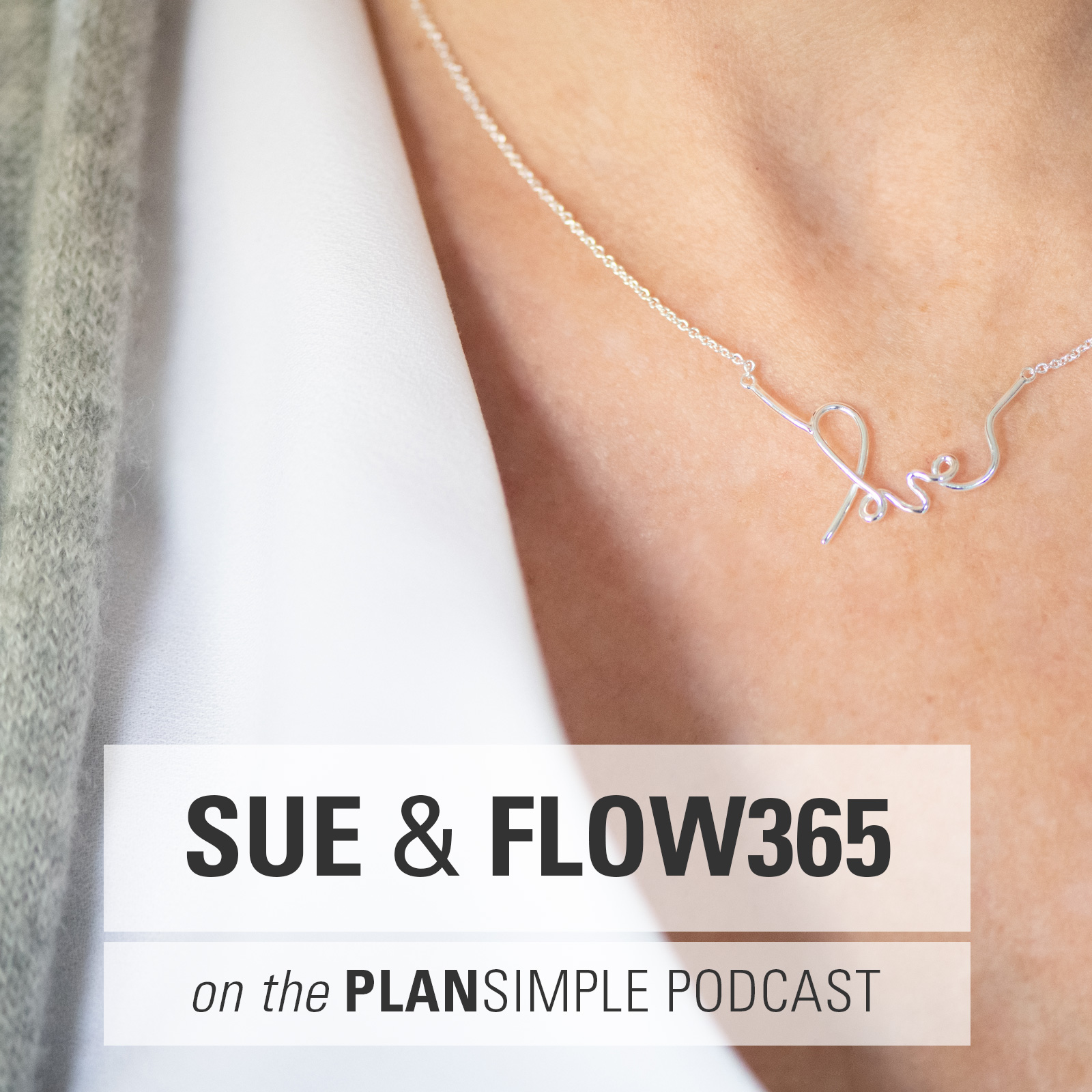 Styling a Year with Sue Rock Tully
On this episode of the Plan Simple Meals Podcast, I'm so excited to talk with Sue Rock Tully, a stylist and coach with Stella & Dot, the mom to two teenage daughters, and a member of FLOW365. I can't wait for you to hear how she's flourished and how you can too!
Sue left a corporate job when her kids were in fifth and sixth grade. When she had a corporate job, she felt like everything was planned. "I just knew what my goals were, I knew what my schedule was, I knew when my trips were, I knew all of that. I felt like I had a handle of things." Leaving that world left her floundering, and FLOW365 helped ground her.
Sue's FLOW Situation
I was in a place where I hadn't had a lot of focus and I wasn't feeling productive. … I liked, especially that FLOW 365 wasn't just about work…. the focus across everything I found especially appealing.
Key Tool: Getting Everything on the Same Page
Sue talks about how the holistic approach of FLOW 365 and the FLOW Planner have helped her get into FLOW and make space for and "count" all the things that she does. For her it looks like getting her family schedule into her planner first—plays, school events. Then blocking her business around that. She doesn't work full time because she doesn't have to. She can look at the different parts of her life and recognize that taking her business to another level right now doesn't fit with her family. At the same time she is thriving at the level she's at.  
Key Tool: 90-Day Seasons
Each FLOW Planner covers 90 days. I like how it's broken up into seasons. The fact that it's a three month season and thinking about life that way is new to me…. I'm not a really big, big goal setter. All of those sort five or ten years things are very daunting to me. Even a whole year of what I want to accomplish. The three months feels so doable to come up with really actionable and achievable things.
I like too that we're thinking into January … because it doesn't feel like that big end at New Years sometimes feel like a little cliff or something. This just feels like a slope. Flow again…
Key Tool: Community & Accountability
"I love the group…. We're all so different but, it feels so good to be together…. Community in general is such a great thing. It's not easy to create." FLOW 365 is build around a community that  includes regular group meetings and communication that allow for accountability toward our goals or to just check in with what we've done in a non-judgemental way. It's always amazing to me how groups come together and how a diverse group of people can really support each other and just how amazing that is. It's so needed maybe this particular time maybe in history.
Key Tool: Coaching
Sue says, "You're very insightful. There's just some advice that you've given that you may not even realize that comes so easily to you… You can hear people's desires or where they need things when we have our group conversations. You just get right to it."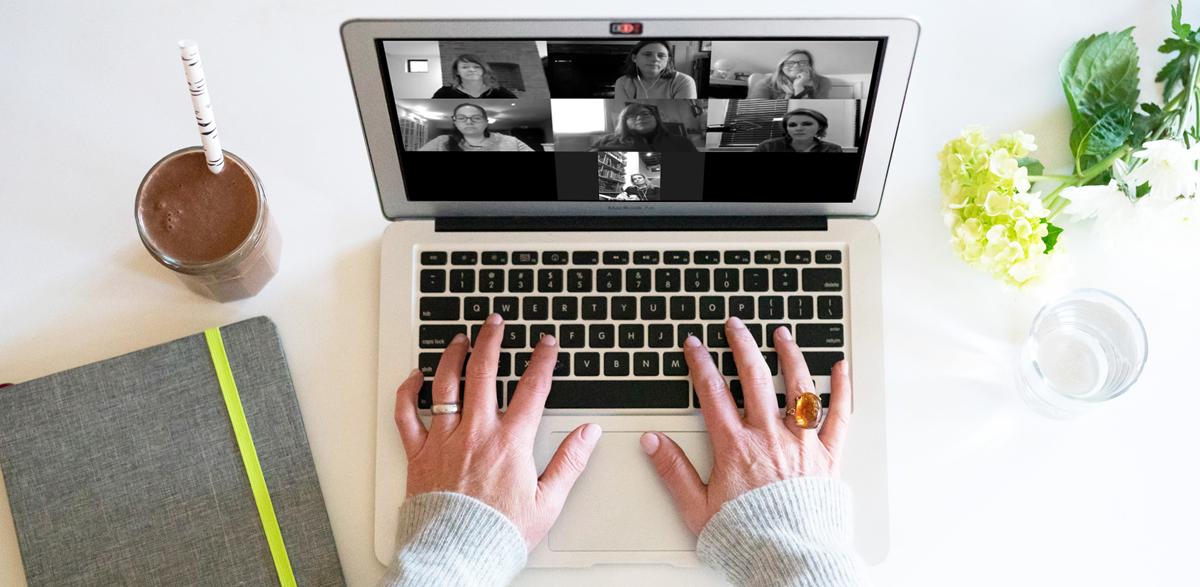 In FLOW 365, we plan at a lot of levels. We get together for high level seasonal plans. We break things down my month and then by week. And we keep all of the things that matter front and center—food, lifestyle, OM (spirituality and self-care) and work. FLOW 365 is a high-end, yearlong program that helps entrepreneurial moms make time and space for clean food, joyful home lives and meaningful practices — alongside work, of course! It is designed to help you increase productivity without decreasing joy… actually while increasing joy!
FLOW Changes
Food: Thanks to FLOW planner, I haven't had a week without a dinner plan in a while. Before if I didn't know, the entire day was spent thinking about, "What are we gonna do for dinner?"
Lifestyle: Because it's holistic, getting the laundry done or going grocery counts as something. It can be one of my big rocks.
OM: Committing time for yoga regularly because things go better when she does
Work: If I didn't have a plan for when I was going to fit in work (because I get to choose that), all day I was like, "Oh, I really should do that. Oh, I really should do that." But, I wasn't really doing anything. I was just thinking about what I should do.
Big and Little Shifts from Flow 365
Thinking about things holistically has been great. I was a decent dinner planner before. I mean, I get to it every single week and I certainly knew the weeks that I planned dinners for the week, they were a much better weeks than the weeks I missed it. I think because of the bigger planning part of the FLOW planner, I am not missing a week of meal plan. Dinner plans are set and it becomes part of the bigger plan for the week. I like that it makes that holistic for me…. It just takes out all of that constant planning in your head.
We also talk about:
Why the timing for leaving her job was perfect for her—though not what she might have expected

The marginalization in both the work world and the mom world of working part time

How choosing a word we want to lean into for a season helps us make decisions that lead us to the way we want to be living

Why she started with Stella & Dot and her favorite perks—including creating community (and free jewelry)

Getting her big rocks on the calendar
BIO
Sue Rock Tully is a Stella & Dot stylist and mom. She's growing an amazing part time business, practicing yoga, and helping her kids through college application process.
LINKS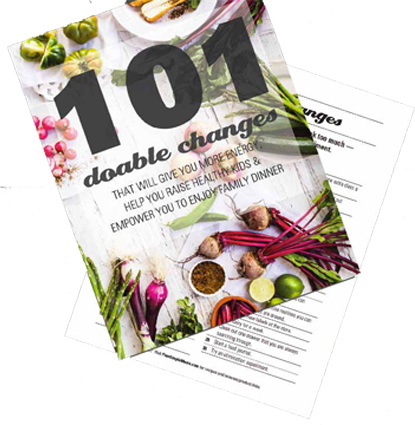 Choose from the changes above or download a list of 101 Doable Changes we made for you.
Doable Changes from this episode:
TAKE TIME TO PLAN. Pause to prep for your week or month or season. Take time to look ahead to what's coming up. Put in any big rocks—work deadlines or travel, school events, your favorite yoga class or writing workshop—the stuff that happens at a certain time that you want to work around. Get intentional about the way you want to feel and where you want to focus attention. Then plot out what needs to happen to get there. That may look like creating a meal plan and scheduling grocery shopping. It may mean deciding to hold off on certain activities to another month or season. It may mean setting some grounding self-care time at the beginning of every day. That pause to look ahead and plan helps you get in FLOW.
REFLECT. Related to taking time to plan is taking time to reflect. At the end of the day or week or month or season, stop and think back. What worked? What didn't? Where did your attention really go? Where did you get off track? Where did you get back on? The key is to be non-judgemental. This practice can help you decide what you want to do next, but it can also help you really see what you did accomplish—and it helps slow down life, which feels so, so fast.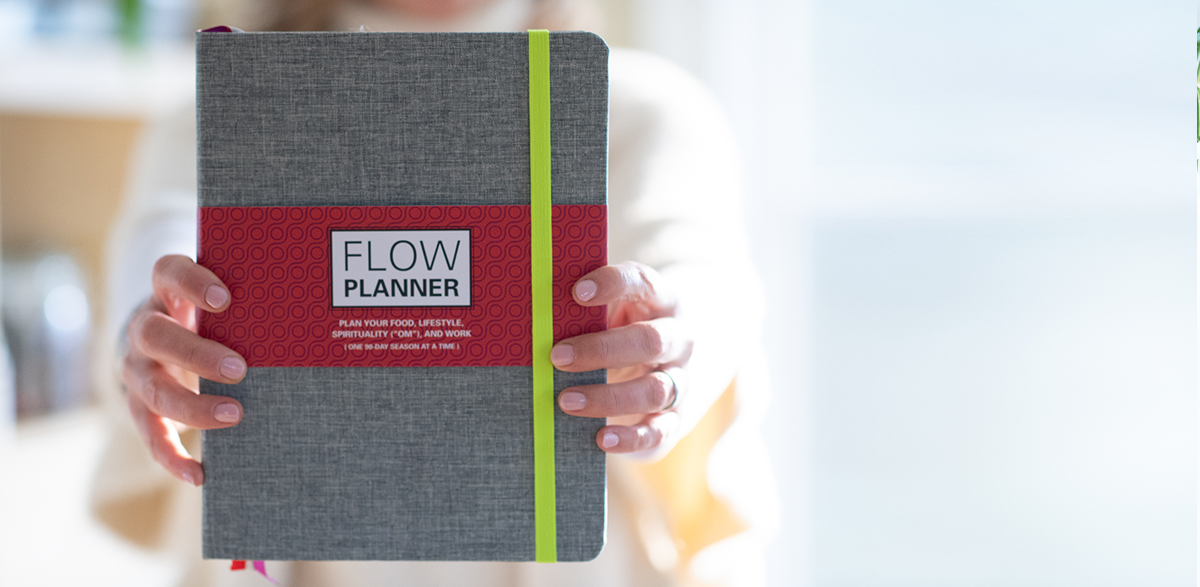 The FLOW Planner is designed to meet the holistic approach Sue talked about. It keeps food, lifestyle, om, and work on one page and gives you a place to pause and look ahead at your season, your month, your week. It also provides space for your reflection. The FLOW planner helps you fit food and the other things that "matter most" into your day.