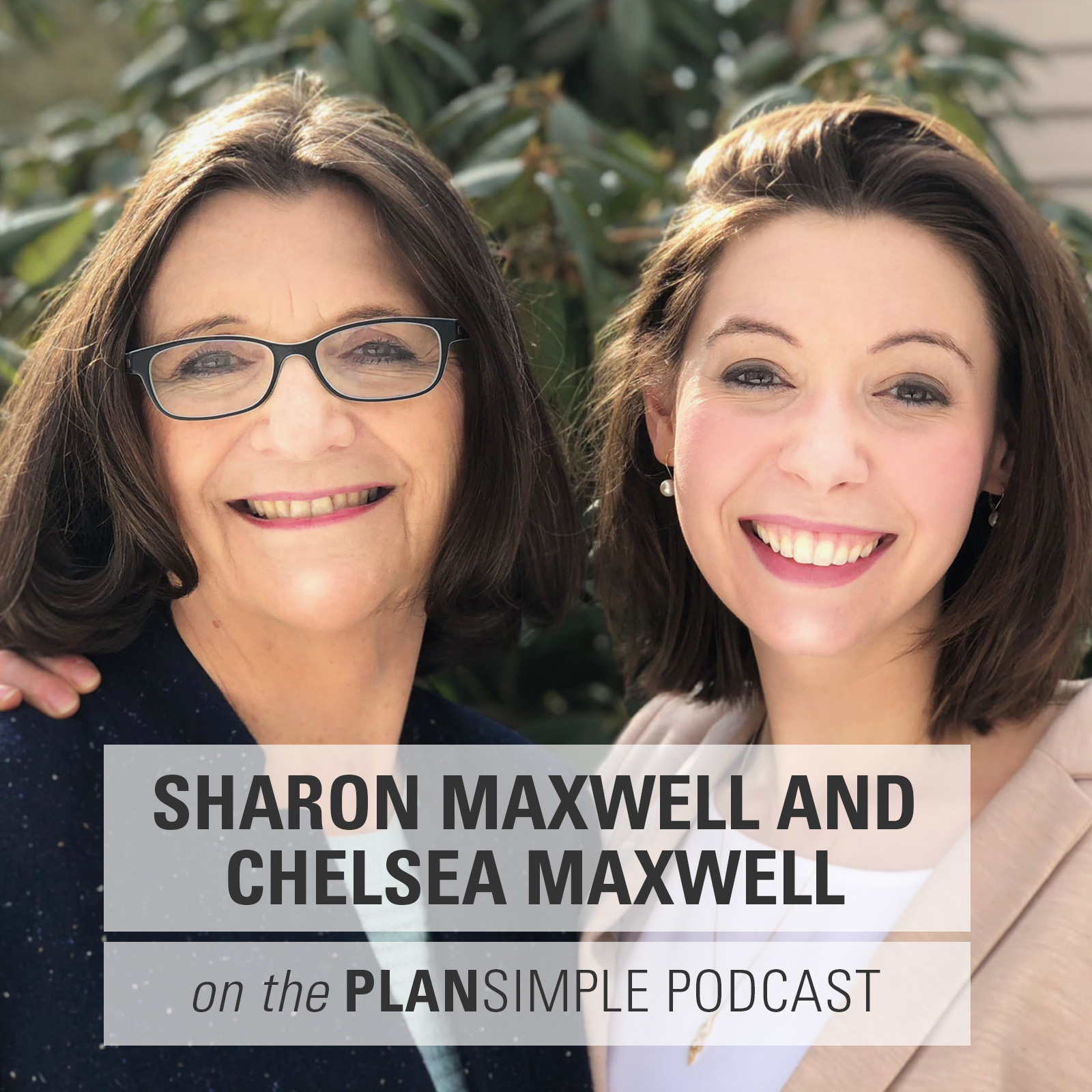 Technology is distracting us all the time. It's incredibly effective ... because the people that are designing these apps understand how our brains work better than we do.
- Sharon Maxwell
Navigating Parenting in the Digital Age with Sharon and Chelsea Maxwell
On this episode of the Plan Simple Meals Podcast, I'm really excited to talk with Chelsea and Sharon Maxwell, an amazing mother-daughter duo. Sharon Maxwell is a clinical psychologist with more than 30 years experience. Chelsea has a masters in education and has been working with her mom for 5 years to bring information about sexuality in the digital age to families and schools—and a larger message about navigating parenting in the digital age.
I first met Sharon about 7 or 8 years ago when she spoke at my son's school about talking to your kids about sex. (It starts earlier than you think!) Since then, I feel like so much has changed. Sharon believes that we have less control over the environment our kids are in on a daily basis: "If you want to be the person that acculturates your child and give them what your values are as a family, your capacity to do that has diminished."
Sharing values is really important because it affects how we approach all kinds of questions. One of the ways Sharon and Chelsea like to frame this discussion is with the phrase, In our family, so In our family we believe that …, in our family we think this is what's important … Beyond values, it's important for kids to understand how their brain works and how apps and other technology are designed to manipulate them. 
We talk about: 
Talking with teens about ways in which technology is actually manipulating how you spend your time and how you think about very important issues. 
Understanding how your brain works, so you can understand why it's hard to stop playing a game or disengage from devices
Learning to exercise self-control, including tools like what to do with the energy of wanting something
Phones and other technology as a distraction from doing hard things and the effect on developmental milestones—and how parents use these things as a distraction too
Teaching kids to use technology, the same way you would teach them to drive a car
Being a creator, not just a consumer
Talking with your kids about values, specifically around entertainment, information and communication
BIO
Sharon Maxwell, Ph.D., is a psychologist, author, and educator. She's a a practicing clinical psychologist, specializing in adolescent and family therapy. She is the author of the award-winning book, The Talk: A Breakthrough Guide to Raising Healthy Kids in an Oversexualized, Online, In-your-face World, and is currently working on a new book with her daughter Chelsea about raising healthy and responsible kids in a media-driven culture. She and Chelsea bring her Sexual Health and Responsibility Curriculum, to public and independent schools.
Chelsea Maxwell, Ed.M., is a learning designer and educator. After receiving her BA from Vassar college, Chelsea specialized in curriculum development as well as technology and innovation at the Harvard Graduate School of Education. She is currently focused on educating students about healthy relationships. Bringing years of experience as a director of mentoring for children and teens, Chelsea creates interactive and dynamic learning experiences for students of all ages. She has begun developing a series of online courses and is working with her mother, Dr. Sharon Maxwell on a book about about raising healthy and responsible kids in a media-driven culture.
LINKS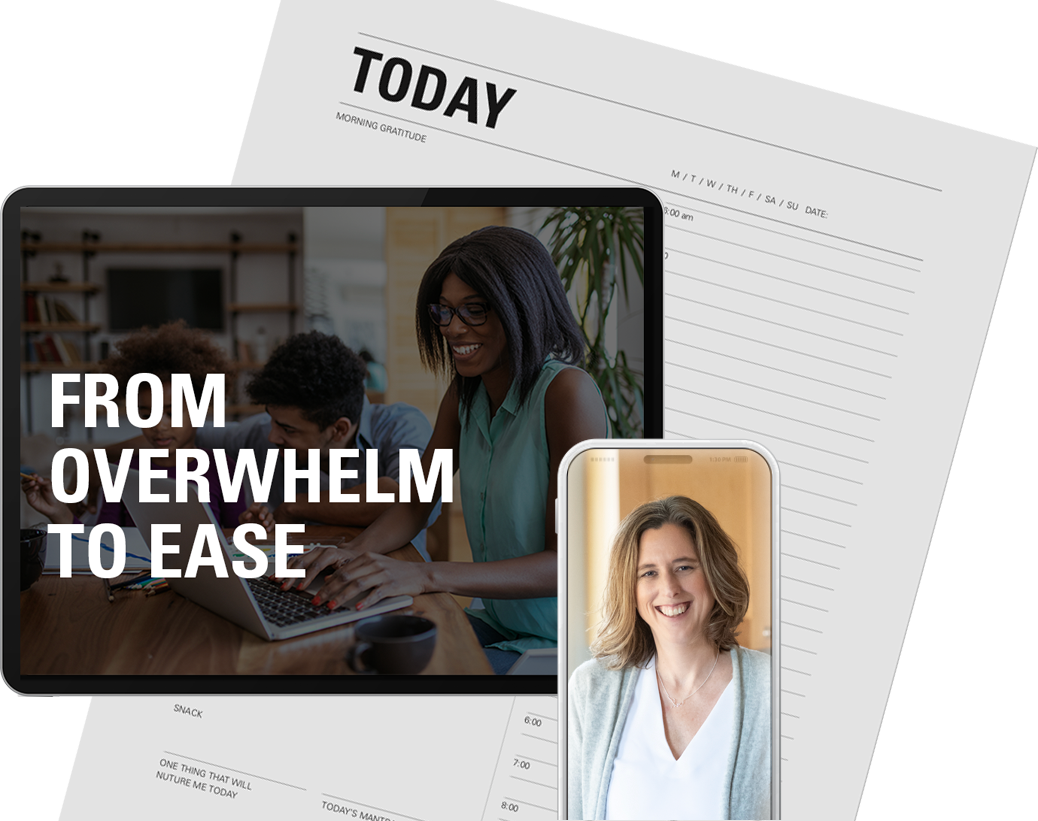 Go from Overwhelm to Ease. Make one simple change and transform overwhelm into something far more productive and valuable.
Doable Changes from this episode:
DON'T AVOID UNCOMFORTABLE SITUATIONS. For one week, pay attention to when you turn to your phone to avoid uncomfortable situations. That may be checking messages instead of talking to other parents at pick up, or scrolling through Facebook because you don't feel like making dinner, or picking up your phone with no plan because you are bored and don't know what to do. Sharon and Chelsea talk a lot about helping our kids with technology use but start with yourself. Simply notice how you are using your phone and other technology.


PRACTICE SELF-CONTROL. Start by being aware of desire. Ask, on a scale of 1–10, how much do you want this? Feel the energy of different desire levels in your body. What can you do with that energy of wanting? How can you transform it into something else? Could you create something with it? Save it up? You can try this exercise with your kids … or try it yourself next time you find yourself really wanting something.


TALK ABOUT VALUES. You can start with In this family …  to frame the discussion. Try focusing on communication, information, and education. Sharon offers some questions to get started. Communication: What are your values around communication? Does what you say reflect who you are as a human no matter what media you are using? Information: How do you know something is true or not true? What are your values in terms of passing on information that you're not sure is true? Entertainment: When is it okay to entertain yourself with another five minutes of Candy Crush versus when is it not okay? How are you going to integrate this new capacity to be entertained or distracted anytime you feel like it? Are you just avoiding the hard things by going online for five more minutes watching YouTube videos?