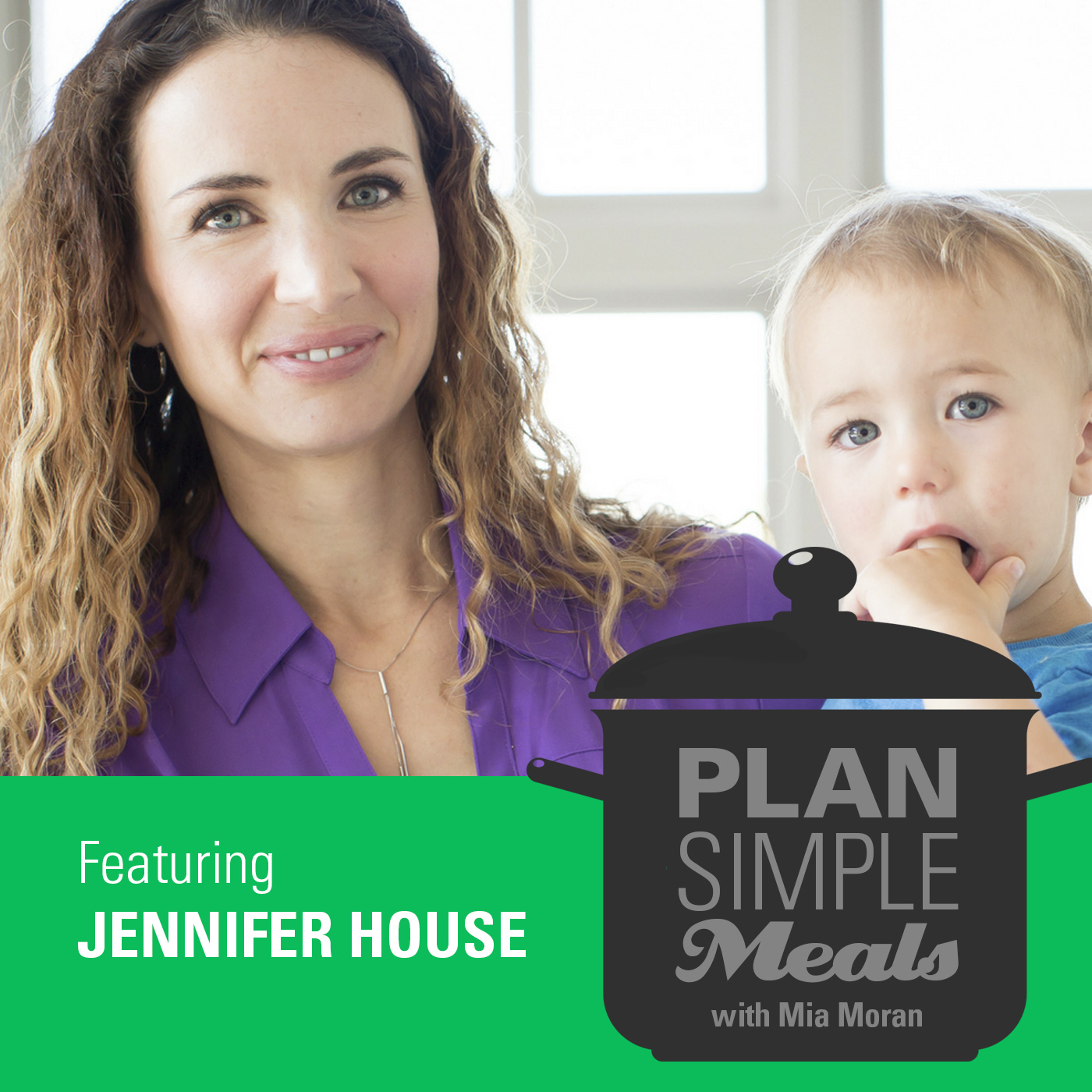 Let kids lead with Jennifer House
It's not our job to get our kids to eat. It's our job to supply them with the food at regular times. But from there, they are certainly the best judges of their own appetite
– Jennifer House
On this episode of the Plan Simple Meals Podcast, I'm really excited to talk with Jennifer House, a mom of three and a registered dietitian, who has a private practice helping moms nourish their families with confidence.
Jennifer works a lot with moms around first foods and early feeding. She follows World Health Organization, American Academy of Pediatrics, Dietitians of Canada recommendations to wait until about 6 months to start solids.
We talk about baby-led weaning, skipping the purees and feeding babies what you eat when they are ready. This makes life easier for parents and allows babies to control how much they want to eat. And when you are feeding your baby what you eat, it can help make meals healthier for everybody since we often want to feed our babies healthy foods.
But we don't just talk about babies, we talk about setting kids up for good eating habits as they grow.
We talk about:
teaching kids to listen to their own bodies regarding how much to eat (and how hard it is for parents to let go and let how much they eat vary from day to day)

how behavior can be an indicator of food allergies or sensitivities

ideas for what to feed babies: eggs, chili (rinsed to reduce spiciness), meat from a slow cooker, egg or chicken or cucumber from salad . . .

how less parental pressure and more kid control can actually help with picky eaters

the ways we influence our kids around food through our own behavior whether it is what we eat or how we talk about food or our bodies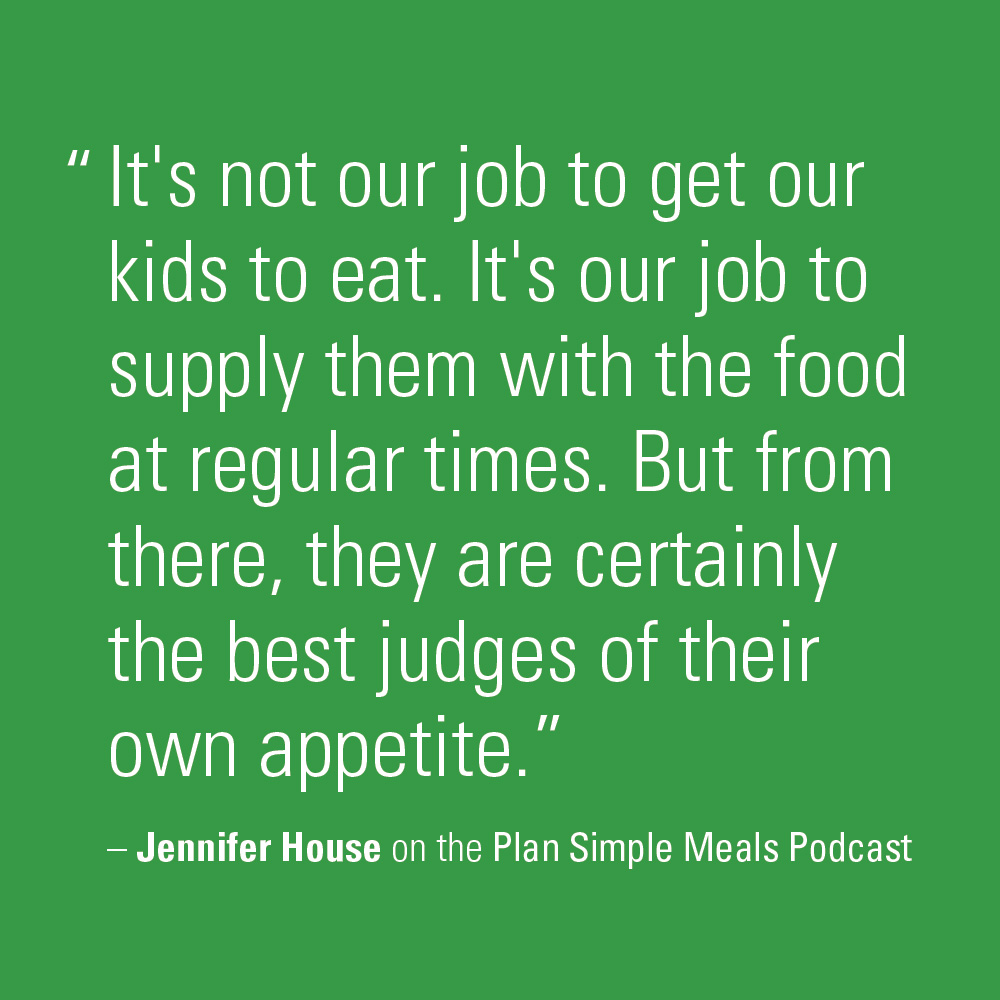 LINKS
Doable Changes from this episode:
MAKE A NO YUCK RULE.

Practice not saying "Yuck" or complaining about part of a meal they don't like. Teach your kids to say "No thank you" or simply leave what they don't like. For your part, resist the urge to make them eat the food they leave to the side.

SERVE A FAMILY MEAL.

Instead of catering to picky eaters, make a family meal that reflects the way you want your family to eat. You can make adaptations, like rinsing a spicy chili for babies or adding hot sauce for mom, but serve everyone the same food.

GET YOUR KIDS INVOLVED IN GROWING FOOD.

This can be a windowsill box of herbs or some lettuce in the backyard. Kids get intrigued with seeing things grow and getting to pick and eat food, which may encourage them to try foods they otherwise would shun. This one takes a little while to take root, but plant something this week or buy some herb plants that kids can start snipping from right away.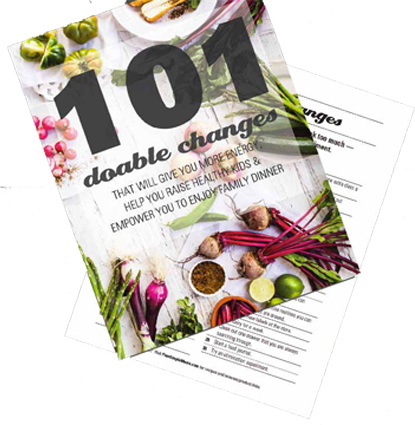 Choose from the changes above or download a list of 101 Doable Changes we made for you.
REALLY getting healthy as a family can be a big lifestyle change. But no matter how insurmountable it may feel, focusing on one doable change at a time can help you take small steps toward your big goal.
A healthy lifestyle is really made of lots of little things that when repeated regularly and added together over time make a huge impact on your life.
Choose one Doable Change every Sunday night — one thing that you are willing to play with for the week. The key is to keep it doable and fun! Write that thing on a sticky note or your phone so you remember it. Then put 3 things on your calendar that support it.
Choose from the changes above or download a list of 101 Doable Changes we made for you.
https://plansimple.com/101-doable-changes/
If you are as psyched as I am to grow veggies on a patio this summer and indoors all winter, you are going to want to check this out! I have watched friends have these for years, and am so excited to have my own! (Psssst… There are amazing curriculums that have been created by the company, to make these a no brainer for schools too!) Read more here, or contact, tower@plansimplemeals.com to learn more, and set up a free 20 minute phone Q and A.