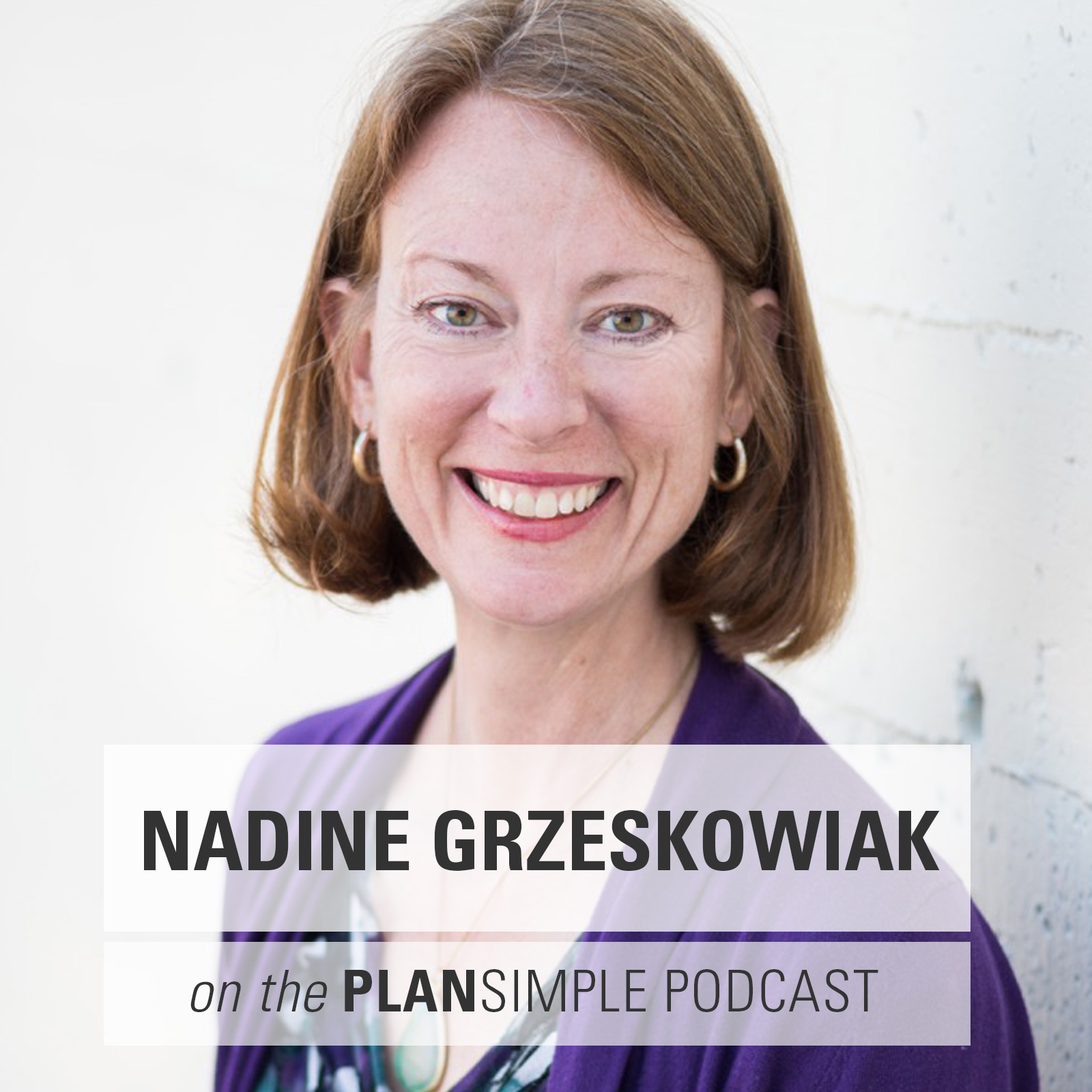 "Wheat is ubiquitous in our culture. It is in our national song of pride – amber waves of grain. It is in the bible as both wheat and bread... It is in our food, makeup, lotions, Play-Doh, envelopes and stamps, in our compostable eating utensils, plates and cups, our artwork, holiday wreaths, and even out toilet paper (eeek!)"
- – Nadine Grzeskowiak
Gluten Free with Nadine Grzeskowiak
On this episode of the Plan Simple Meals Podcast, I'm really excited to talk with Nadine Grzeskowiak. She's the Gluten Free RN and the author of Dough Nation. She was diagnosed, by accident, 11 years ago with celiac disease and has been researching and educating other since then. Celiac disease is a world-wide issue, and celiacs is grossly underdiagnosed. And many people who have diabetes also have the genes that predispose you for Celiac disease. It's a big problem.
Should everyone be gluten free? People with Celiac disease should certainly, but what about everyone else? Given the number of people who do not realize they have Celiac disease and the fact that gluten causes inflammation in everyone, cutting out gluten can't hurt. I always encourage people to try it and see how much better you feel.
A lot of people think that going gluten free is too hard. Nadine and I agree that it really isn't hard.  You need to get back to whole, real foods. If that's not how you've been eating, that can feel complicated, but in many ways it is simpler.
We talk about:
Getting over addictions to gluten, dairy, and sugar (and what gluten and dairy have in common)

Focusing on what you can have—tons of fruits and veggies and protein—instead of trying to swap out gluten free sweets or bread

How to help your kids, since many people start on this road to help their child, by going through diet changes yourself first or doing it as a family

How our tastebuds actually change as we shift how we eat

The importance of knowing where your food comes from

Why fast meals aren't the goal, but cooking real food doesn't really take as long as we think

Finding healthcare providers aligned with your health goals
BIO
Nadine Grzwskowiak had been an RN in Oregon for 18 years, working in emergency departments and trauma centers throughout the state. In November 2006, she was finally diagnosed with celiac disease. By that time she thought she would be dead in six months or less. She was 40 years old. Nadine saw and worked with multiple doctors, and still could not figure out what was killing her.
Within two weeks of being on a gluten-free diet, Nadine felt much better. By February 2007, she started RN On Call. In March 2007, Nadine became a gluten intolerance/celiac disease educator. Nadine can save more people with this information than she ever could have saved in the emergency department.
LINKS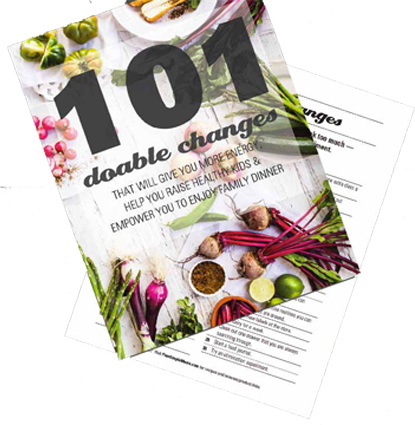 Choose from the changes above or download a list of 101 Doable Changes we made for you.
Doable Changes from this episode:
EXPERIMENT WITH GLUTEN-FREE.

If the idea of giving up pizza and beer (or pasta and bread) forever puts you in a panic. Try going gluten free for one week. Focus on real foods—lots of fruits, vegetables, and protein. Just see how it feels. Notice when you are craving certain foods and how you feel without them.

KNOW WHERE YOUR FOOD COMES FROM.

Start with one thing. Go to a farmers market or farm stand and talk to the people who grew your food. Research and join a CSA. Don't be afraid to ask questions about production practices.
TAKE 15 MINUTES TO PREP.

Take 15 minutes to prep something or move something forward so that you can eat a real food meal. It doesn't have to be hard to eat well, but sometimes part of the learning process is getting over that idea.