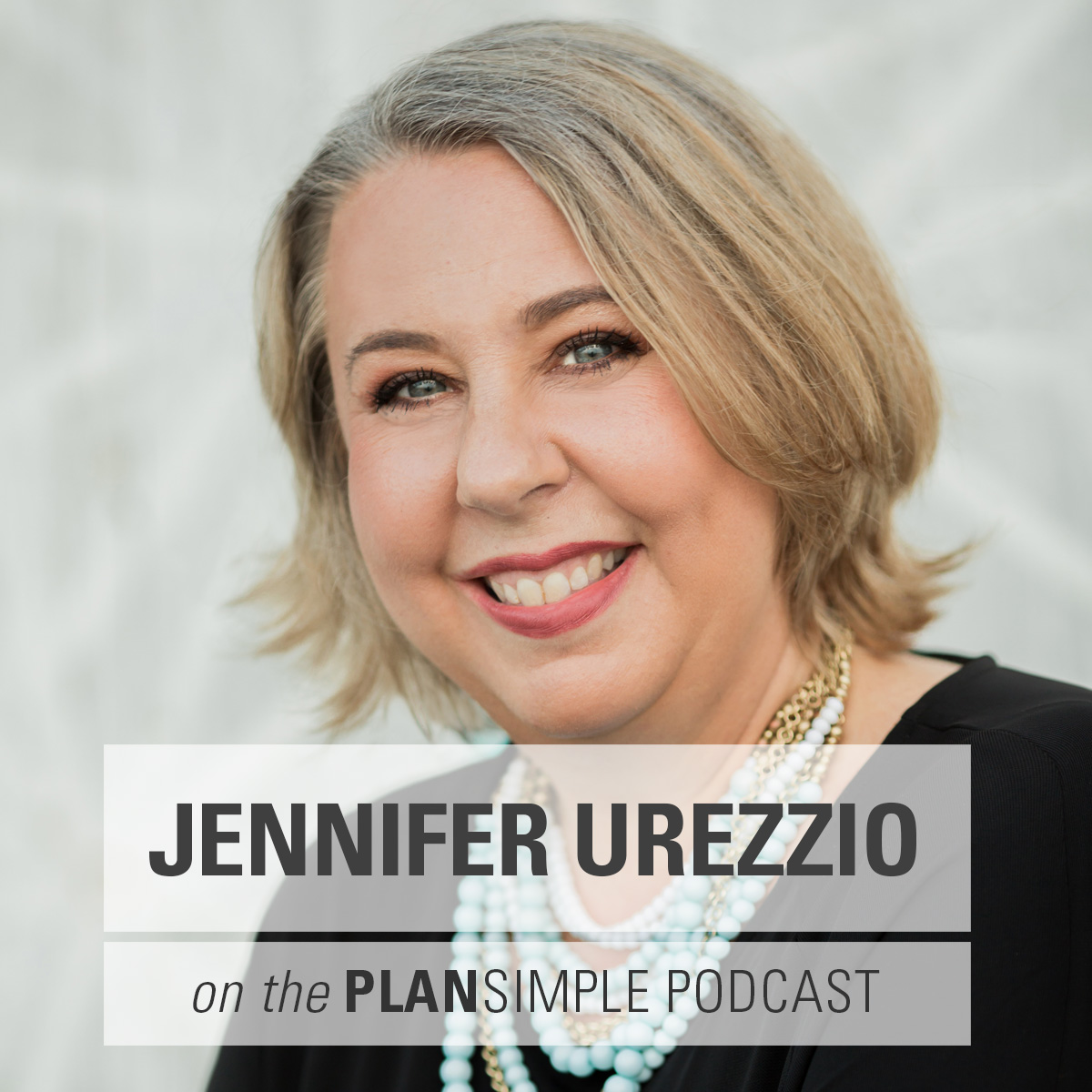 Fear is really about not feeling comfortable in the unknown, which is what trust is all about. 
- Jennifer Urezzio
Fear, Intuition and Connection with Jennifer Urezzio
On this episode of the Plan Simple Meals Podcast, I'm really excited to talk with Jennifer Urezzio, about fear, intuition, and connection —  and how all of that plays into our planning. 
One of the reasons many of us plan is so that we can do more, fit more things in, or really, ideally fit the things that really matter in. One of the things we don't always plan for is moments of om and connection. So we dig into that today. 
But we start with fear. Fear is really not feeling comfortable in the unknown and shows us where we need to learn to trust. In moments of fear, we need to connect with knowing we will be safe. We need to pause and connect this way many, many times a day, but when we do it is so powerful. 
We talk about: 
How when you are connected you realize challenges aren't about you

Learning to listen to your intuition by remembering the times it steered you right and asking: What do I need to hear today?

Getting really clear on your core values and how they are fulfilled internally

Your body as an indicator of how you are feeling about things

Learning to say no and how to communicate effectively (and how to do that around the holidays, especially during the current pandemic)

Not taking responsibility for other people's decisions
BIO
Jennifer Urezzio is the founder of Soul Language – a paradigm that puts tangibility to Soul so a conscious connection can be established to enable crystal clear decisions for success. Jennifer is also a master intuitive and the author of two best-selling books. Currently, she has trained over 30 practitioners worldwide in Soul Language. At this time there are over 5,000 individuals all over the world connecting to their Soul Languages.
LINKS
FREE GIFT:
Creating a Sacred Practice That Works
Why do we need a sacred practice? When we feel separate from our higher power, that separation shows up in our lives as lack, pain, and suffering. Participating in a daily sacred practice that fits who you are will allow you to create in a more powerful way, feel more at peace, and know that you are safe no matter what challenges may appear in your experience.  As a spiritual renegade, your sacred practice needs to be flexible, fun, and innovative like you.
Doable Changes from this episode:
PAUSE AND LISTEN.

We get messages, but many of us have trouble hearing them. Pause and ask yourself: What do I need to hear today? Pause and listen. Go back to this practice throughout your day. 

TUNE INTO WHAT YOU KNOW.

Do you ever dismiss your intuition because you think it's always wrong? Start to learn to trust yourself by thinking about a time (or times) when your intuition was 100% spot on. Connect with that feeling and that space in yourself as you listen for your own inner wisdom.



NOTICE IN YOUR BODY.

Start noticing what your body is telling you about people or situations. Your body is a great indicator of whether it is time to make a change, enforce a boundary, or create some space or go all in.