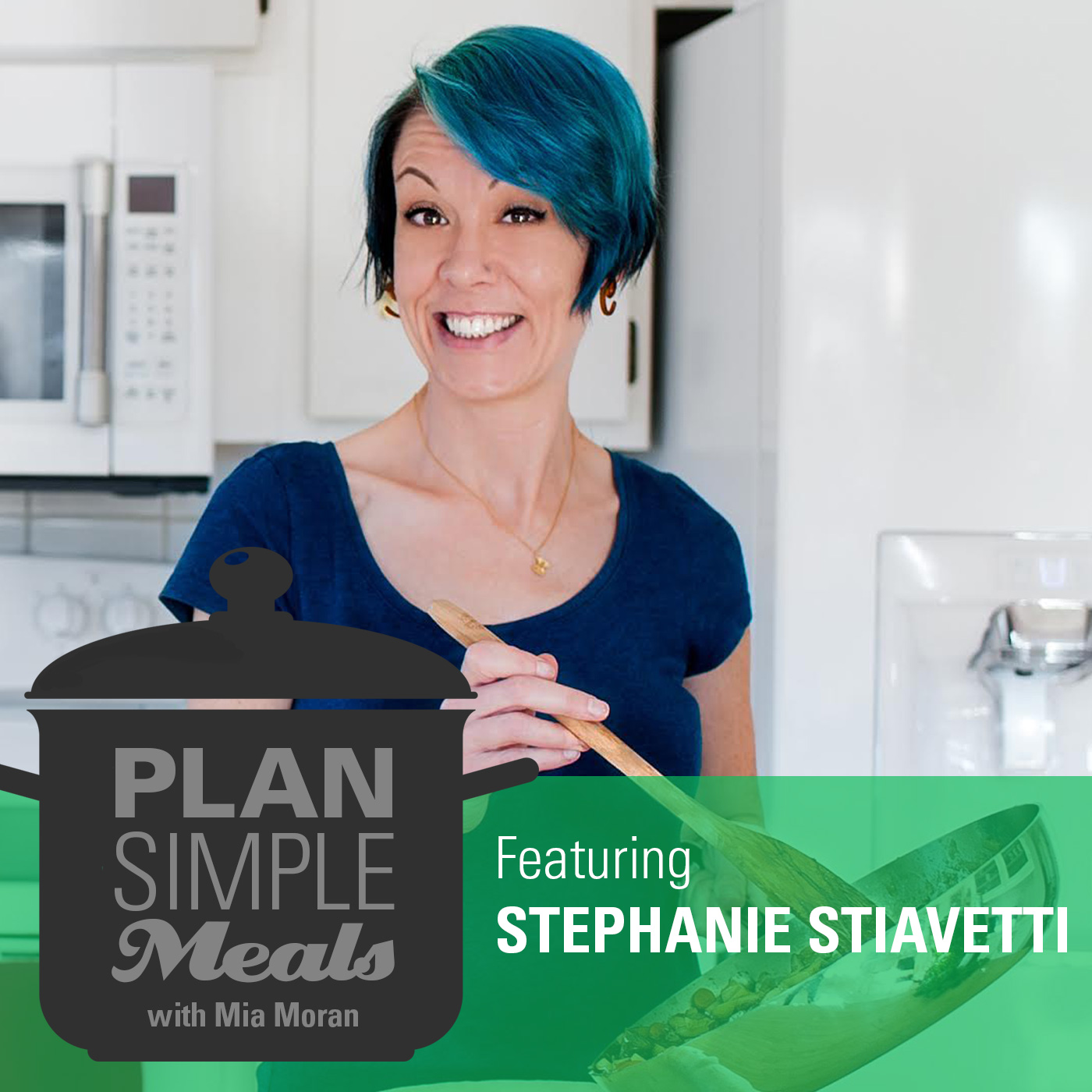 Any tool that encourages creativity is awesome.
- Stephanie Stiavetti
Cooking Does Not Have to be Stressful with Stephanie Stiavetti
On this episode of the Plan Simple Meals Podcast, I'm really excited to talk with Stephanie Stiavetti. She's a trained chef who helps regular people feel fabulous about cooking.
Steph learned taught herself to cook as a kid, but stopped in her teens and 20s. Some significant health issues led her to learn to cook and feed herself again. She went to cooking school and pastry school and has worked in restaurants. Now her focus is helping other people be amazing home chefs.
Steph has some amazing cheat sheets that help you in the kitchen. Things like basics about oils and sauces . . . basics that help you make it easily—and amazing.
We talk about:
What 5 tools you need in your kitchen

How to find the right knives (and cut safely)

The world's simplest sauce

What oils to use for cooking

How to make a salad dressing that will make you love salad

Salting food (even things that would surprise you)
BIO
Stephanie Stiavetti is the personal chef, cookbook author, and cooking teacher behind Fearless Fresh, an online cooking school that helps you build confidence in the kitchen. She teaches you a lot more than just cooking – you'll learn how to create and plate beautiful, delicious dishes you can be proud of. Steph has attended both culinary and pastry school, traveled throughout the world learning global cooking techniques, and published a book about artisan cheese called Melt: the Art of Macaroni and Cheese. She's also the creator of Fearless Fresh Cooking Cheat Sheets, colorful kitchen charts that make cooking effortless. In addition to her website, Steph's work has appeared in New York Magazine, NPR, Saveur, Serious Eats, The Washington Post, The Wall Street Journal, Readers Digest, The Smithsonian, and The Huffington Post.
LINKS
Doable Changes from this episode:
GET ONE TOOL YOU LOVE.

The right tools make cooking easier and more enjoyable. Get a knife that feels right in your hand or the slow cooker you've been thinking about or a hand blender … and then use it for one week to see how it feels and how it changes your food experience.

ADD A LITTLE SALT.

A little salt goes a long way. As Steph says, it can be the difference between hating the salad dressing you make or loving it. She recommends ½ tsp of salt for 2 cups of dressing. I add a pinch to my morning smoothie. Try adding a little salt to something you normally don't salt and see what changes.

MAKE COMPOUND BUTTER.

Sometimes what gets in our way of eating real food is feeling like it lacks flavor, especially if you are used to more processed food. Steph talks about making compound butter as a super basic sauce. Use her ratio, 1/4 pound of butter plus three tablespoons of fresh herbs plus one teaspoon of spices, to make a compound butter to flavor your food. (She has a cheat sheet for this to give you more ideas about what to use).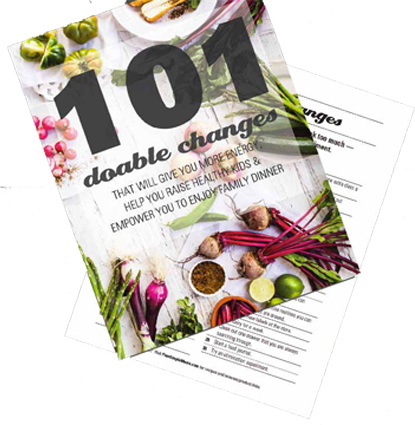 Choose from the changes above or download a list of 101 Doable Changes we made for you.
REALLY getting healthy as a family can be a big lifestyle change. But no matter how insurmountable it may feel, focusing on one doable change at a time can help you take small steps toward your big goal.
A healthy lifestyle is really made of lots of little things that when repeated regularly and added together over time make a huge impact on your life.
Choose one Doable Change every Sunday night — one thing that you are willing to play with for the week. The key is to keep it doable and fun! Write that thing on a sticky note or your phone so you remember it. Then put 3 things on your calendar that support it.
Choose from the changes above or download a list of 101 Doable Changes we made for you.
https://plansimple.com/101-doable-changes/
Relevant Episodes: