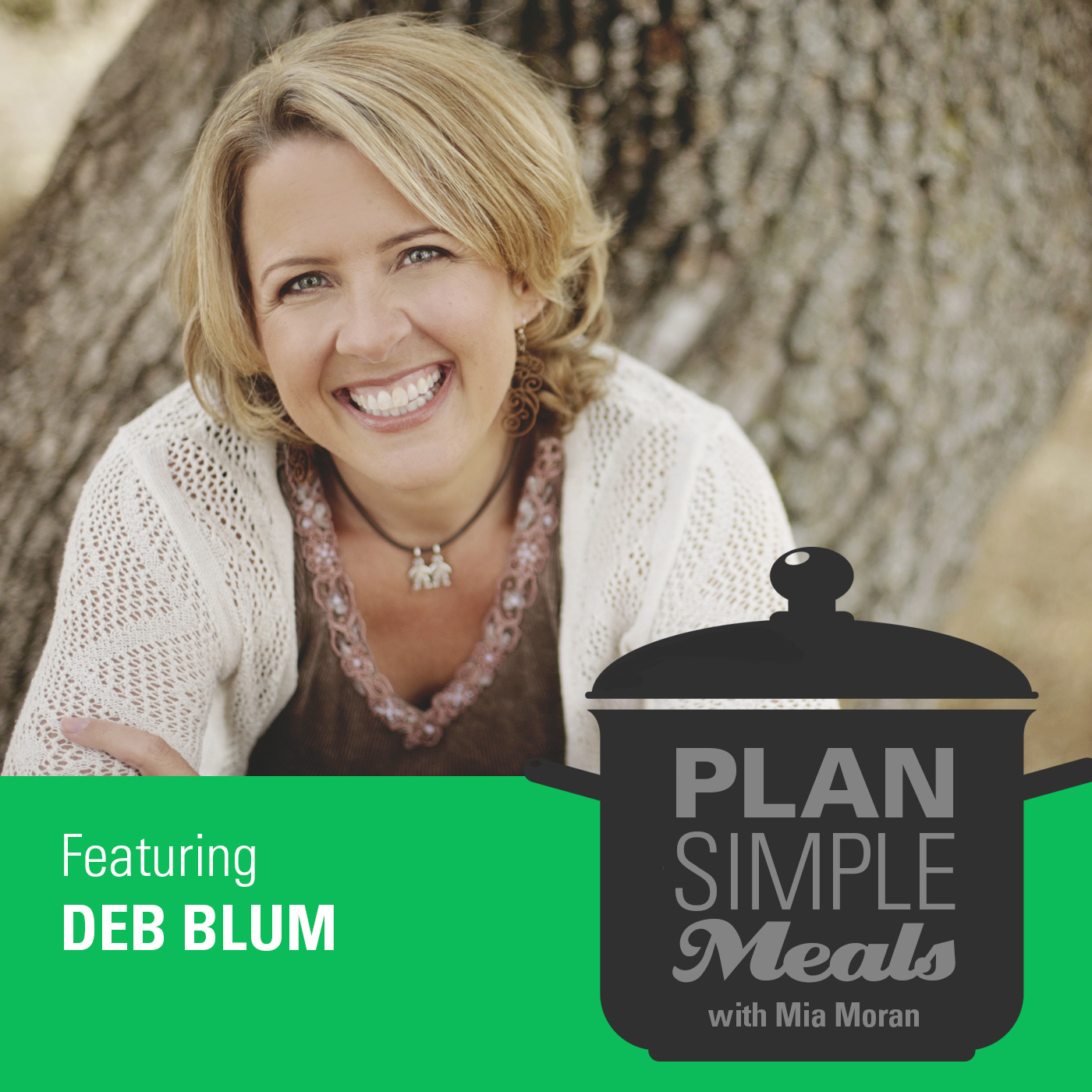 Busyness is a Distraction with Deb Blum
When we don't feel strong within ourselves, we tend to be sort of tumbled about by all of the outside influences of what we should be doing.  

– Deb Blum
On this episode of the Plan Simple Meals Podcast, I'm really excited to talk with transformational coach Deb Blum. She helps moms find more freedom, fun and fulfillment within the lives that they live right now. You know I believe in doable changes, and Deb is about working with the life you already have. Love that!
Deb and I talk about how to help your kids thrive by showing up with confidence and solidity, whether it's about what you serve for dinner or anything else. We talk about our own paths of getting past all the "shoulds" to do just that—and how to be solid and flexible at the same time.
We talk about busyness related to those shoulds and as a form of distraction. Deb says, "Whenever I decide to do something, I seem to always have time to do what I decide to do." We talk about making time for by choosing what's really important to us.
We talk about:
How parenting demands shift as our kids change—and how to stay involved as they grow

How we bring our own food challenges to the table and still get our kids past them

The fact that busyness is a distraction and setting decision parameters to help say no to busy

The ripple effects of turning your focus back to yourself

Going paperless as a form of freedom

How tapping into our own enoughness changes everything
Deb is a coach, consultant and speaker. She is a creative problem solver and freedom catalyst, who helps set moms free from all of the perceived limitations that they have. As a catalyst, she guides people into greater acceptance of of who they are, because that acceptance alone brings so much inner peace and happiness. She believes that we can transform our lives within the life we already lead.
LINKS
Doable Changes from this episode:
Know your goals and let them guide every decision for one week.

So if your goal is to be healthy and strong so you can be active with your family, apply that to decisions about what you eat and do. Make your decision and be confident and firm with it. This works wonders with reacting to kids responses to what's for dinner (and sometimes even helps cut back on negative responses.)
Set decision-making criteria for saying no.

This can look a lot of different ways. You might say I'll only volunteer if I'm actually engaging with my kids (no committee work) or we only do activities two nights a week or we spend time as a family on Sunday, so we say no to invitations. Having decision-making guidelines helps you easily weed out things that don't fit your personal and family values.

Go paperless for a week.

Deb talked about the freedom of being paperless and the tools she uses to be paperless. Try being paperless for one week—use your phone or your iPad for note taking. Create a digital binder of meal plans and recipes. Experiment with tools to make paperless work for you.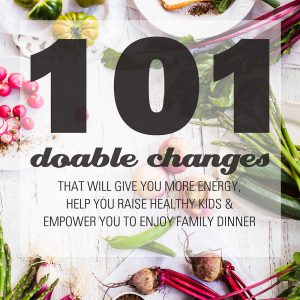 REALLY getting healthy as a family can be a big lifestyle change. But no matter how insurmountable it may feel, focusing on one doable change at a time can help you take small steps toward your big goal.
A healthy lifestyle is really made of lots of little things that when repeated regularly and added together over time make a huge impact on your life.
Choose one Doable Change every Sunday night — one thing that you are willing to play with for the week. The key is to keep it doable and fun! Write that thing on a sticky note or your phone so you remember it. Then put 3 things on your calendar that support it.
Choose from the changes above or download a list of 101 Doable Changes we made for you.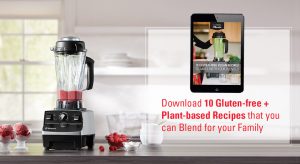 This episode is brought to us by Vitamix. If you have been part of my world for awhile, then you know how much I love my Vitamix. I use it to make smoothies, dips, dressings, sauces, soups, pudding, batter. I would say I use it a minimum of three times a day. I have created an ebook for you that you can get at plansimplemeals.com/vitamix that has my 10 favorite Vitamix Recipes, as well as a discount code if you are thinking about getting a Vitamix yourself.