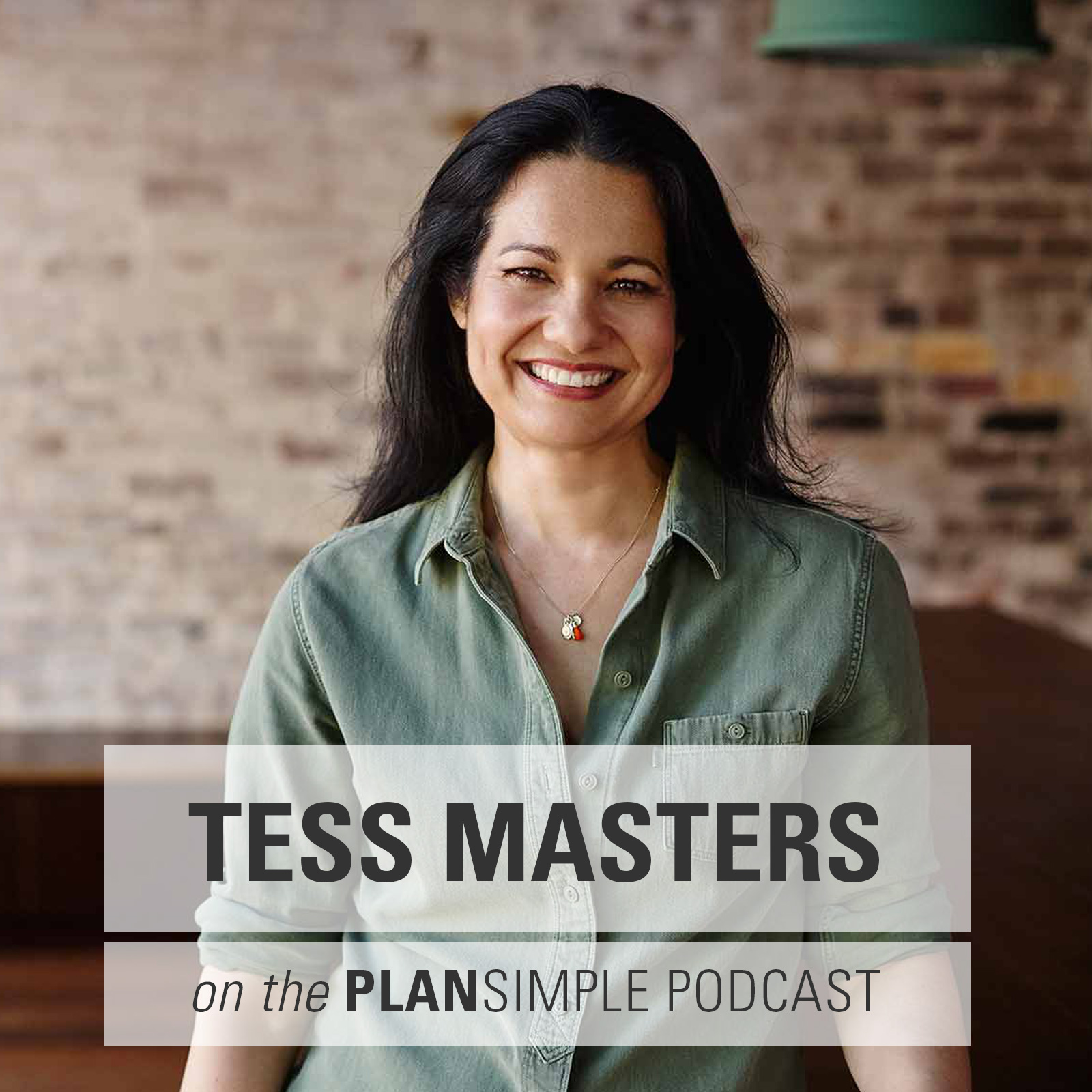 Change is so much easier when you want it. You want it when you feel joy and you're excited about it.
- Tess Masters
Blend It with Tess Masters
On this episode of the Plan SimplePodcast, I'm so excited to talk with Tess Masters, aka The Blender Girl. Tess is all about the perfect blend, our own personal mix of different notes and philosophies, culture, work, love and relationships, hobbies and literally food that make our perfect blend in health and happiness. Oh, and she believes food needs to pull us in at a glance and be mind-blowingly good. 
Tess talks about her food philosophy and how she came to love blending. One of the biggest takeaways? Bringing joy back into the mix. Tess went from evangelizing one way of eating over another to "coming at health and nutrition and food from a place of abundance and joy rather than depletion." When she started focusing on all the incredible things that she could do as opposed to all the things I couldn't eat or couldn't do or whatever, everything changed. 
Tess isn't just the blender girl. She an actress too and travels a lot. And since travel and summer barbecues (or winter holidays or this week's birthday party, or pick your reason) are two of the big challenges I hear people talk about when it comes to eating food that serves you, we talk about that too, and she shares her tips on eating and feeling great when traveling. 
We talk about: 
Blender recipes that get self-proclaimed meat lovers to crave mushroom stroganoff, green hating kids to eat kale smoothies, and everyone to swoon over cauliflower, and the alchemy of flavors you can get when you blend that you can't get other ways (hint, try red pepper and strawberry)

Why it's worth investing in a high power blender (and the fact that any blender is better than no blender)

The sachets Tess carries on a plane—what's in them and how they help keep her feeling good

Bringing something you can eat to events—and choosing what you will eat to be part of a celebration

The importance of staying hydrated, when we travel and in general to support our eating decisions

How to handle questions about what you are eating/not eating (because sometimes it's what other people think that keeps us from eating in a way that gives us joy)

Ways to get kids to eat healthily… including changing tastes and getting them involved
BIO
Tess Masters is an actor, voice-over artist, and a food fanatic. She went to a naturopath in her teens because of extreme lethargy and learned that she is gluten and dairy intolerant. That led her to explore how food affects us. She tried pretty much everything: vegetarian, vegan, raw foods, Ayurvedic philosophy, Chinese yin and yang, alkalinity, Body Ecology anti-candida principles, blood-group strategies, and zillions of green smoothies … One day her dad asked if she was having fun. That was a turning point to getting more intuitive with her eating, to cherry-picking from different plans to find what works for her. And Blender Girl was born. She started blending foods, finding new combinations, and sharing her amazing recipes to help others find their flexible wellness plan. 
LINKS
Doable Changes from this episode:
TRY A BLENDER RECIPE.

If you think healthy food can't really taste all that good or that your husband won't eat or your kids will say, yuck, try a delicious recipe that is also healthy. We've included 3 of Tess's favorite, yummy recipes in the links—or check out her website or cookbooks for more. Pick one to try this week. See what everyone thinks. If it's a winner, make it again. If not, try a different recipe.



ASK YOUR KIDS ABOUT FOOD.

Ask: Did you like that? Do you want me to make that again? Should we put that in the meal rotation? What fruit should we eat this week? What vegetables? This helps give them autonomy about choosing healthy foods. Sometimes people start just by feeding themselves what they need and then try to bring their family along. Try this to get your kids on board with healthy choices. 

FIND YOUR JOY.

Instead of focusing on what you can't have, focus on what can have, what you love, what makes you feel really good. Get really clear on that, especially before you go to a social event. Then fill your plate with confidence, and if people ask, let them know that yes, you're enjoying yourself.