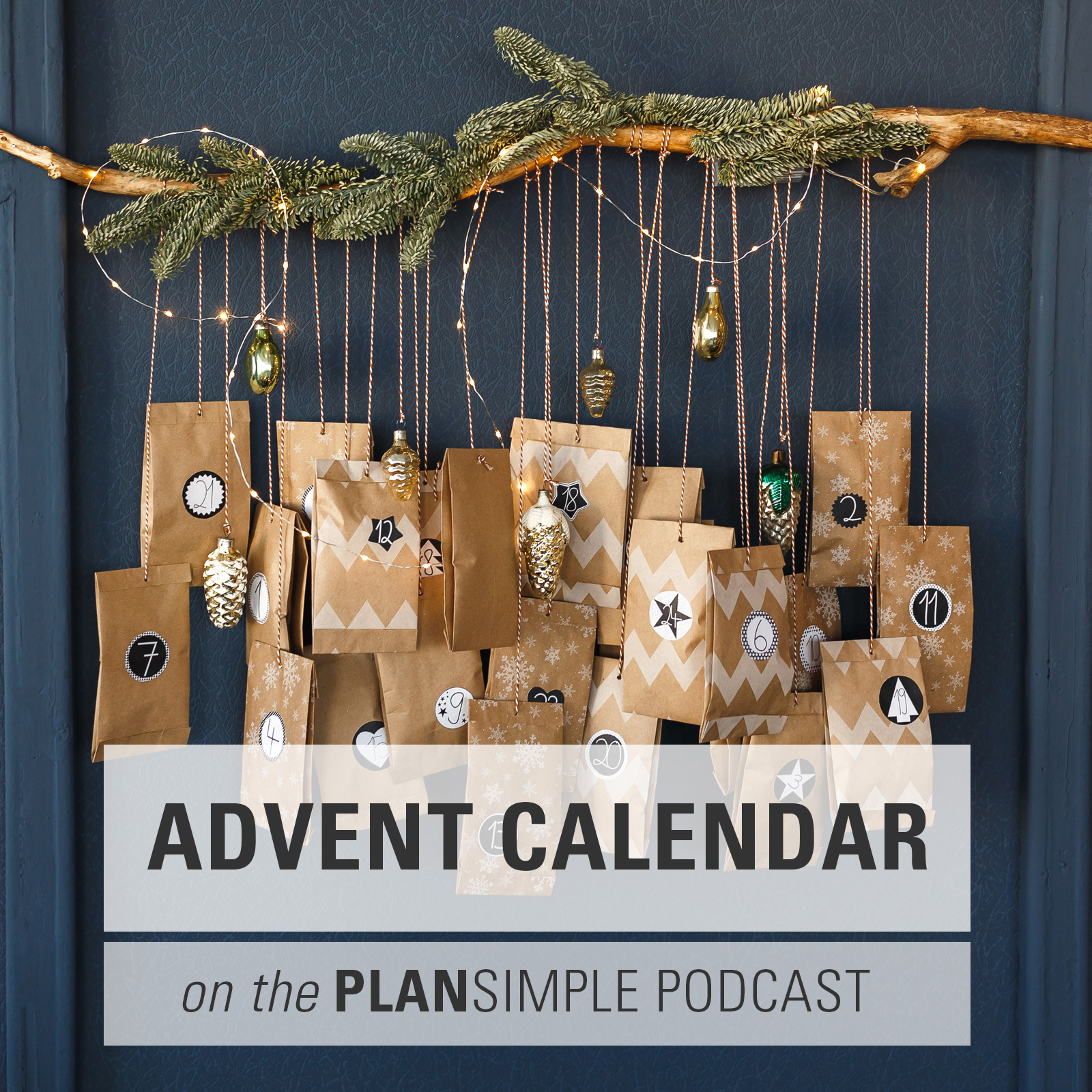 An Advent Calendar is a well-made plan that will keep your whole family centered and focused on the way you want the holidays to feel.
- Mia Moran
How to make an Advent Calendar that supports your family this December
There are so many cute ideas around the Internet showing what an advent calendar can look like. It is worth a Google.
But, what do you put in those pockets, pages or envelopes?
What are your kids receiving each day?
I remember the year I decided we should have an advent calendar. It was a ritual I was excited about, so I searched for a good solution. All the solutions I found fed my kids thoughts I was not sure I believed, sugar I knew they did not need, or toys that I was certain were too much.
So inadvertently, about 8 years ago, I started a process that revolutionized my December.
The process, which I want to share with you today, is all about what your children get each day when they open their advent "envelope."
This is all outlined in the Advent Planning Packet (which is free!) and taught in the audio above, but I also wanted to give a quick summary.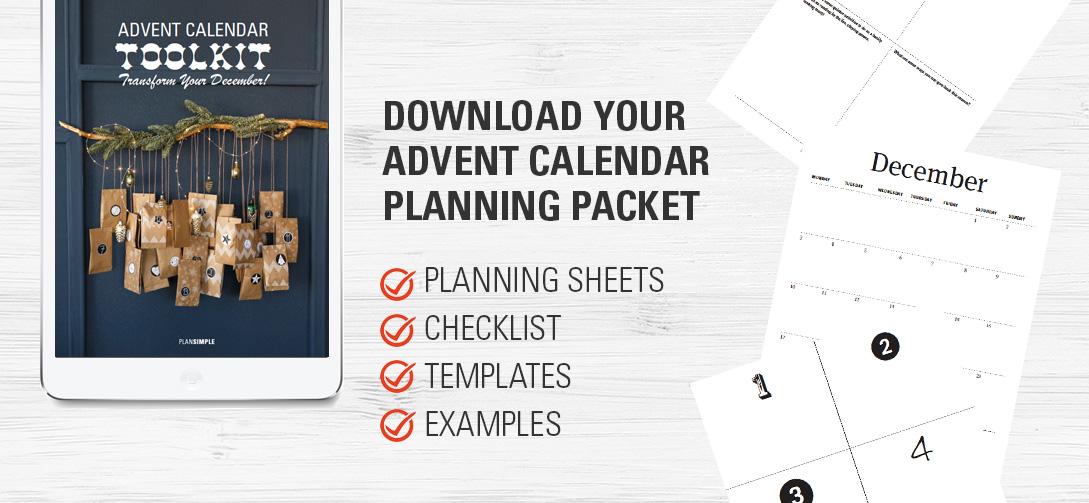 The idea behind the process is to plan out your December and then use the Advent Calendar to both follow through yourself and get your family behind your ideas.
Define how you want to feel this season. There is no right or wrong answer. This is one of those things only you can know. Do you want to find ease? Do you want to feel joy? Do you want to experience connection? Quiet? Abundance? Try to think of one word or phrase.
Write down everything you need to get done in December. Examples might include: buy a tree, get teachers presents, cook the holiday meal, get a haircut, finish your work project (or 5). Set a timer and write for 15 minutes. If you finish before the time ends, try to keep going. This should be a total brain dump.
Get all key dates in a calendar. Use your phone calendar, your paper planner or the calendar I made for you. Write down things like school holidays, travel days, house guest days, office parties, school events, performances etc.
Categorize you brain dump. You are going to put everything from your brain dump into four categories: things you have to do this December, things you want to do, thing that are nourishing and quiet (you may have to add these), ways you can give back as a family. There is a work sheet for this in the Advent Planning Packet.
A little aside… There will be more in your brain dump than is appropriate to integrate into your Advent Calendar. We created a course to help you plan all aspects of your holiday. (Not free but VERY reasonable!)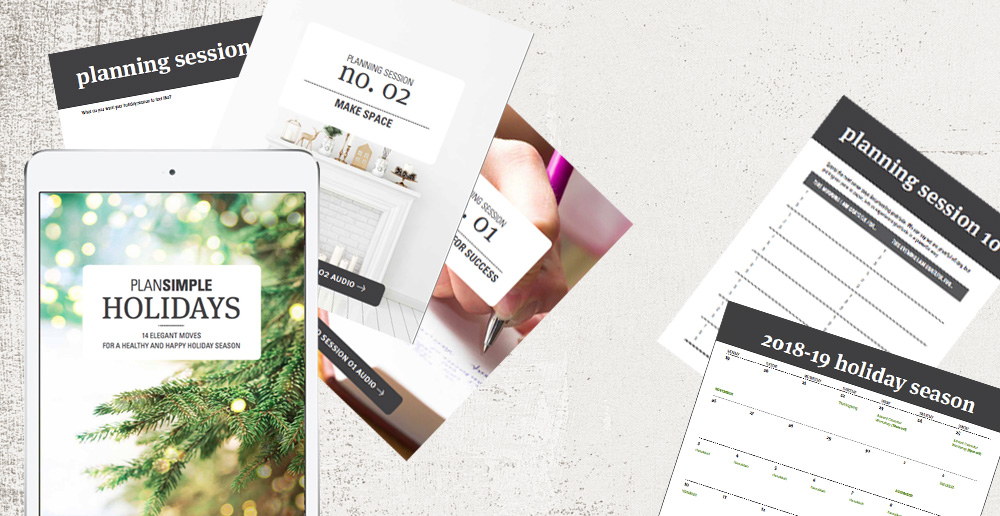 Figure out what is going to happen each day of Advent. Start by writing down all date specific events that are either part of your Advent or events that you need to plan around. Fill in with the things that the kids will do each day of Advent that are not a date-specific event. Think about balancing the gestures of the four categories. Think about balancing rest with exertion. Make sure your self-care is in there.
Write the thoughts that go into the actual Advent calendar. Have fun writing a thought for each day based on both your plan and your word.
Here are a few examples.
Example #1 — There is a day when you have a work thing, someone has something after school, and you wrote down, read quietly as an activity you know both you and your kids can handle that day.
Your thought might say: "Reconnect as a family after a busy day. Snuggle up buy the fire while mama reads you her favorite Christmas story."
Example #2 — Maybe there is a day when you have something you have to do, like go to a Christmas party. It would be simpler to ditch the whole thing, but you feel obligated. You remember that in years past you were always frazzled because the kids were not dressed and you were hungry.
Your thought might say: "Have a festive snack, get all ready in your party clothes, and sing carols on your way to …."
This previews getting dressed and gets you fed. Assuming you like carols, you arrive happy and able to embrace love.
Make or buy a calendar to display your well-planned Advent. A calendar can be as simple as 25 envelopes or small bags. Numbers can be created on your computer, written by hand, or stuck on with stickers that you find at a craft store. You can hang the envelopes on a wall, on a string, or simply put them in a box.
If you have run out of time or making is not up your alley, advent calendars are pretty easy to find these days at a store near you. You can go to Pottery Barn, Target, or your local craft store and find a pre made solution. It is really the well crafted plan that is going to impact your December!
We would love to see your holiday countdown ideas!!!! Make sure to post your on social media using #plansimpleholidays. We love Instagram! Come visit on Instagram and see my calendar unfold…