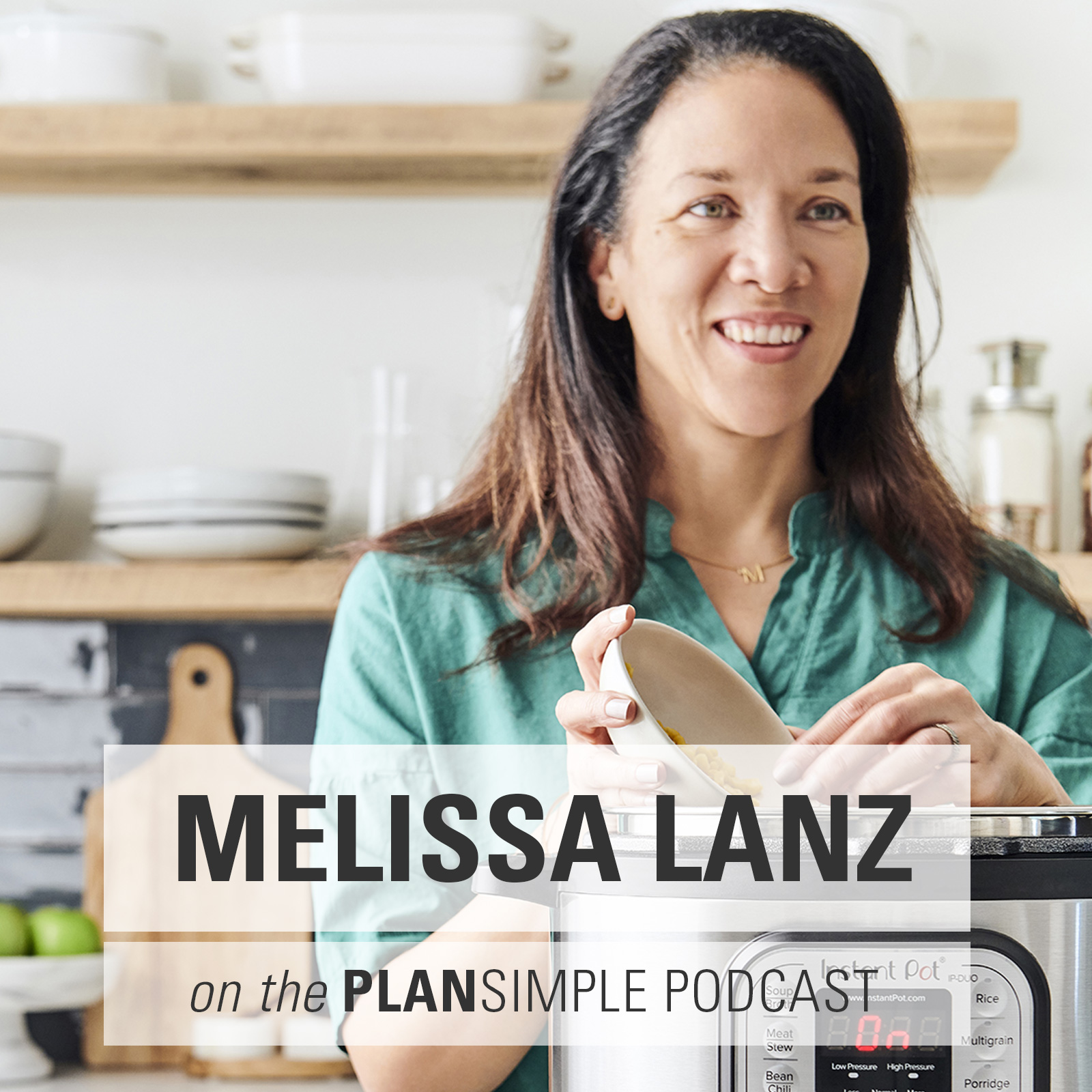 I wanted to get back to something that meant something to me. And cooking and feeding and nurturing always meant a lot to me.
- Melissa Lanz
A Meaningful Plan with Melissa Lanz
On this episode of the Plan Simple Meals Podcast, I'm really excited to talk with Melissa Lanz, the founder CEO of The Fresh 20 meal planning service and a business coach.
Her business started as a one-off favor to a friend, another busy corporate working mom, who felt like she needed a meal plan to eat right. And the catalyst for change was when her husband said, "We need to talk." She realized she realized she didn't do the things she loved anymore, she wasn't present for her two little kids, and she wasn't spending time with her family. Things needed to change. She talks about how she decided on her business and got it started.
It was a big risk, going from making 6 figures to 0, but Melissa was in so much pain she says it didn't really feel like a risk. Do you need to hear this today? "People live in a lot of pain and don't want to change their situation because they feel that it's too risky. They don't realize that the other side of that risk is a rescue for their happiness, for their health."
We talk about:
$50 weekends as a tool for saving money and helping with transitions when finance change

How getting creative about family time and going out on the cheap can lead to things that fuel and enhance your life

Having a plan that lets you buy healthy foods even on a budget, save time, cuts waste—and lets you get your kids involved with grocery shopping without ending up with lots of junk in your cart

Finding the spot where you can slow down in the week

Creating a food rhythm can relationships with your kids, your spouse, your friends

Making soup to cope with fear
BIO
Melissa Lanz is a former internet marketing executive who quit her day job to promote good eating habits in the midst of a national health crisis. As founder of The Fresh 20, Melissa strives to bring fresh food back to the household table and reduce the amount of processed ingredients being used. During the fall of 2009, Melissa dedicated her efforts to creating this tool for busy families and singles stuck in a takeout rut. To further her goal to be a part of The Food Revolution, she wrote The Fresh 20 Cookbook (Harper Collins 2013) and also promotes education in nutrition and healthy cooking through speaking, locally in Southern California and throughout the country.
LINKS
Doable Changes from this episode:
PLAN A $50 WEEKEND.

Put your credit card away and take $50 cash with you. That's it for the weekend. Get creative—have a potluck instead of going out to dinner. Go to the park with your kids. Find free entertainment in your area. Notice what feels hard about this change—and then try again. What happens as you get more used to living this way?

USE A MEAL PLAN.

Make a meal plan for the week. Use The Fresh 20 or come up with your own. Focus on real foods, but don't be afraid to have overlap—the chicken you make on Sunday can go into your salad on Tuesday, the big pot of beans you cook can go into burritos one night and offered in rice bowls another. Having a meal plan makes this kind of overlap and batching.

TAKE YOUR KIDS GROCERY SHOPPING.

I know a lot of women who don't want to take kids grocery shopping because it takes too long or they buy too much junk. Try it this way: Go in with a list. Have your list focus on the perimeter of the store (fresh produce, meat, eggs/dairy). Tell your kids you are only buying things on the list. Have them help you find things—make it a treasure hunt.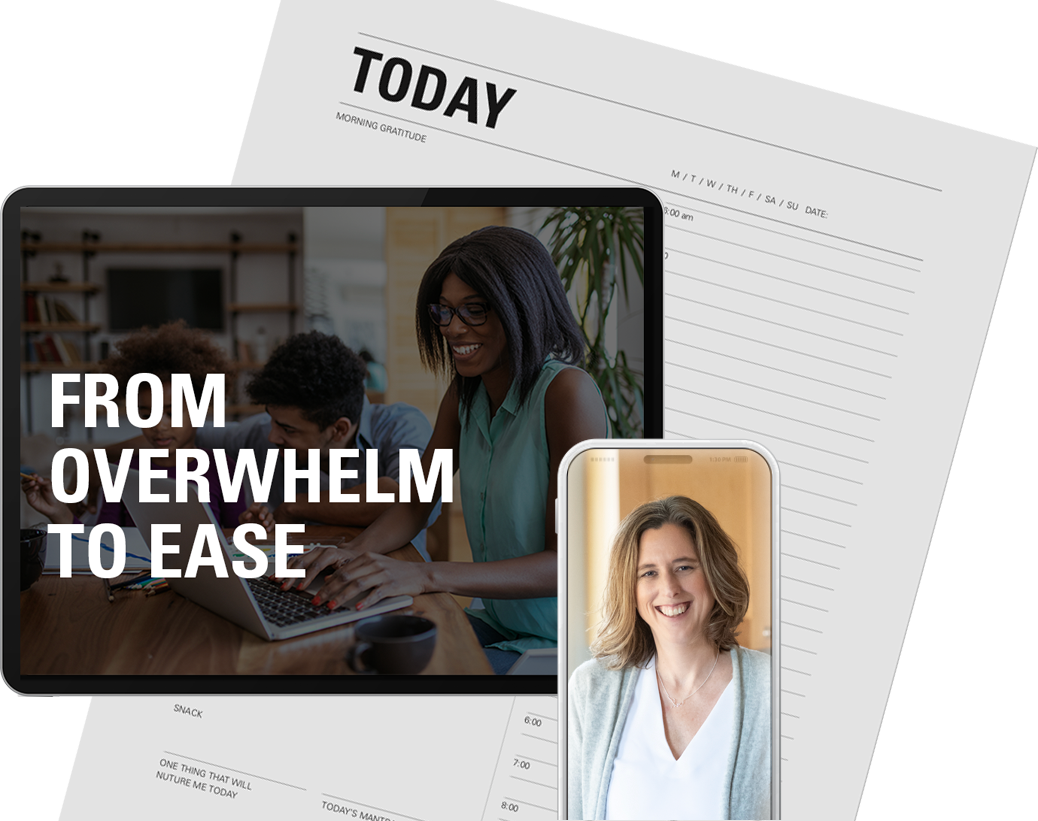 Go from Overwhelm to Ease. Make one simple change and transform overwhelm into something far more productive and valuable.
REALLY getting healthy as a family can be a big lifestyle change. But no matter how insurmountable it may feel, focusing on one doable change at a time can help you take small steps toward your big goal.
A healthy lifestyle is really made of lots of little things that when repeated regularly and added together over time make a huge impact on your life.
Choose one Doable Change every Sunday night — one thing that you are willing to play with for the week. The key is to keep it doable and fun! Write that thing on a sticky note or your phone so you remember it. Then put 3 things on your calendar that support it.
Choose from the changes above or download a list of 101 Doable Changes we made for you : https://plansimple.com/101-doable-changes/