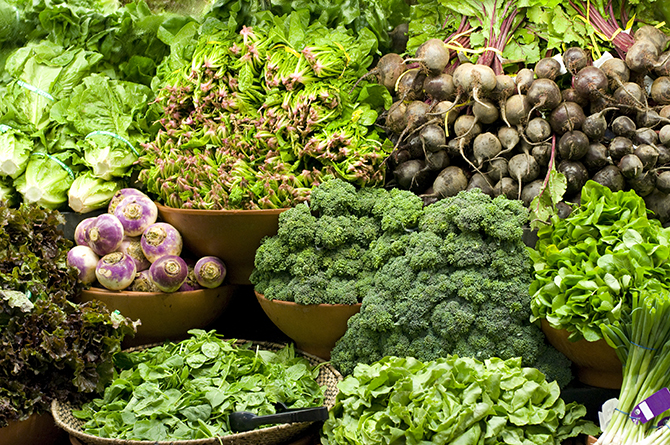 Warming foods vs. Cooling foods
I have the great honor of being friends with Eva Rawposa, Chef and founder of Uncooking 101. A few years ago, around this time of year, I asked her about the winter and eating raw foods.
She explained that you just have to have "warming" habits in the winter and "cooling" habits in the summer.
And here are some of her suggestions on implementing both….
Warming foods and activities
Chewing food more thoroughly actually imparts more warmth to the body (even if it began as a cool food!). For best assimilation (of nutrients) and warmth, you'd ideally chew your solids until they become liquid in your mouth. This is optimal anyways!!
Foods that grow locally in cold weather tend to be the best foods for warming. Root vegetables, members of the onion family such as onions, garlic, and leeks, kale, and mustard greens are ALL warming foods. Conversely, where possible, eating fewer tropical fruits or "summer foods" like tomato, watermelon, and cucumber is ideal during the winter.
Using a dehydrator (or alternatively an oven set to the lowest possible temperature) for long periods of time actually creates MORE warmth in the body than fried or fast-cooked foods! (So a "raw" pizza or calzone is actually more warming than food like pasta or toasted bread!)
Drinking warm tea helps to warm the body, especially if you additionally use warming foods like ginger or cinnamon sticks. The tea doesn't need to be super-hot, so it could even be warmed during the day in a glass pitcher in a sunny spot to make "sun tea" if you'd like to actually make it raw!
When showering, alternating hot and cold water helps to rev up the circulation and results in helping the body to warm itself better.
Making sure to enjoy daily vigorous exercise, dry skin brushing, and drinking lots of warm water also help to both nourish your body but also to enhance circulation and therefore improve your ability to warm up naturally.
Cooling foods and activities
Eliminate or greatly reduce packaged foods, meat, and intoxicating foods and drinks.
(Even raw!) reduce very sweet foods and high-fat foods like coconut and avocado.
Replace (at least sometimes) olive oil with fresh, cold-pressed flax oil.
Drink more water and enjoy more juices and smoothies.
If using grains and legumes, use the ancient and cooling options like millet and mung beans.
Eat a primarily raw diet rich in fruits, tropical and otherwise, especially cooling fruits like tomatoes, cucumbers, berries, pears, and watermelon.
Notes for anytime
Of course not every piece of information will be ideal to follow for every person at every time. You may find that a natural health practitioner will give you better, more specific information for you if you have a long-term challenge of always feeling cold.
Also worth noting is that, typically when a person follows a raw or high-raw diet (or even converts to vegetarian or vegan), it's common to feel colder as your body acclimates to your change in diet. This is normal and generally passes within 3-6 months for most.
As always, seek help from the type of health care practitioner you trust, if needed. And learn to listen carefully to the cues from your body.
Our bodies are made to work – in hot weather and cold alike!
Eva shared two fabulous warming recipes 10-minute Lasagna Bites and Eva's Orange Teriyaki Stir Un-fry
Eva's 10-minute Lasagna Bites
Making any type of nut milk? You might wonder what to do with the leftover pulp from separating the liquid from the fiber. One thing to note: If you have sweet pulp because you used sweeteners in your nut-milk, this may not work as well! It is PERFECT to add any vanilla or sweetener AFTER having strained, so you can use your pulp for a sweet OR savory (like this one) recipe.
Filling Ingredients
1 cup Nut Fiber/Pulp
1/4 cup fresh savory Herbs (like Basil, Oregano, Parsley)
1 tablespoon Olive Oil
1/4 teaspoon Salt or to taste
Filling Instructions
Chop up the herbs first, then either food process all together or mix well in a bowl if your herbs are well chopped. Taste test to see if you would like to add more salt. (I don't use much salt, so you may find that more is needed for your taste buds!)
Parmesan Ingredients
1/2 cup Cashews (DRY!)
1 clove Garlic, minced
1/4 tsp Salt or to taste
Parmesan Instructions
Grind in small coffee grinder or spice mill until the liquid from the garlic has pulled everything together nicely.
WRAPS: 2 zucchinis, cut into 1/8-1/4-inch lengthwise strips in a mandolin
OPTIONAL FILLING: A marinara makes for a lovely addition to this, although I find I am happy without it too.
ASSEMBLY: Set your zucchini slice out flat, vertically. Add about 2 tsp of the filling in a clump about 1/3 of the way up from the bottom.
Wrap the bottom part of zucchini up over the filling, then roll to the top. Repeat until all of your zucchini slices are gone. Top with parmesan, salt, and cracked black pepper to taste.
EXTRA NOTES AND TIPS: Have the parmesan already ready for next time OR make plenty of extra for whatever else you'd like to enjoy it with. When I make this recipe, I rarely have to think about that because we almost always have some in the fridge! The parmesan will easily store in the fridge for a full week.
It's also great to have things like a raw marinara on hand. SO, for example, if you make pasta (as in the raw zucchini kind, not the gluten-filled processed kind!) and a fresh, raw marinara, make a touch extra to have on hand for a day or two. It's all about building habits to make it all easy!
Eva's Orange Teriyaki Stir Un-fry
Ingredients for Sauce
1/2 cups Coconut Aminos
1/2 tablespoon Ginger Juice
1 clove Garlic
1/2 cup OJ
1/3 cup Sunflower Seeds
1/3 cup Yacon Syrup
1/8 cup Sesame Oil
1 tablespoon Sea salt
1/4 cups Agave
Ingredients for Stir Un-fry
4 cups Broccoli
4 cups Cauliflower
3 cups shredded Beets and/or Carrots
6 cups chopped Celery Cabbage
2 cups Mushrooms
2 cups Raisins
Toppings
Shredded Beets, Carrots and/or Alfalfa Sprouts for garnish
1/4 Avocado, diced
1 teaspoon Sesame Seeds
1 tablespoon Pumpkin or Sunflower Seeds
Optional: Serve on a bed of wilted kale, spring salad, or spinach.
To wilt kale, massage with some sea salt.
Instructions
Pulverize the dressing with your blender.
Chop the veggies pretty small, put them all in a big bowl together, then massage them with your dressing. Don't be shy – use your hands and dig in. Get out your anger if you have some. If you don't, strengthen your hands!
Optional: Put the veggies in a glass dish, like a casserole dish. If you have a dehydrator, put the veggies in the dehydrator at
135 degrees for the first hour, then at 115 degrees for another hour or two. Or, if you don't have a dehydrator, put this in your oven on warm (as low as it goes) for a few hours to continue to soften and warm.
Serve as the stir un-fry only or on top of a bed of greens. (Or something else – use your creativity!)
Top with the avocado and other goodies.
Eva's Tidbit: Why massage the cruciferous veggies so much?
This will help soften the veggies like broccoli and cauliflower. As a result, they will be easier to digest, and the vital nutrients will be easier to assimilate. This will help you to feel light and fabulous after eating!
Another Tidbit: I know it can be hard sometimes to see raw recipes with ingredients you don't have on hand and may not have even heard of. The tamari gives it the teriyaki flavor, but if you want to skip it for a different flavor, add another tablespoon of salt and about 1/4 cup of sesame oil. The yacon syrup can be replaced with maple or agave syrup if needed, or even 1/4 cup dates or raisins. The celery cabbage is wonderful, but it can be replaced with any other cabbage.
About Eva
Eva Rawposa (aka "Eva Raw") went from rudimentary kitchen skills to being trained by top chefs worldwide in uncooking… Her goal is always to take everything back to simplicity without sacrificing the flavor and joy of uncooking. Eva is founder of The Uncooking Club (both online and in person) and The Uncooking School and has taught and certified over 100 teachers worldwide.