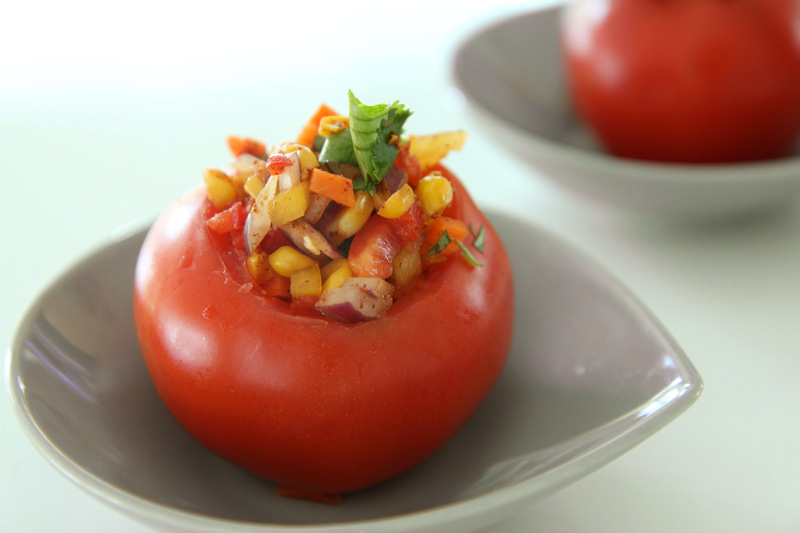 Uncooking101 Retreat and Stuffed Tomatoes
A wonderful 4 day "working" vacation and 3 days to get back into the swing of things at home and here I am, trying to share some wonderful food stories before the big storm!
Last week I had the honor of attending a Raw Food Vacation led by the wonderful Eva Rawposa, creator of Uncooking101. We ate food from 7am until 10pm. Eva taught classes throughout the day and invited 2 outside guests to do some teaching as well. We had some time off each day to explore the island. And, of course, I was there to take lots of photos. It is truly an amazing vacation that Eva creates!
Even though, I am quite comfortable making raw food in my kitchen, I came home with many useful tips. Here are some of my highlights…
Day 1. Eva's Indian inspired stuffed tomatoes were amazing. They are supper easy, and a big hit with my husband and son. The stuffing would taste great over a salad or with crackers, as well, but I love the idea of putting it in a tomato. We saved the insides of the tomatoes for dressing (there is a recipe for dressing in my new e-magazine). See the stuffed tomato recipe below.
Day. 2. On the second day we made a lot of food together and in the middle of it, Jan Buhrman came and did a class on fermentation. We made preserved lemons, which add an amazing flavor to many savory dishes. We also made kimchi, which I have bought for years and always have wanted to make!
Day 3. We got some time away to explore the island after lunch — I visited an alpaca farm, walked along the cliffs, and checked out some shops in Vineyard Haven with some of my new friends. In the afternoon, I returned to the house for a pizza making class with Rawbert, owner of the Organic Garden in Beverley, MA. So good! My favorite pizza was topped with onions and mushrooms. We used Eva's trick for uncooking onions, which makes raw onions easily digestible and really yummy. All you do is cut an onion into very thin slivers and massage the bowl of onions with salt and lemon juice for a few minutes.
Day 4. The guests left, and Eva and I had a very fun photo shoot around her next big project – drinking green smoothies and eating left over pizza in between sessions.
Eva pulls together a fabulous vacation that balances informative classes, beautiful sit-down meals with a view, and many moments for relaxing and getting outside inbetween. Eva has a gift for making raw food easy, and a beautiful smile. It was so wonderful to connect with her and the great people who attended her vacation!
Stuffed Tomatoes (2)
Ingredients
1 ear of Corn (or half cup of Organic Frozen Corn thawed)
1 Avocado
½ Red Bell Pepper
½ Orange Bell Pepper
½ medium Red Onion
2 tablespoons Cilantro
1 teaspoon Sea Salt
1 teaspoon Chili Powder
½ teaspoon Cumin
2 medium Tomatoes on a Vine
Directions
Chop all veggies (except tomatoes) either by hand or in a food processor.
Mix veggies, herbs, and salt in a bowl.
Cut out the stems of the tomatoes and carefully scoop out the insides.
Fill the tomatoes with the avocado medley.