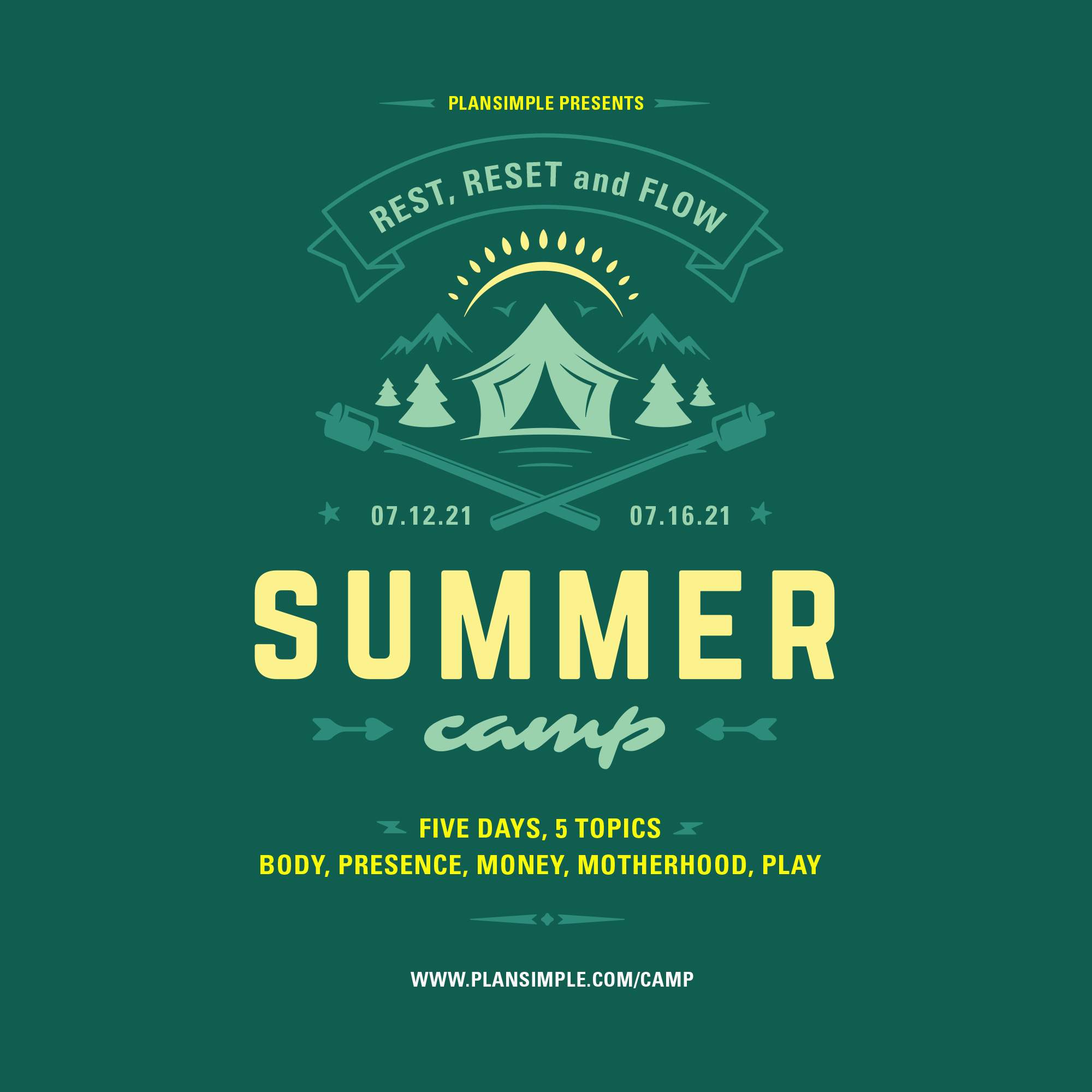 "If you don't get out there and define yourself, you'll be quickly and inaccurately defined by others."
- Michelle Obama
Rest, Reset and Flow with Mia
The past year was no joke. We became teachers that were never trained to teach, were asked to get the same quantity of work completed with more consistent interruption, and many of us were simultaneously surrounded by kids, family and community members in crisis. 
We rolled up our sleeves and we got to work. There may have been pieces of our new normal that almost seemed better — way less driving, less transitions, a slower calmer pace, Zoom calls with grandmas and aunties, a clarity of what matters most. But there were also pieces that were really hard — being far away from loved ones, kids bouncing off walls, masks, no alone time, so much cooking, stressful and time-consuming grocery runs, sickness, tight money. It was a bit different for each one of us, but it was easy for no mom.
And now, as the world opens back up and we release kids back into their worlds of elementary school, middle school, high school or even college, I am hoping we can all slow down enough to remember who we have become.
Camp covers 5 themes — body, presence, money, motherhood and play
Camp offers us some tools, some practice, some community to navigate these areas. 
It is virtual, but designed to be more than you stuck in front of a computer. 
You will move, plan and take action.
You will rest, reset and flow — which is what we need now more than ever!
If you upgrade, we also will give you audios, so you can listen from your phone for the rest of summer and into fall… It's all content that you will want to dive into.
My dream would be for you to gather a group of friends and do this together!
Here is a listing of the CAMP offerings!
Monday, July 12 – Friday, July 16
Live classes will be so FUN live, but will also be posted as the finish, and the recording will be up for 24 hours….
Monday: BODY

10 AM ET— Meal Planning for Your Week with Mia
1 PM ET — Amazing Salads with Tess Masters
3 PM ET — Q and A with Tara
You schedule your time…
All About Hormones with Dr. Anna Cabeca

Navigating the Healthcare Sysytem with Kyana Brathwaite

Cravings with with Jennifer Philips

Pilates with Tara Frederickson

JourneyDance with Toni Bergins

A Meditation with Heather Dressel

Kitchen Tools with Mary Lummerding



Tuesday: PRESENCE

10 AM ET— Sacred Circle with Julie Hannon
12 PM ET— JourneyDance  with Toni Bergins 
3 PM ET — 90-Minute Get-Something-Done Session with Mia
You schedule your time…
The Enneagram with Christina Granahan

Being Present in Your Home with Moni Castaneda

Intention and Candles with Prsha Calmers

Writing your spiritual stories with Becky Sims and Shuana'h Fuegan
Wednesday: MONEY
10 AM ET — Create Two Weeks of Social Media with Christine McShane
12 PM ET  — Your Money Vibe with Jackie Woodside
4 PM ET — Create a Budget with Shay McMillan
You schedule your time…
VisionMaker Process with Jennifer Zweibel

Get Systems Set Up So Taxes Are Easier with LuSundra Gass Everett

Tapping with Jill Wener

Radical Self-Care: Confronting Your Online Order History with Kristin Ivey

Be Anti-Racist with Your Money with Brandyn Campbell
Thursday: MOTHERHOOD
1 PM ET— Easeful Motherhood with Sil Reynolds
2 PM ET — Moving your Nervous System from Surviving into Thriving with Kelly Lubeck
You schedule your time…
How to Raise Happy Humans with Jenny Warner

Who Are the Women Who Came Before You? with Dana Jones

The Gift of Alternative Adventures with Evelyn Castro
Friday: PLAY
10 AM — Playing with Manifesting with Jen Mazer
2 PM — Self: Nurturing: Permission to Play with Kelley Grimes
4 PM — Q and A about the Enneagram and Oracle
You schedule your time…
Astrology 101 with Wanica, aka Ms Astrology

Fun with Oracle Cards with Heather Dressel

Collage with Jody Camarra
Sign up and stay tuned for info on how to schedule your sessions. Fit what resonates most into your week, or upgrade and spread it out over a month. 
These tools will support you.
The speakers and community members will hold you.
Think of camp as a big hog that you absolutely do not want to miss!