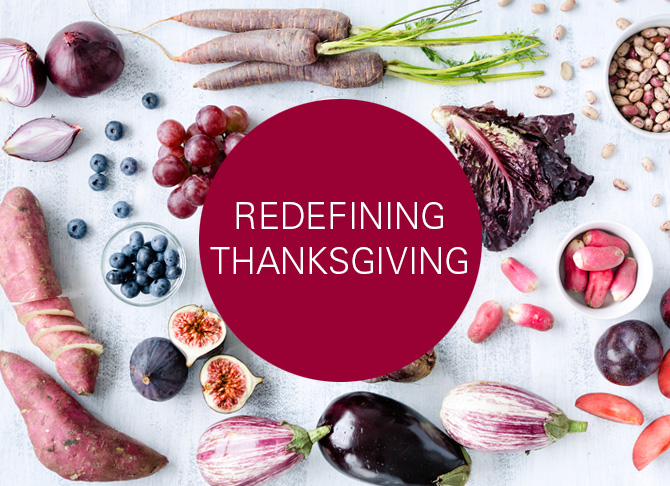 One year after I decided to try life without gluten or animal protein, my then 5 year-old son became obsessed with Native Americans. He made teepees, wore moccasins, and wrote letters that did not resemble our alphabet. He made it up as he went and asked for whatever stories we could share. This was also at the same time that I realized how good I felt having developed healthier eating habits, and that it was time to take my family along for the ride.
As it happened, it was also a few weeks away from Thanksgiving. I realized this would be our first Thanksgiving on our own as a family, not packing everyone into the car to drive two hours to spend a bustling day with relatives, with football on TV and turkey on the table. I spent a few moments feeling a little sad, mourning the loss of old traditions. But I looked at the bright side and very quickly seized it as an opportunity to customize our holiday to do just what we wanted!
In finding Native American stories for my budding little historian to enjoy, I had also come across all the untold stories about Thanksgiving, and how different our football-and-turkey version is from the original story. And that gave me the permission I was looking for to redefine our Thanksgiving.
Here is what I knew:
The traditional menu did not serve our family
I did not want my kids thinking holidays have to be a certain way, and that if their celebration does not reflect common traditions, it is somehow "wrong"
I did not want creating a meal to be stressful. I had just spent a year learning to cook (or uncook) and I did not want the joy I got from that to dissipate in one stressful day. It is a lot to expect a mom of young kids to pull together a meal for 20, and that is what moms all over the country do every year – often multiple times a year!
What I was left with was a desire to create new traditions that can grow with us, to feel as grateful as possible for what we have today, and to have the making of food be part of our tradition.
So here is what we came up with:
Each person in our family picks a food they love, and we figure out how to make it. That first year, the youngest chose bread, the middle chose sushi, the oldest picked pumpkin pie, I chose salad, and my husband chose another dessert. I had never made any of the kids' choices, so we looked them up together and figured out gluten-free and dairy-free versions where needed to suit our different family members' needs. We had so much fun! We ended up with bread for breakfast, lots of sushi for lunch, and desserts for dinner. Over the years, we have invited friends and family into the mix. Everyone chooses a dish and we all spend the day in the kitchen having fun. We have had one year that was more traditional with turkey and stuffing dishes, and this year we are going back to the Asian theme: dumplings, Thai veggie rolls, veggie soup, and some decadent desserts!
We go on a walk in the dark. My children go to a Waldorf School, which holds a "Lantern Walk" to teach children to celebrate the darkness that comes in winter. The first year we started this new Thanksgiving tradition was the first year we experienced the lantern walk. Our children had made beautiful lanterns from simple supplies at school, and when night fell we lit the lanterns and went on a walk through a forest near our house. It was freezing, invigorating and amazing! We have done this every year since. I am sure there will come a time when this may not be what the kids want to do, so then maybe we will have to shift this part, but I hope there is always an aspect of our Thanksgiving where we remember, weather aside, to go outside and experience our evening together and the natural world just outside our door in a more reverent way than normal. In this way, I feel we honor our land in a way more similar to the way the Native Americans did in the 1600s. To make your own lanterns from simple supplies, see the blog
We have a media-free day. We generally live pretty media-free in that we don't have a television, but both my husband and I work pretty hard, and that usually involves using computers and laptops at home (and of course our phones). Thanksgiving is such a great day to put media aside and return the focus to the family. It does mean we sometimes miss the parades and football games and some of the pre-black Friday deals, but it gives us the gift of being fully present in our day. Which in all fairness we are not doing when we are checking Facebook and Pinterest and e-mail every five minutes! On Thanksgiving our day is split between the kitchen and the fire, where we read, play games, and even do some knitting. If you all truly "unplug", relax and connect, you'll notice Thanksgiving always falls on a day when this kind of rest is so needed!
We write down our gratitudes. On our first newly-defined Thanksgiving we each shared what we were grateful for. The next year for the Holiday season, we decided to have a "gratitude tree," where each day we hung an expression of gratitude on the tree every day until Christmas, which my kids wrote down each morning as their thought for the day. This year, I am inspired by some of my favorite people to have a gratitude bowl, which we will start on Thanksgiving. We will cut out a bunch of colorful strips of paper; every time someone feels grateful for something, they can write it on one of the pieces of paper and pop it into the bowl. On New Year's Day we will read them and reflect on all the blessings that came our way throughout December!
You might not be prepared to totally switch around your Thanksgiving on a week's notice. But how can you make it feel more manageable? Sometimes we think our traditions are inflexible commitments. But many of them can be tweaked a little to better suit your family's schedule, rhythm and tastes. Stop and think about how you might tweak your current traditions to make this year's Thanksgiving work for you. Here are a few ideas:
If you are traveling by car, can you leave early Thursday morning instead of battling traffic on Wednesday?
If preparing the meal seems overwhelming, can you ask for help? Remember, that includes the kids! Even little ones can help unpack groceries, snap the ends off green beans, or wash vegetables.
If you are stressed out by the balance of entertaining and cooking, can you get more food prep done in advance? You can even hire your babysitter or dog-sitter to help you prep – you will love the extra help & they will love the extra cash!
If you are not hosting and fear the overabundance of buttery dishes and sugary desserts, can you bring a "healthy" dish or two? (We have lots of beautiful raw pies and healthy treats on the blog!
Can you start a gratitude practice? Try our gratitude tree or bowl ideas, or just pull out some paper, pencils, even crayons, and have everyone write down what they are thankful for – on this one day, or each day until the end of the year.
You might not be prepared to totally switch around your Thanksgiving on a week's notice. But how can you make it feel more manageable?
I am so grateful my healthy eating habits, our first Thanksgiving alone as a family, and my son's interest in Native Americans came together so serendipitously to bring a new beautiful tradition into our lives. And I hope a few of our ideas might spark you to think of how you can make this Thanksgiving really yours to enjoy. Maybe you have other great traditions already in play? Share what you will do to make this Thanksgiving happy and healthy in the comments below.
Thank you so much to the people who have inspired me this Thanksgiving!
Iosune and Alberto: http://minimaleats.com
Kelly: http://www.thespunkycoconut.com/
John and Dana: http://minimalistbaker.com
Matthew Kenney: http://www.matthewkenneycuisine.com/
Gweneth Paltrow: http://www.goop.com/recipes