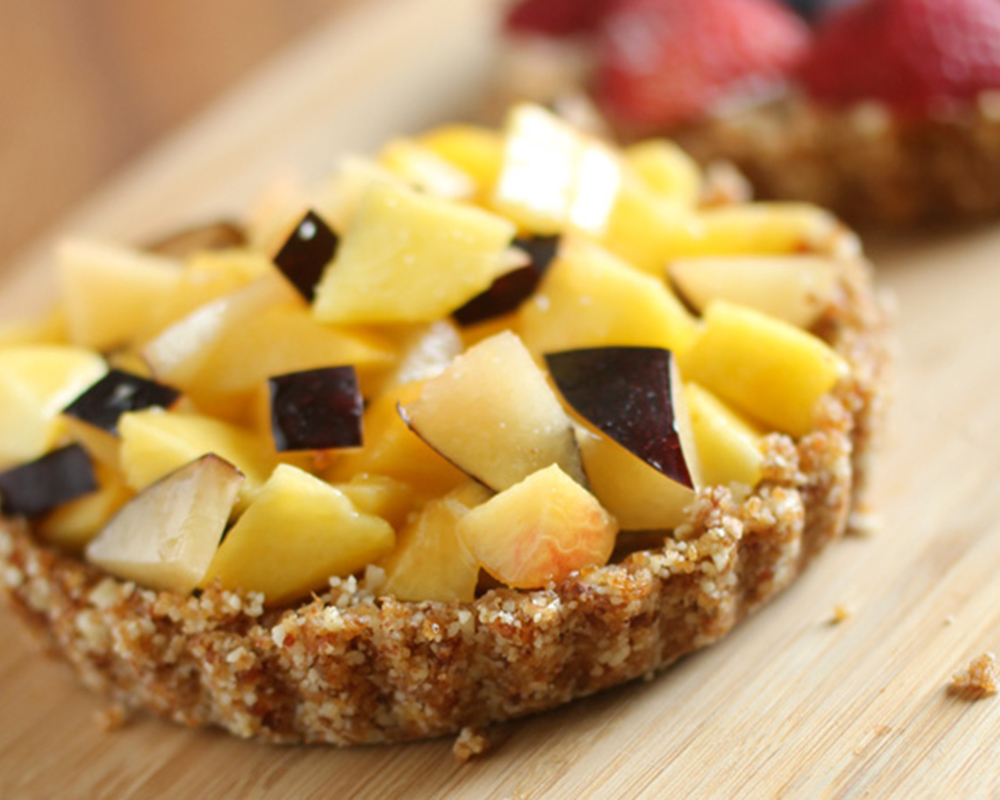 Backstory
Though I did eat all raw-vegan for a couple of years, I found the need to add cooked veggies, gluten-free grains, and legumes to my diet for warmth, for family dinners, and for yummy baked goods! But I brought many tricks and recipes from my raw food days into my expanded meal plan to keep a healthy, whole-food focus. Fruit tarts are one of our family staples that everyone loves, and are a big hit with friends and their kids.
The basic idea is a nut and date (or raisin) crust with a fruit topping – and of course no baking required! You will need a food processor, and for some variations, a blender. The fruit pie should take 15–20 minutes to make. Depending on the filling you choose, your tart might need  some time in the fridge as well, but at that point you're not doing anything but enjoying time outside the kitchen anyway!
Tart Recipe
Crust
Ingredients
1 part Almonds (or any nut)
1 part Dates (or raisins)
a pinch of salt
Directions
Process in a Cuisinart.
Press into a pie dish.
You can line the dish with plastic wrap and freeze the crust before adding filling, so the pie is sturdy.
Some Filling Options
Peaches and Plums tossed in Honey
A layer of Cashew Cream topped with Berries
Blended Raspberries topped with whole Berries tossed in Coconut
Layers of Banana and Pineapple