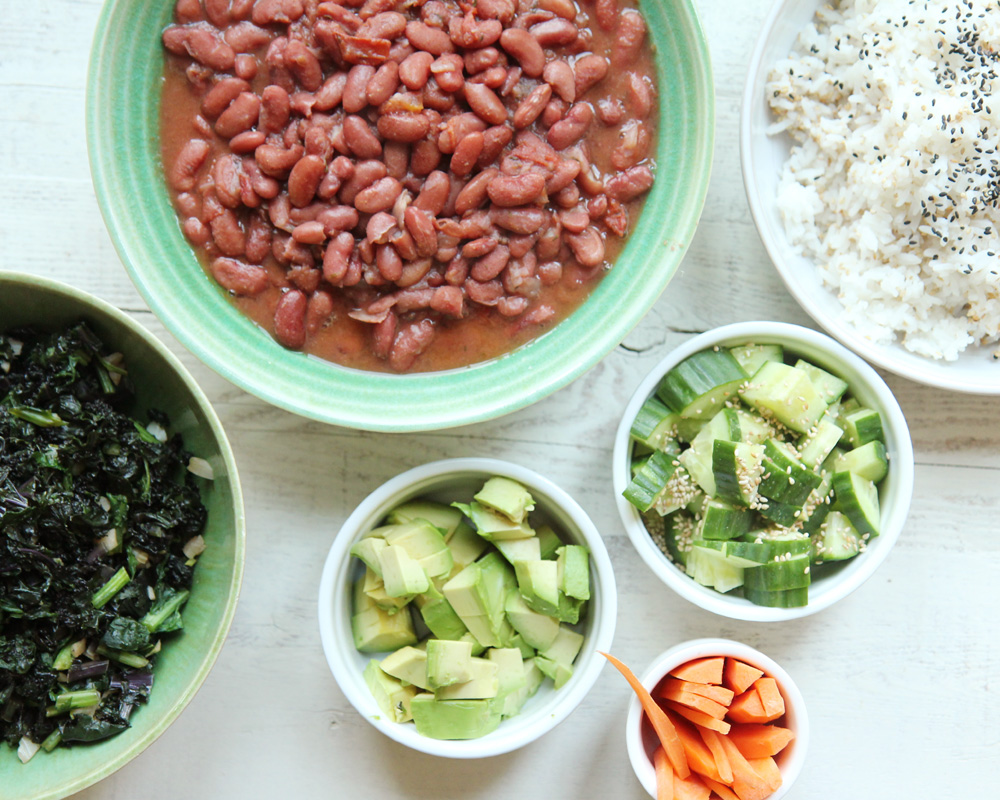 Backstory
For us, Monday night is Bean Night. I grew up in New Orleans where it's tradition to have red beans and rice on Mondays, because it's also wash day. Beans take a long time to cook if they start dried, so it was something that could be stirred in between all the washing that needed to be done. Mondays were always the perfect days to do both these things together.
Beans can be simple, and every bean tastes different, so there are lots of ways to explore. I will challenge you to try to cook with dried beans. Though they may take longer than beans from a can, there's less chance of BPAs, and dried beans are available in many more varieties. They're usually fresher, easier to digest (especially if you sprout them before you cook them), and they're just delicious.
My pressure cooker has made making beans take no time at all… I have also heard great things about the Instapot.
Recipe
INGREDIENTS
1 pound dry red kidney beans
2 tablespoons olive oil
5 cloves garlic
1 large onion
4 stalks celery
1 green bell pepper
2 bay leaves
2 teaspoons thyme
1 teaspoon oregano
1-2 teaspoons chipotle pepper
Sea salt to taste
DIRECTIONS
Soak beans overnight in a large bowl filled with enough filtered water to cover beans by 2".
Chop garlic, onion, celery and pepper very fine (the easiest way to do this is in a food processor if you have one), putting them in separate bowls.
Sauté the chopped veggies in the olive oil. Start with the garlic and onion, then add the celery and pepper after a few minutes.
When almost cooked through, add herbs, and stir into cooked veggies.
If using a pressure cooker, add beans and vegetable mix with just enough water to cover the beans and cook at 2 lines for 12 minutes.
If cooking on the stovetop, add beans and vegetable mix to a large pot with enough water to cover the beans by 1". Cook on medium-low heat, covered. After one hour, check on the beans; skim any foam off the top, then stir and add water to cover if needed. Continue checking each half-hour. Cooking time may be 1-2 hours depending on the freshness of the beans.