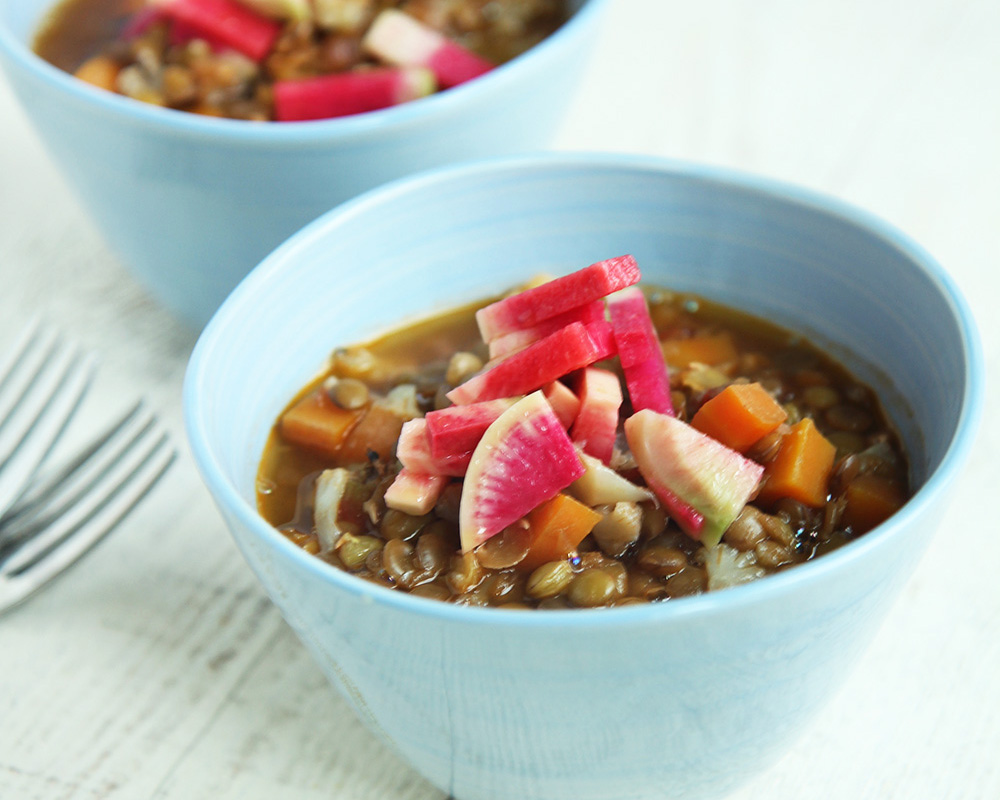 Backstory
When I first started making lentils this way, I thought it was genius that I was "hiding" so much cauliflower in the beans! Once my kids got good with a larger variety of veggies, I stopped hiding the cauliflower, but the lentils were not as tasty! They literally become part of a veggie stock in this recipe, so please alleviate all guilt of hiding!
Lentils and rice are a super easy and well-liked dish. They are very often our Sunday evening meal.
A few fun ways we dress lentils and rice up…
We make a diced radish salad that just has salt and vinegar. Sort of turns into pickled radishes and the kids heap piles on top of their lentils. Same works with a red onion.
We also serve Sauerkraut with lentils.
The egg eaters in our house love a fried egg over a bowl of lentils and rice.
Recipe
Ingredients
1 lb. bag French Lentils
1 Onion
1  large Tomato or (2 smaller ones)
2 cups finely chopped Cauliflower (half a head)
1-2 tablespoons Cumin
1 tablespoon Olive Oil
Sea Salt to taste
Directions
Finely dice onion, tomato and cauliflower separately.
In olive oil sauté the onion until it starts to become translucent.
Add tomato and keep cooking until the mixture starts to turn orange.
Add lentils and cauliflower and quickly add enough water (or veggie broth) to cover.
Cook until lentils are tender and cauliflower is falling apart and really disappeared, and salt to taste.
Serve over brown rice.