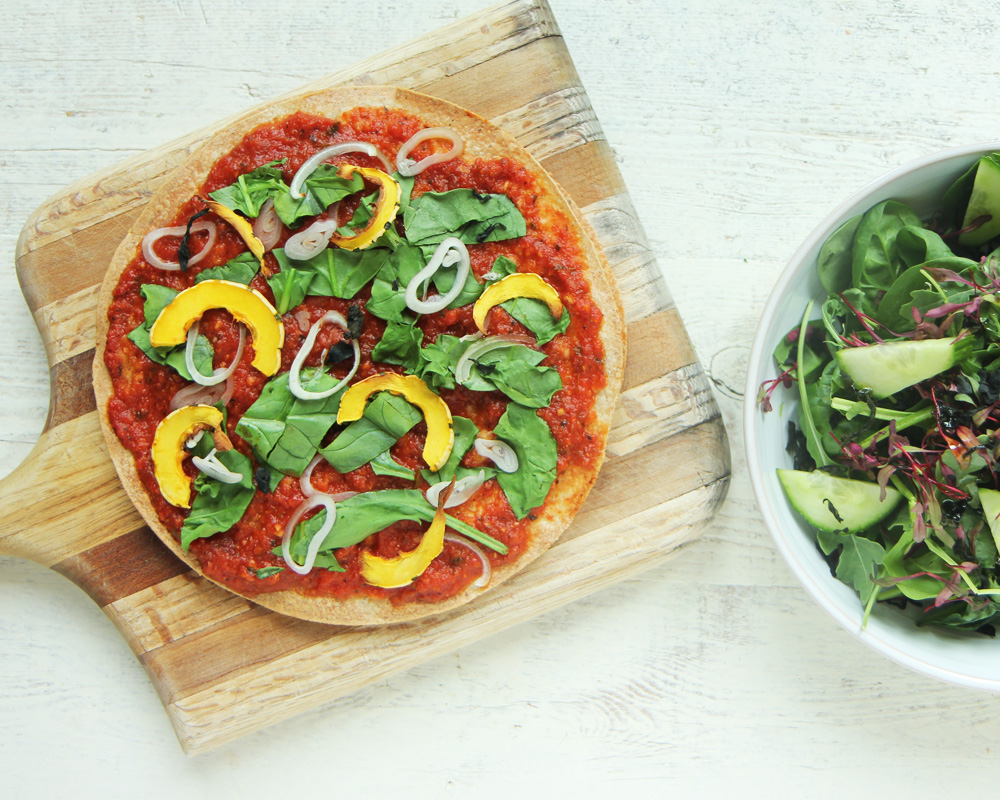 Backstory
So many veggies work here — corn, arugula, mushrooms, zucchini, peppers. If you didn't clean your fridge out at lunch, keep going! Chicken would also be a topping if you like adding animal protein and you have left overs from Saturday.
Pesto would also work in addition to or instead of tomato sauce.
Letting your kids put on the veggies will help them to eat them.
Also, the brown rice tortillas as the crust are meant to serve as a no barriers way to easily make pizza. Of course you can buy frozen crust, and eventually learn to make your own. Encourage your own growth based on how confident you are in the kitchen and what kind of day you are having.
Recipe
Ingredients
2 Brown Rice Tortillas per person
Tomato Sauce
Squash, thinly sliced
Olive oil
Sea Salt
Spinach
Onion
Directions
Roast squash by stossing it in olive oil and a pinch of salt, and roasting it at 350° on a cookie sheet for 15 minutes.
Caramelize onions by cutting very thin and sautéing in salt and olive oil for 10 minutes on medium heat, tossing regularly.
Place plain tortillas in oven for a few minutes so they get crunchy.
To make a pizza, stack 2 tortillas, and dress the top one. (This will prevent them from both becoming soggy).
Spread on tomato sauce that you made and froze. Don't have any? See the recipe.
Then add veggies on top.