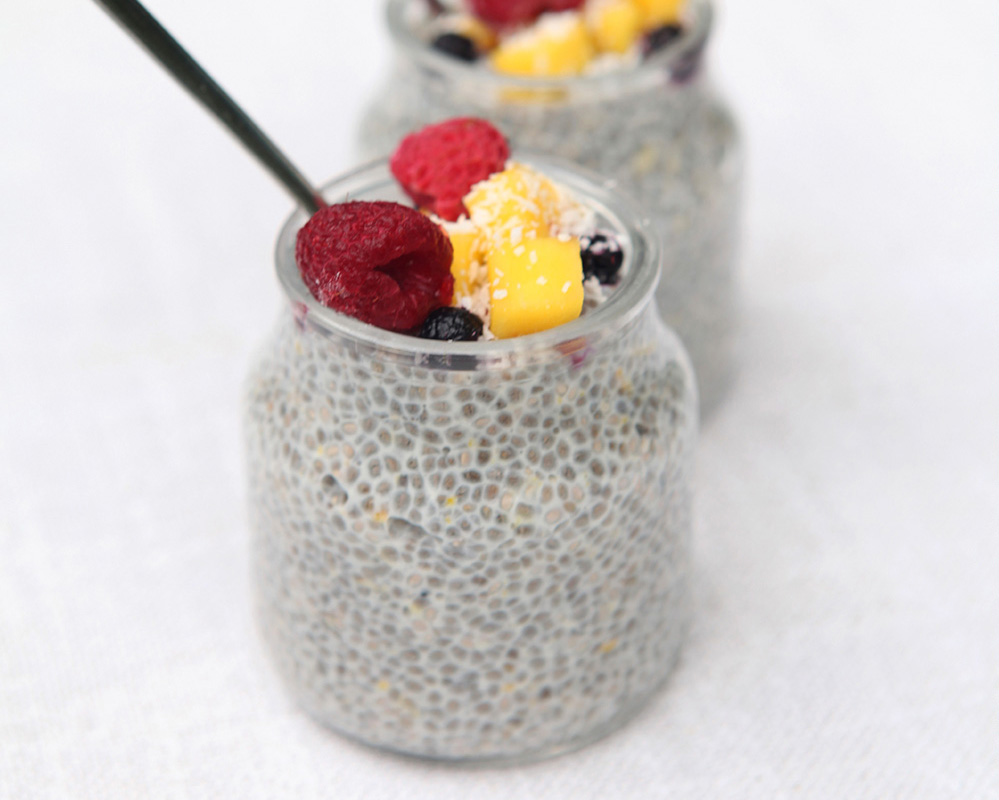 Backstory
It's no secret that smoothies are one of my favorite answer to any craving or dietary restriction. But chia seed pudding is a close second! It pretty much takes no time to make, and is a great solution to your post-salad, need-a-sweet problem.
Did I mention… kids love it too! Definitely make extra to share. Chia seed pudding travels well in school lunches, and is a great after-school snack.
We top it with fruit, or mix it with cacoa to make it chocolate. I have to make a ton when we make it because it goes fast! I pack it in old jam jars and send it to school!
Chia seeds have:
 

Twice the protein of other seeds and grains

 

Five times the calcium of milk

 

Twice the potassium level of bananas

 

Three times the amount of antioxidants found in blueberries

 

Three times more iron than spinach

 

Eleven grams of fiber per ounce (over 40% of the RDA!)

 

Eight times more omega-3s than salmon
Chia also supports natural hydration and helps retain electrolytes. They are also gluten-free, easy to digest, and very shelf-stable.
I recently encountered a very comprehensive article by Jen Miller.
So if you want to read more on the hundreds of benefits of Chia go check them out here »
Recipe
Ingredients
¼ cup chia seeds
1 cup cashews, soaked
3 cups water
4 tablespoons maple syrup
1 tablespoon cinnamon
Directions
1.    Mix everything but the chia seeds in  your blender.
2.    Put chia in a 4-cup Ball jar.
3.    Pour in the liquid.
4.    Seal jar and shake until chia is not sticking to sides.
5.    Refrigerate.
Ready to eat after 2 hours, and keeps well for a few days in the refrigerator.