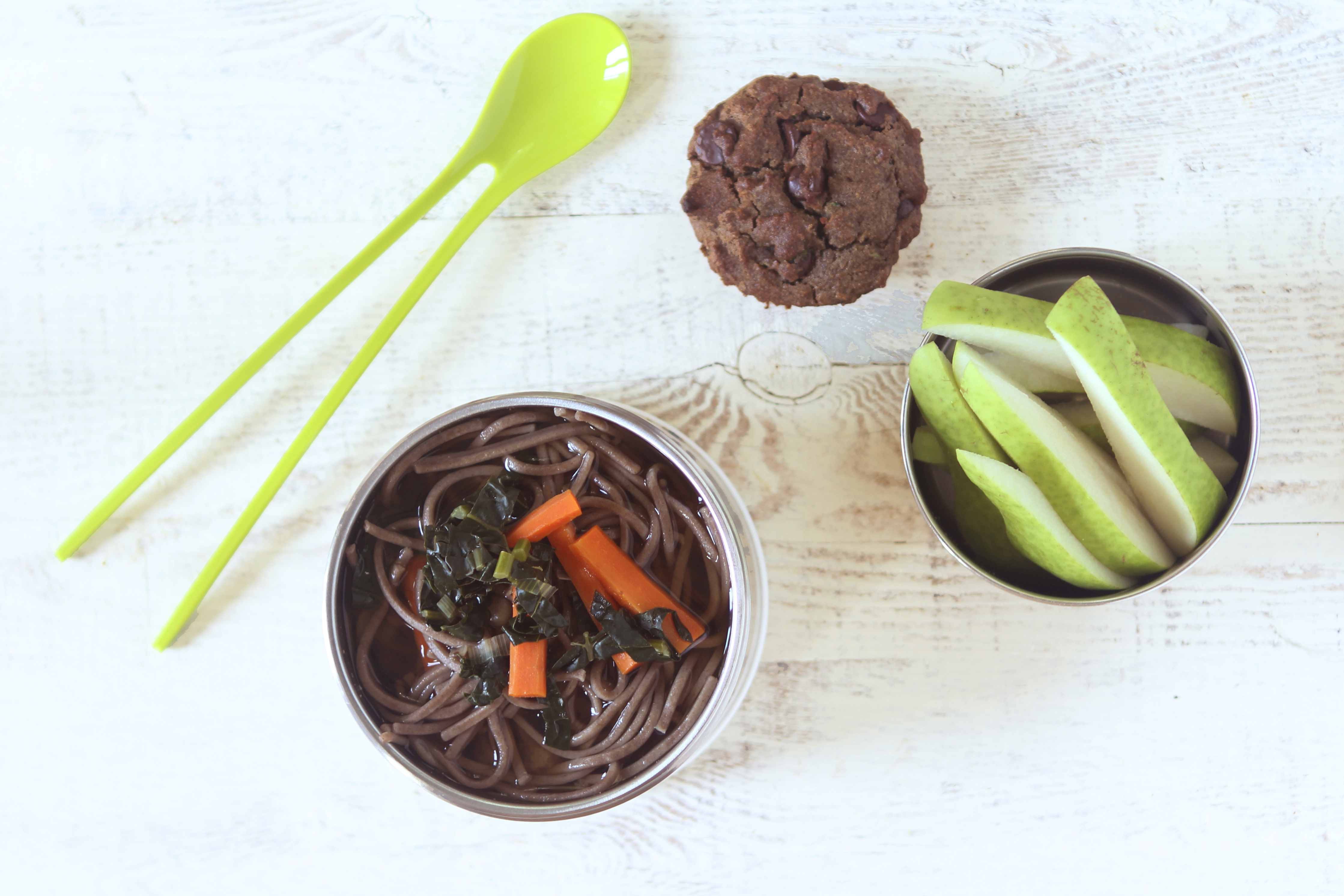 Meet Laura Fuentes of MOMables
Advice from the founder of MOMables  on how to solve the daily lunchbox challenge  
Planning bagged lunches every day of the school year can get a bit tiring – and if you have picky eaters, it can at times feel overwhelming. Laura Fuentes, "Chief MOM and CEO" of MOMables, comes to the rescue with her easy, quick, low-cost menu plans and great tips for taking the work out of packing delicious, nutritious lunches. Are you wary of fake cheese and the questionable origins of pre-packaged lunchmeats? Are you worried that providing fresh, healthy lunches means you'll be trapped in the kitchen? Put your mind to rest: the MOMables system provides hundreds of menu options, all fresh and healthy, designed to please even the pickiest little luncher – as well as prep tips, grocery lists, recipe cards, and weekly menus. Laura took time out of her busy schedule to tell us her story, share her thoughts on the importance of packing healthy school lunches, and offer helpful tips for moms as our kids begin another year of lunching – healthfully!
My Story
When you come to think about it, our kids eat at least one-third of their meals per day away from us. Depending on their age, that can include a mid-morning snack, lunch and an afternoon snack. As a mom of three young kids (ages 7, 5, and 17 months), I worry about what goes in their lunch box. I want it to be nutritious, to serve as the fuel they need to stay focused, have the nutrition they need to grow healthy, and be easy to prepare – hey, I am a full time working mom who needs all the help she can get! Adding to the task, I have very picky eaters (and when I say picky, I mean really picky!); while my daughter would love to eat pizza for lunch, my son would opt for a cheese sandwich… every day! Of course, they need more variety than that, and I also want to make sure that they can eat a satisfying amount of food in their short lunch period. So much to think about!
Making our daily meals used to feel overwhelming. I've always loved looking at recipes, but had rarely carried them through. When my oldest kids began school and I faced the dreaded task of packing lunches every single day, I realized it was my attitude that needed to change. I began seeing our meals for the possibilities that they could become, and I decided to sit down and create a plan. I immediately instituted "breakfast-for-dinner Thursdays" and "pizza-night Fridays." Making food became fun – and because I wanted it to be enjoyable and efficient, I looked for ways to make it so. But that didn't mean it was easy! It was a process, and an investment (that has paid off a hundredfold). I made a commitment to healthy meals for our family while also managing a busy household and working as a business professional. I used to think of all the stuff ahead on my schedule and wonder, "how will I do it all?" But I did my research and taught myself how to make it easier along the way, learning a tip here and there, or developing my own techniques to make things simpler. Now, I not only enjoy a simple system for making healthy lunches, but I'm grateful I can share it with other families and know our kids are eating well and their moms are feeling good. I am often asked, "How do you do it? How do you make your own bread, snacks, three meals per day that contain 'real food' and not from-the-box items, and yet are able to work full time, run a house and do all the extracurricular stuff with the kids?" The answer is: I prioritize. I make a plan and carry it out over the weekend. And if I can cook once and eat twice… that's a win-win for me! When I make my own bread or baked goods, I don't make just one batch – I make three or four. If I'm grilling chicken, I'm grilling for at least two or three lunches and dinners. If I'm making pancakes or waffles, I double or triple the batch to freeze so we have wholesome grab-and-go breakfasts available. It takes a little bit of planning and oftentimes creates a lot of dirty dishes, but it's worth it for the time it frees up later. And I'm not always working alone! As young as my children are, they love to help – and I love to have their help, as I know they're learning to enjoy making healthy food, and in their small but important way, helping to feed our family. Two years ago, I taught my seven year-old daughter how to use the waffle maker, and her job is to make sure they are cooked through (and don't burn!); my five year-old son loves to man the pancake griddle.
Making Healthy School Lunches, Quickly and Easily
Any successful routine depends on having a plan, and a successful plan depends on having the right tools to carry it out. The best tool you can use to create simple, healthy lunches is a plan. I can't stress that enough – make a plan. When you purchase groceries, make sure everything on your list is allocated to a meal before you actually pay for it. I don't purchase things because they are on sale (except trading apples for pears or peaches for grapes because they are in season). Another terrific tool is to have your own price list. I won't drive across town to save fifty cents on a gallon of milk; instead, I divide my groceries into two or three stops and save a bundle. I know exactly what to purchase where and how much it will cost me.
Another tool I use to streamline my time in the kitchen is to pack all of our lunches (for two adults and three kids) at night when my kitchen is at its messiest. Why make a mess in my kitchen in the morning while I am trying to get three kids dressed and ready to get out the door? The last thing I want to see when I get home from the office and picking up the kids from school is the mess from breakfast that no one was there to pick up! (Where are the cleanup elves when you need them?!) But I am human after all… so I absolutely dread packing lunches from time to time! There are many nights where my energy is just spent. Sitting on the sofa, reading a book to my kids, or going to bed early all seem a lot more appealing than packing lunches; but then I remind myself how I am not a morning person (at all!), and that packing five lunches in the morning when we all need to get out the door might not be the best idea. I basically give myself a little pep talk, and I'm always grateful the next morning that I followed through.
Many moms ask me, "How do you deal with picky tastes? And how do you create enough variety if you're packing lunch 365 days a year?" It's simple: I save my kids' "favorites" and the "emergency" turkey sandwich for those days that I don't feel like packing, or if I'm traveling and dad needs easy lunches to throw in the lunch bags, or when I am low on groceries. The favorites and the go-to sandwich are the equivalent of an emergency fund, but for lunch! As far as variety, I'm fortunate that I don't run out of ideas – I mean, I come up with recipes for a living! Getting around to implementing the ideas is what gets me in a rut sometimes, but I've found that following my own MOMables lunch plan gets me going every week. A simple tip to ensure some variety is to have a warm lunch once a week, like my "Thermos Thursdays." A thermos is the single most useful lunchbox purchase you can make. Leftovers are no longer wasted and it also allows you to buy certain items in larger sizes (like broth or yogurt).
Start the Fall off Right!
Many moms and dads find it challenging to transition from summer's easy rhythm of eating according to how the day unfolds, to the start of the school year and packing a lunch everyday (among so many other changes to our schedules!). Or maybe you're one of those parents who get into the spirit, packing lunches with joy in September, thinking up fun new ideas… then October comes, and the "back-to-school buzz" wears off!
I have an easy fix: I pack lunches every day of the year. Yes, even during the summer. It keeps our routine consistent and my kitchen clean, and we all eat healthy meals. By doing that, I eliminate last minute out-to-eats and the drive-through – so it also saves us a lot of money. I always tell my friends to start packing lunches a week or two before everyone goes back to school. It's a great way to get into the routine, try out new recipes, and test new lunchboxes (this is very important for little kids, so they know exactly how to open and close them at school).
Plan to Be Healthy – and Happy
The last bit of advice I can give on keeping the family healthy (and keeping mom happy!) is to plan according to your values. Don't settle for what's easy (such as pre-packaged food) if it's not what you want your kids to eat. If you want healthy meals and don't want to be in the kitchen all day, know there is a way to do that, and commit to making it happen. The resources are out there for you, so take advantage of them. Like many parents these days, I have a very full (or sometimes overfull!) day – dropping the kids off at school or daycare before 8:00 a.m., working all day at the office, hitting the gym mid-day three to four times a week, picking up the kids, and making sure I'm present for my family when we're all home. After the kids go to bed, it's back to work (after packing our lunches of course!); I also work some weekends and travel each month from April through October – whew! It could all get to be a bit overwhelming, but having a plan, a routine, and teaching my kids what they should expect is what keeps me sane – and happy!
Laura Fuentes is the Founder/CEO of MOMables®, the first meal-planning service for healthy and fresh school lunches. Laura combined her passions for "family, good food, and a love-filled life" with her MBA-level business background to create her company for parents seeking healthier alternatives to packaged lunches. She has partnered with major brands to develop healthy recipes kids will actually eat, writes for numerous parenting sites, and writes a column for The Huffington Post called The School Lunch Project. Born in Spain and raised on Tapas, she currently resides in what she calls "Southern Suburbia" along with her husband and three children.