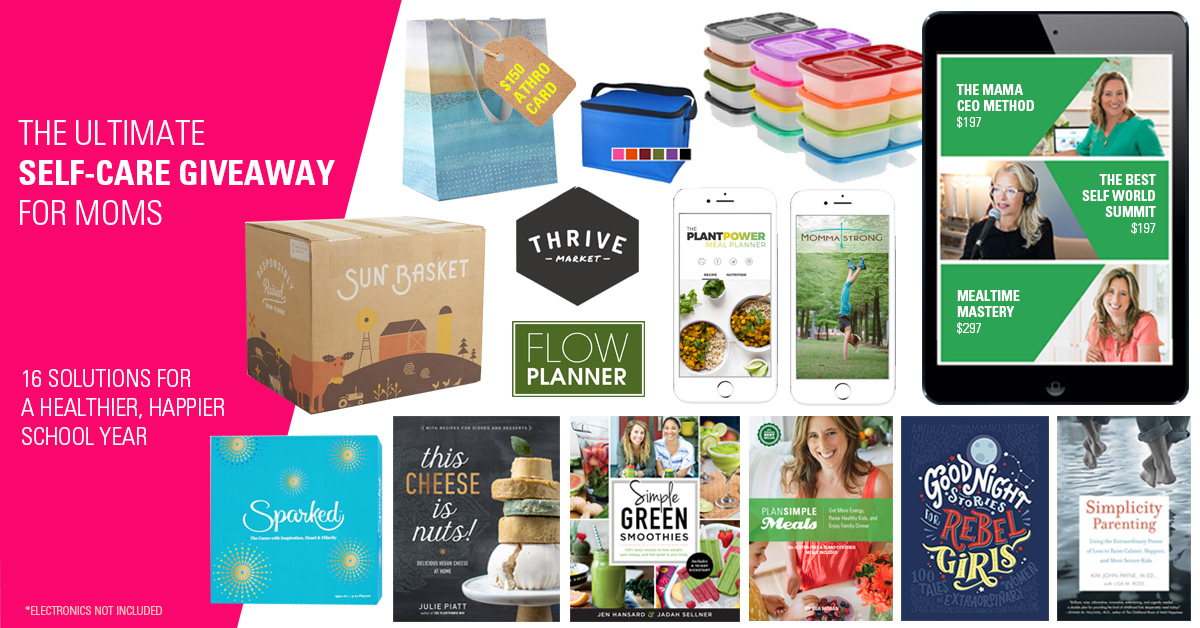 Mama Self-care for the Win (Literally)
Fall is such a great time of year to refocus on healthy habits.
If you stopped working out because it was too hot this summer or ate too much processed food on vacation or just didn't have time for you with kids out of school … it's time to shift.
You can choose to take care of yourself—body, mind, and soul.
As the kid's get into their rhythm, you can get into yours.
That means eating right, getting active, getting inspired, getting organized . . . and feeling good about yourself.
And to help you out, I'm so excited to have a special "back-to-school" giveaway for one lucky mama — over $1,000 in prizes, 16 in total!
All these things are great resources, whether you win or not, so I took some time to share why I love each one of item…
Your new fall outfit:
a $150 gift certificate at Anthropologie
Putting on real clothes helps you show up in a different way. Buying new clothes for yourself in moderation lets you feel great about what you have on each day. Pair new clothes coming in with old clothes going. (I first got my closet under control using the KonMarie Method. I highly recommend KonMarie-ing before shopping.
Food delivered to your doorstep:
a Thrive Market Membership & meals from Sun Basket
A few years ago, I found myself going to the grocery once a day, sometimes twice. It was only 2 blocks away, so I didn't think much of it. Until one day, I realized how much time and money I was wasting. This is when I started ordering/shopping for pantry items once a month. Thrive Market is a has been a great tool for my monthly order. Think Costco meets Wholefoods. I get dried beans, raw cacao, gluten-free pasta, teas, hemp seeds, and crackers, among other things. (Get 25% off your first order.)
And Sun Basket takes some of the stress out of cooking from scratch. It does not mean you stop meal planning. It means that as you create your meal rhythm, you would have a night or two called "Sun Basket" or "Purple Carrot," if you want a vegan option. Services like Sun Basket take the edge off without taking you to take out. It is also is a great tool for teaching preteens and teens to cook!
Your fall reading list:
Plan Simple Meals, This Cheese Is Nuts, Simplicity Parenting, and Simple Green Smoothies.
There is so much to take in. I suggest always having something to read.
Plan Simple Meals is my book about creating a rhythm around food in your life, from your why to theme nights plus recipes and meal planning ideas.
This Cheese Is Nuts by Julie Piatt is amazing because all the cheeses are made of nuts. Giving up dairy made a BIG impact on my health. The hardest thing to give up was cheese, and I don't think I am the only one. If you love cheese but want to give up dairy, this is for you!
Simplicity Parenting by Kim John Payne changed my life as a parent. It makes a well studied case for simplifying life.
Simple Green Smoothies by Jen Hansard and Jadah Schneller is chock full of great ideas for green smoothies. It is no secret that green smoothies helped me lose 65 pounds and heal my body from problems that I did not even know were problems. Even if you have go-to smoothies, you'll love the variety of ideas in here. Jen also has lots of free recipes on the Simple Green Smoothies website.
Your fall class schedule:
Best Self World Summit by Kristen Noel lifetime access, The Mama CEO Method by Megan Flatt, Mealtime Mastery by Plan Simple Meals
One of my favorite things about the Internet is online learning. I've gotten pretty focused about it. I choose a course load each "semester." This fall, I am learning about money practices, gluten-free baking, and photography. I put together this semester for the mom looking for flow between work, home, food, and spirituality:
The Best Self World Summit is an online conference that provides holistic self-care practices connecting mind, body, and spirit and tap into your intuition. It helps you shift what you consume, whether it's food, media or anything else and get past limiting beliefs to love yourself. It really is about your best self, and if you win, you'll get lifetime access this online conference created to help people move from what's not working to what's possible.
The Mama CEO Method by Megan Flatt walks you step-by-step through the process of creating the 90-day plan that will move you toward your business and life goals. Megan knows that work and home don't happen separately, and she's created a process that guides you to create a plan that includes all parts of your life.
Mealtime Mastery by Plan Simple Meals brings fun to a serious question: How to fit clean eating into our busy family lives. In this 6-week course, you'll find the scheduling tools you need to make healthy meals a reality, every day!
Your fitness schedule:
One-year membership to Momma Strong
We all need a fitness schedule, Courtney Wyckoff, makes it so simple. She created home routines with moms at every stage of motherhood in mind!
Your fun (don't forget fun!):
Sparked the Game & Good Night Stories for Rebel
Sometimes it is easy to get so busy without leaving time for dreaming, connecting, and being creative. My friend Jen Mazer created Sparked last year, and it has been so fun to play on a girls night out, at masterminds, and even with my kids. The game is designed to spark passion-filled conversations and amazing connections. It gets you up and moving, writing, dancing, speaking and guessing answers, and sharing stories.
I know this is about mama's back to school, but all mamas love some cuddling, and Good Night Stories for Rebel Girls adds some amazing and empowering stories to the cuddling. A bedtime routine has been really important throughout the years in our house. It adds closure to the day, and gives kids great things to dream about. (And sometimes empowering stories inspire us too!)
Some tools for success:
Get a one-year of The Plant Power Meal Planner & 2 lunch box sets from Easy Lunchboxes
I am a big believer in meal planning, but that does not mean you have to do it all alone! The Plant Power Meal Planner was created by Rich Roll and his wife Julia Piatt to get all the fruits and veggies you and your family need on a daily basis. You can enter in your preferences and allergies and they give you a plan and shopping list.
I love the lunch box sets from Easy Lunchboxes. These lunch boxes and the containers that fit in them really changed my life, and also got my kids finishing their lunches! They are just easy — no multiple containers, no leaking, and it fits right in the lunchbox. I just ordered 3 new sets. I had the others for 5 years, so my kids asked for an upgrade!
Your Plan:
The FLOW Planner

The FLOW Planner (when released) is the first planner that fits food in the same pages as the rest of your life. You plan your meals alongside your work and family schedules, which saves you time & money, and gets you eating the foods your mean to eat. It's not another to-do, but a way to rethink to-dos in a way that lets you get done what matters to you — from meetings to meals.
I'm so excited about these prizes and the opportunity for you to set up your fall and beyond for all round health and happiness!