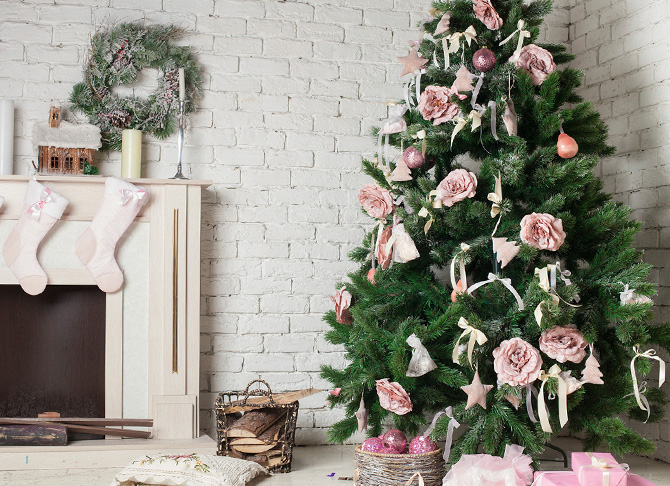 Kicking off a Happy and Healthy Holiday Season
The holidays can come with such mixed feelings — from loneliness to too many people, from meals made for you that you may not want to eat to the stress of having to make more food than usual, to all the traditions you grew up with that you may or may not want to continue but are hard to let go of either way.
How can you put all of those conflicting feelings to rest this season and really enjoy the holidays with your family? Here are 10 strategies to kick off your holiday season that will take you peacefully from Thanksgiving right through the kind of holiday season you dream of, and into a brighter New Year.
Define how you want to feel. Come up with a word or phrase to define your season. Write it on a notecard (or 2) and carry it around or hang it somewhere where you will see it each day. Maybe you want to feel joy, connection, ease, quiet, peaceful, festive — the options are endless. When you have to make a decision about an event, commitment or present, go back to your notecard and make sure your choice honors that feeling.
Useful tools: journaling, Danielle LaPorte's Desire Map
Give yourself permission to change. If you are really claiming your season, you may choose to act differently that you have in the past. Very often we adopt holiday traditions from generation to generation about what we eat (grandma's special cookies and chocolate roll), what we do (who gives presents when and how we give them), and our beliefs around them (why we give/eat/engage in things as we do). Sometimes we just keep going with traditions and habits we grew up with even if it doesn't serve us, so think through how you want to feel and what you might need to change to feel that way. This is a great lesson for kids to eventually think more intentionally in their own lives later on.
Useful tools: journaling, yoga, exercise, breathing
Change your perspective. There may be certain things you want to change, but just can't, at least not this year. Relatives might be flying in, or you might be flying out. You may have already agreed to make all of the traditional foods for the annual family party. And there is a balance between taking care of yourself and respecting others. But that does not mean you have to forgo how you want to feel. Even if you are going to the same family holiday party on Christmas Eve, you can enter it with a different attitude. Very often we get in our own way. Think of how shifting your attitude toward certain obligations can help you to achieve your desired feelings in those moments.
Useful tools: journaling, calendaring, meditation, connecting with your spouse.
Create a gift plan. The commercial aspects of the holiday can definitely add to the stress of the season – especially when it becomes what drives our kids. We might buy things we don't want to buy, go to the mall on a day where the crowds and lines are just not worth it, or spend too much money. One solution is to have a strategy going in. For us, we give three presents to each child – something wanted, something needed, and something to read – and this has really worked well for our kids, with no feelings of "lack" or "less." We also help guide relatives that what we really want is the gift of their time, so they have given tea parties and boat rides and even theatre tickets, and the kids have adventures to talk about forever!Also have a strategy for what you want to give and to whom. Don't give things you wouldn't want, and don't give to people because you feel obligated. Only do it because it genuinely feels good! Lastly, think about those you don't know: you can give to a charity, buy a toy for Toys for Tots, donate things from your house, or donate your time to an organization serving the needy. If this is part of your strategy, include your kids where appropriate so they can see the meaning of the season – to give as well as to receive. Make sure whatever plan you have really serves you.
Useful tools: an 8.5 x 11 piece of paper, the StayBasic Gift Planning sheet (hint, this will be part of our giveaway)
Set up your house now to serve you all season. One of the biggest gifts in the holiday season is to be able to chill out and be with your family at home. This does not feel so good when your space feels out of control. Think about cleaning out now, before the holidays begin: toys, too-small clothes, things in your kitchen you have not used in years — many great organizations come right to your door to collect these items at the holidays. Clean off tabletops, so you have clear surfaces for simple decorations or candles, and for making and wrapping gifts. Think about how you want to set up your house for this time. We fill a basket of holiday and winter-themed books by the couch, set out some favorite board games, and make sure we have spaces for candles, so no matter how crazy some days might get, we have everything we need right at hand to stop, connect, and get into the holiday spirit together.
Useful tools: 10 minutes a day to clear a table, drawer, or shelf (hint: also take one bag out a day)

Think through the food: Early in December, think ahead to the holidays. If you know there will be a lot going on, think about making double batches of soups and sauces to freeze for later. You can also freeze many cookies and desserts. I also stock up on nuts and frozen fruit for easy smoothies. Maybe make an online order for nuts, seeds, and dried fruit (these also make great presents!) You don't quite have to plan your Christmas meals, but start to think about it earlier in the month, so it is not all you think about when your kids are on winter break.
Adopt a self-care strategy. If you can think about this now, you will be a better mom come Christmas! And if you can stick to it, your New Year's resolutions will be entirely different and you will be a full five steps ahead to reaching them. Think about things you can do even when everything is closed: invigorating walks, a 15 minute yoga practice guided by your iPad, meditation, just to name a few. Then think of a few bigger things you can sprinkle throughout the season – a manicure, a massage, a date with your husband, tea with a friend – these are like presents to yourself and they will fuel you.
Schedule and plan ahead. What are three things that you can do with your family this season that will make you feel like what you defined in step 1? Figure them out and put them in the family calendar. The advent calendar that we talk about a lot is the perfect way to schedule everything on this list. And not only do these helpful strategies get scheduled, they get your kids into the holiday season in a very different way. Download our Holiday Countdown workbook here »
Practice your holiday emotion. This is your time to change old habits and create new traditions… But that does not mean everything will be hearts and rainbows! This is a practice, and each day is an opportunity to reset. So take it one day at a time. Plan, live and let go!