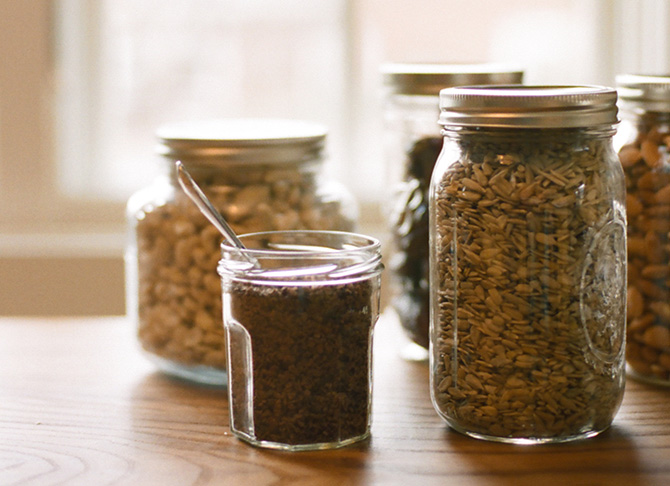 Help, I can't resist the cookies in the pantry!
Have you ever had an evening when you wished your child had not eaten the whole bag of chips in the pantry, because he literally ate no dinner afterward? Or a morning when you wished you had not consumed the entire bag of Oreos the night before, even though they were "fat free" and "gluten-free"?
Well here is one way to look at it – what kind of message are we sending our kids and ourselves by having those things in our pantries at all? How did they get there to begin with? You bought them, right? I get it – I have also bought junk, and still do. I am getting better and better, but those little faces are so convincing sometimes!
Why should you resist your pantry? You shouldn't, and you don't have to. My advice: fill it with convenient but healthy items that serve you and your family! And think twice next time you make an impulse buy while strolling the junk food aisle at the grocery store (or how about avoiding that aisle altogether?!). Don't make the food in your house something you ever have to resist – make it something you can embrace!
So let's rebuild your pantry! Think of it as a tool to make food that serves you versus a place you go to just grab something to eat. We have four shelves in our pantry: The top one is dedicated to my raw food powders (like cacao and maca), sprouting seeds and sea vegetables; the next shelf has various types of grains and beans, stored in Mason jars;  the next, gluten-free flours and other baking needs; and on the bottom shelf there are healthy snacks we can grab anytime, like crackers, dried fruit, or nori.
With whole, healthy foods in my pantry, I don't need to keep such a watchful eye on my kids (or myself!). But I do teach them that these items are building blocks: when they bring out crackers, I invite them to add some hummus; if it's rice cakes they want, we add avocado. Now, it still drives me crazy when the kids find the need to open this cabinet while I am making dinner! Because there are even good and bad times for healthy crackers!
Build a pantry that feeds your family well! Try our FREE gluten-free, vegan StayBasic Pantry Checklist to get you started. Click here to download now.

I do keep some packaged snacks on hand for moments when we are seriously on the go, but store them on a high shelf so they're not the go-to. Some of these include brown rice bars, fruit leather, and pure nut and fruit bars. Another treat the kids love to make is their own trail mix – easy and fun for even the littlest hands. We always have a large variety of dried fruit, raw nuts and seeds on the bottom shelf of the pantry, and vegan chocolate chips. Their favorite combo is almonds, sunflower seeds, raisins and chocolate chips. We also have fresh fruit on the counter at all times, and usually a homemade sweet treat that I strategically place, so grumbling tummies remember to head there before opening cabinets.
It has been a process to make the pantry healthier, and it evolved over time, but even starting with moving the junk and sweets up to the top shelf and filling the bottom shelf with healthier brands of similar treats was a great start (for mama and papa too!). I was recently inspired by Angela Hofmann, who told me that her kids (now teens) will buy bars from time to time after school, but they read labels. And if they want muffins or cookies when they're home, they just bake them… I love that!
What are five staples in your pantry that you swear by? We want to hear! Share your favorite staples with the StayBasic community in the comments section below.
See what is always in our pantry, and download your free StayBasic Pantry List!