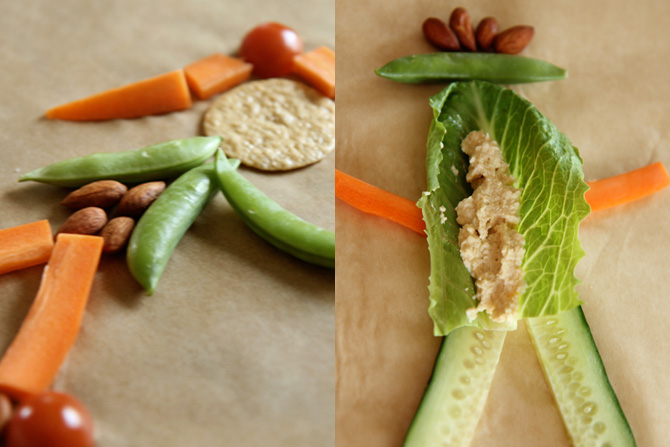 Having fun with "kid" food!
I am not a big fan of "kid food", mostly because as a society we have decided to feed our kids the most unhealthy food possible. But, every once in awhile, it is really fun to just be a kid, even as an adult – the healthy version!
Moosewood Cookbooks came out with a great Children's cookbook series —  Salad People, Pretend Soup, and Honest Pretzels. From time to time my kids will ask if they can make a meal, and who am I to argue with budding chefs! Our family favorite is the salad people – they make a fabulous savory snack or meal, or can even be transformed into a delicious sweet treat.
Note: The cookbooks but do use dairy, so we just sub those parts for almond and rice milk, or coconut oil or olive oil, depending on the recipe.  If you eat dairy and gluten, you are all set. For anyone, the books are a great inspiration for how easy it can be to create food from scratch with kids.
Things we use for the savory version:
Carrots
Cucumbers
Celery
Tomatoes
Snap Peas
Avocado
Lettuce
Crackers (Mary's Gone is my favorite store-bought brand)
Sweet Potato Chips
Hummus
Cashew Cheese
Things we use for the sweet version:
Berries
Pears
Apples
Bananas
Dates
Raisins
Mango
Cashew Cream
Avocado Chocolate Pudding
Muffin Pieces
Grain Sweetened Vegan Chocolate Chips
Note: We don't usually pull all these things out at once. Five items make for great people. But it was fun to make a party out of it for this post!