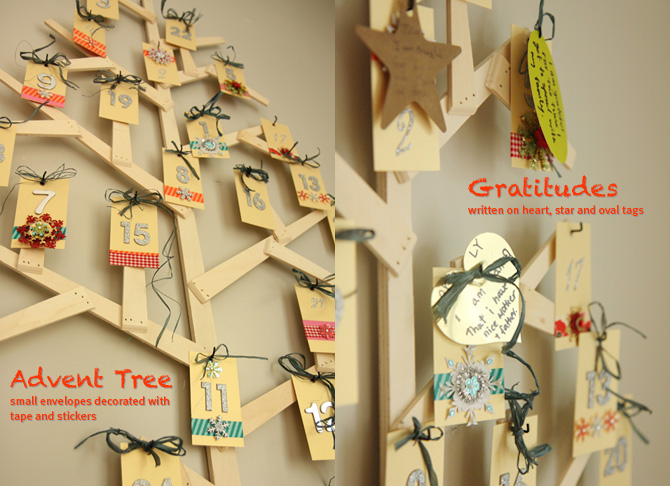 Every year I make an Advent calendar for my kids. Not because I am religious, but because for us it has become a way to get focused and go inward during a busy time that in the past has gotten my priorities all messed up. At a time in our history when kids get a lot of instant gratification (adults do too, I suppose!), having a daily reminder of gratitude, togetherness, and giving really helps us to focus on what matters most.
I now have a wooden tree that I hang on the wall, and each year I stuff 25 mini-envelopes with a thought for the day on a small slip of paper. In the past I have hung mini-envelopes on tree branches, and have also made a garland of envelopes. Check out our collection of DIY Advent calendars on Pinterest.
The messages in each envelope try to strike a balance of doing things for others, creating sacred family time, and making, giving and receiving gifts, such as:
Doing things for others. "Say something nice to a friend today"; "bake fresh cookies and pack them up for two neighbors"; or "buy a toy you would want and donate it to Toys For Tots"
Creating family time. "Go ice skating this morning, then come and have a snuggly day by the fire with books and popcorn"; or, "it's Family Game Night!" This year I am dying to take a trip to get a Christmas tree ourselves so my kids can understand where they come from, so the slip in that envelope might say "going to a Christmas Tree farm to find our special tree!"
Making, giving and receiving gifts. This might be a thought about going to a clay shop and making a mug for their grandmother, or having a wrapping day for the gifts they have been working on and taking a trip to the post office to mail them to our faraway relatives. Events also fall into this category; each year I find a Christmas event or two and buy tickets, such as the Nutcracker or a holiday concert. We also try to invite friends over during this time and share food with them, so a thought might read, "Invite a friend for tea after school."
Messages that tie all of our intentions together. "Take a family trip on the train to see the holiday lights, enjoy a wonderful dinner out, and give $1 to everyone we see asking for donations on our walk."
If you don't celebrate Christmas, you can create a similar calendar of intentions as you count down to the new year! It is a really nice way to create and remember the way you really want to spend your time during the holiday season, and qualities of giving and gratitude that you want to pass onto your kids. Last year, I took one late-night trip to the mall with a list, but the second time I thought about going back, the calendar stopped me. It was a day we were slotted to make a garland to go up the stairs and string it with Christmas lights. And by the time we were done and I had three bright-eyed earnest kids totally excited by all the magic around them, the mall felt like a yucky place to spend my night!  So after we put them to sleep, instead of rushing around, I snuggled with my hubby on the couch in front of the fire, watching a movie.
Two things that I am also doing this year are:
Putting the thought for the next day in the envelope the night before, after the kids are in bed. This gives me the chance to switch things around based on our schedule and energy levels.
Writing a gratitude and hanging it over the day. On Christmas we will have 25 gratitudes to read!
What are you doing to make this holiday season, fun, simple and healthy? Do share in the comments below!