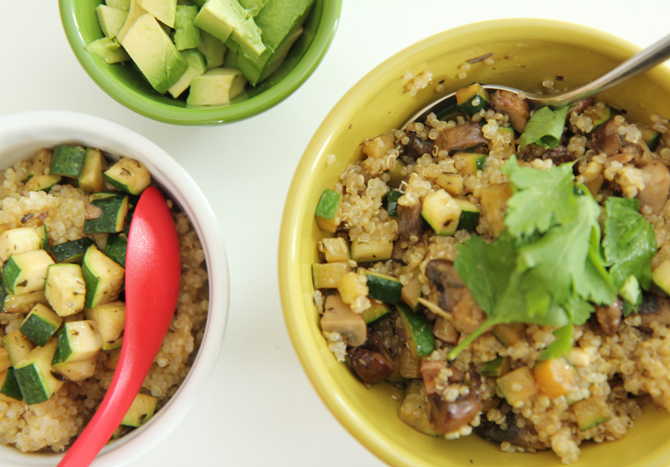 All in a day. Part mom. Part work.
I have 3 kinds of days.
1. Part mom. Part work. No sitter for kids. Some school.
2. Work focused. Sitter for kids. Small mom tasks.
3. Family focused. No work. No sitter.  No school.
5 people need three meals no matter what kind of day I might be having, so I thought I would take a look at how I do that in each instance.  This is part 1 of a 3 part series starting with number 1.
Part mom. Part work. No sitter. Some school.
These are the days that can feel the most overwhelming, if I let them. But just waking up and shifting my mindset — thinking how fun it can be to wear so many hats, how lucky I am to have my hands in such diverse activities, and how amazing I feel after eating well — allows me to make a shift that can carry me through the whole day.
This was Monday.
6:30
Wake up.
Sneak downstairs with one early riser.
20 minutes of food prep
Cut up a Cantaloupe and put on table for anyone to munch on
Make Oatmeal for kids
Pack snacks and lunches
Snack: Apples with Almond Butter and Honey for dipping
Lunch: Rice, Cucumber, and Radish Salad (As shown in StayBasic: Issue 1), Blueberries, Strawberries and a Coconut Yogurt
Wash veggies for green juice or smoothie
7:00
Head up to get dressed and help kiddos do the same.
Make sure bags are packed.
7:20
Sip green juice while kids are eating.
Note: Smoothies take literally a minute to make — juice takes a little longer and has a bit more cleanup, but is so worth it. If you know a morning will be hectic, make either the juice or smoothie the night before. In my experience (an those of a few others :-)) drinking greens is life changing!
7:50
Kids go off to school with papa.
10 minutes to move food projects along
Butternut Squash in the oven (will be part of soup for dinner)
4 Beets each wrapped in tin foil in the oven (which I will use at some point in the week)
a pound of Beans in a bowl to soak
Make smoothie to sip while I work
8:00-11:30
Work on a design project.
Turn oven off when timer goes off.
12:00
Pick up my 4-year old from school.
12:15
Return home from school for lunch.
Embrace the pace of a 4-year old in the kitchen.
Put some Quinoa to cook. (3 cups so there is leftovers)
Start chopping Zucchini and Mushrooms and Avocado for our lunch.
Perla chops with me.
Eat Quinoa – mine is topped with sauteed Zucchini, Mushrooms, some Greens and Avocado, and Perla's is a little simpler with Zucchini and Avocado.
Wash dishes together.
Throw some Fruit and Almonds in my bag (enough for 4) before leaving for a 2:00 doctor appointment.
3:00
We pick up the other kids. One child has music lessons, so we all hang at school.
4:15
We get home.
We talk and read a book.
Everyone finds something to do (read, draw, play).
Most people find a way to do it in the kitchen.
4:45
40 minutes of food prep.
My goal is to make dinner for tonight, part of the next day's dinner, and a (healthy) sweet treat that everyone will enjoy this week.
Chop and saute Onion for Squash Soup.
Mix baked Squash from the morning, Onion, Water and Seasoning for Squash Soup.
Process 2 Bell Peppers, an Onion and Celery in Cuisinart. The kids press the buttons. This makes for a thick, rich chili with no lumps to complain about, and it's faster than chopping! Saute the mixture in the pressure cooker pot.
Wash 5 Tomatoes and put them in the Vitamix (or other high-speed blender). Tomatoes plus sautéed Veggies plus soaked Beans plus some Seasoning equal Chili for Tuesday dinner.
Wash Cuisinart. Once it comes out, I always use it more than once!
Process Dates and Almond Butter for "Raw Peanut Butter Cups." Girls help and eat some dates along the way.
Clean kitchen so we can relax while we eat — dishes stacked in sink, all ingredients put away and counters cleared. Learned this from my husband!
Make toast for children to dip in soup.
Cut up some pears and make a super quick salad with lettuce that I washed and chopped on Sunday, and a vegan creamy dressing (see StayBasic Issue 1) that I also made extra of on a different day.
5:30
We eat.
6:15
Finish making sweet treat.
Wash dishes.
Kitchen closed.
There are two of these kinds of days a week. These are the days that I spend the most time in the kitchen with the kids, which I hope they remember fondly.  And the food that gets made or prepped in these days serves us in the days that follow. While the kids hang in the kitchen, we have many opportunities to talk about food and life, or just be quiet together. I also get the most volunteers to help on these days. I think on my workdays, I am very streamlined and not as open to help, and on weekends/family days, the kids have "better" things to do…. more on those days coming next!
Feeding my family well is top priority for me. In theory, it keeps us feeling well (or fighting off colds fast), teeth cavity free, and energy constant, which we feel the impact of on a daily basis. That said, I know this because I experience contrast — there ARE days when someone has a cupcake with sugar or I don't have my greens. Eating well is a practice that I may not always get perfect. But after a few years making it a priority, it really does become second nature and really fun!
I would love to hear how you all balance healthy food with busy family life. Or where you might struggle…. Let's start a conversation below.