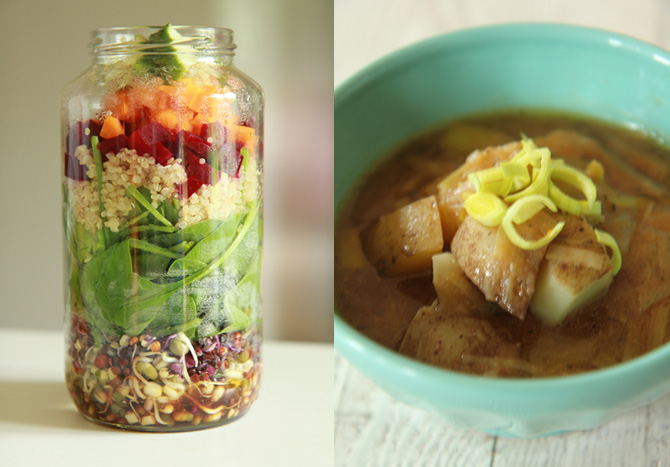 All in a day. Work Focused.
I have 3 kinds of days.
1. Part mom. Part work. No sitter for kids. Some school.
2. Work focused. Sitter for kids. Small mom tasks.
3. Family focused. No work. No sitter.  No school.
5 people need three meals no matter what kind of day I might be having, so I thought I would take a look at how I do that in each instance. This is part 3 of a 3 part series.
Work focused. School or sitter for kids. Small mom tasks.
On these days I really can't be in the kitchen too much, and that's okay.
6:30
These days still start with the kids needing breakfast and a lunch for school, so I wake up a little earlier than usual, with three things in mind:
Making myself a healthy lunch that I can take with me.
Making myself a big green smoothie.
Doing a few things to move dinner in the right direction. This might be chopping an onion or other veggies that can be stored for the day, cooking some beans that have been soaking over night, or making a list of anything that I might be missing. And of course to do any of this, I have to be super clear about what is for dinner.
7:30
The kids are off to school and I am off to work.
4:30
We get back together right about the time that everyone really needs to eat. So this is what I do:
Momentarily forget that we need to eat dinner and check in eye-to-eye with each child for literally 30 seconds. This act in itself is usually enough to send them off to do homework or play for the 20 minutes it will take me to get everything together.
In that "eye-to-eye", I can tell if someone has had a hard day or is tired or just needs mama for any reason, and so I scoop them up (or take their hand as I can't lift everyone anymore!) and they can come read, draw, or just talk in the kitchen. I am  all for kids helping to cook, but on these more rushed days, I (for my own sanity) just need to be the fast, productive cook, with space to move, so I can get dinner on the table. I do ask for help getting water for everyone or setting the table.
My friend Nina Manolson just posted a great bit about a moment of silence before her family meal. The reason behind it is so that she can center herself after the whirlwind of efficient meal creating. I love that!
Three great plant-loving meals on the fly are:
Veggie soup in the pressure cooker.
Pasta (we use gluten-free) with homemade pesto (which can be made in advance and quickly on the spot), green beans, and a big salad.
Beans and rice topped with avocado, cucumber and fermented veggies. Beans can be soaked and sprouted during the day and cooked in 12 minutes in a pressure cooker before dinner.
I find on these days, I am also pretty tired, so I also like to keep clean-up to a minimum, so one dish meals are optimal! I look very forward on these days to reading in bed with the kids!
5:30
We eat.
By 7:00 we have cleaned, bathed, brushed teeth and are are snuggled-up, ready to read!
Do you struggle with getting a healthy dinner on the table? How? What do you do to get dinner on the table that really works? We would love to hear!