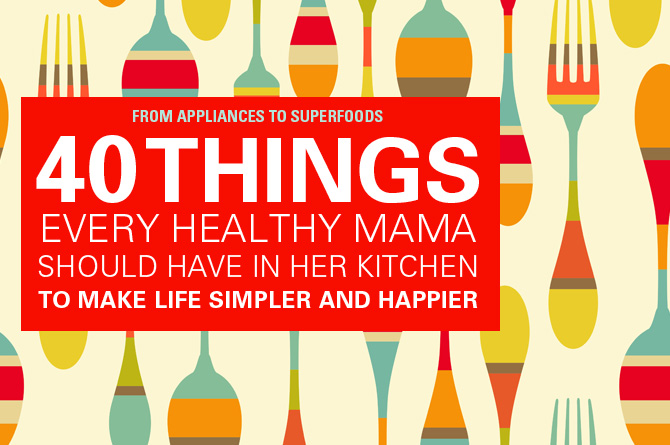 40 Things every healthy mama should have in her kitchen… and a few things to get rid of!
Wondering how to get it all done? Having the right tools is key. I have created a special publication for you of the 40 things I use most regularly in my kitchen.
Get your copy now »
The interesting thing is that we don't keep much more than this in our kitchen. We do have a waffle maker and ice cream maker from our wedding that I use from time to time, but we have gotten rid of the coffee maker, the old blender, Teflon pots and pans, and plates we don't use.
These things are in no particular order, but the first two are the two things I would tell everyone to get first. They have made a huge impact in our family's life in time spent, energy spent, and the quality of our food.
Towards the end, I have included some of my favorite pantry staples. These are things we always have on hand, and when combined with other ingredients and a plethora of fresh food, it's easy to make something amazing, anytime. Read carefully because every item has interesting tips! Get your copy now »
And, of course, having 40 new things doesn't serve you if you add them to an already full kitchen!
The fall is one of my favorite times of year to clear clutter and make room for new things — I find it much easier to make room for new school clothes, lunchbox containers, musical instruments and sports supplies, when I clear out stuff we don't need or put away stuff we aren't using as we shift into our fall routine. Here are some tips for clearing out your kitchen to make space, and maybe eventually add some of my favorite things! You might not buy a bunch of items right away, but bringing in even just one pressure cooker will feel overwhelming if you have eight large pots crowding your cupboards! Here are some tips to start making room for new tools – and for your health.
Get rid of all Tupperware that does not have matching tops. They can be recycled, put in a box on the curb, or kept with kids' art supplies for paint.
You shouldn't need more than six pots to do all you need to do in the kitchen. Get rid of any pots that don't have tops; any duplicates you don't use; any that are nonstick Teflon (studies have revealed these are toxic; choose stainless steel-coated aluminum instead); any with scratches (also toxic); or that you have not used in the past six months.
Get rid of any stashes of old candy.
Clean out the silverware drawer. You do not need old plastic forks or other people's silverware that has made its way into your house.
Keep the plates and bowls you use every day, save the ones you use on holidays (and consider storing them outside the kitchen), and get rid of the rest.
Go into your pantry and get rid of 10 things that have expired.
Donate one appliance that you have not used in over a year.
Take four things out of your freezer that have been there a while… Either eat them today or throw them away!
Look at your counter: Is everything you see sitting there something you use daily, or at least three times a week? If no, put it away.
Get rid of two dishtowels that have seen their day. Add them to a rag pile for cleaning if you don't want to throw them away.
Note: Items still in good condition can be sold on Craigslist; items showing wear but that are still usable you can bring to the Goodwill; and things that are truly trash, you can recycle or throw away. Get your copy now »